Twitter has announced new versions of its apps for Android and iPhone.
Twitter has announced new versions of its apps for Android and iPhone. Twitter says the new versions of the apps come with various updates to bring you closer to everything you care about.
One of the important new features that come with the update is Expanded Tweets. The features were launched for the web version last month. The app allows users to expand tweets to show more interactive content. The expanded tweet shows the headline, an introduction and even Twitter accounts of the publisher or author. Also, when users tap a tweet, linking to a Kickstarter project for example, they can play its video directly from the Tweet details view in the app.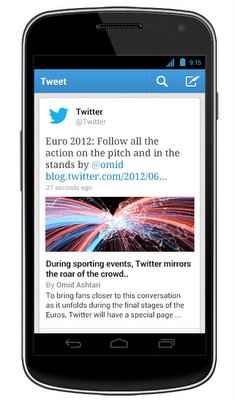 Users can also check out article summaries when users tweets linking to sources such as The Atlantic, or play videos or view images when they expand Tweets linking to websites like Etsy and Vimeo. This new experience will roll out gradually to web, iPhone and Android users.
Now users can also check out the best tweets and photos for events such as twitter.com/#NASCAR.
Twitter has also improved its search interface by adding search autocomplete feature. Users can see more suggestions when they search for people. Moreover, users can receive notifications for tweets on their iPhone or Android. Users will receive notifications whenever people send a tweet or retweet. To know more about the new versions of the Twitter apps, click here.
Also read,