Twitter has released a new #Music update for iOS users. This is the first update by the company after the apps launch in April. The #Music App was launched to access the latest songs and emerging artists from the social networking site. Users can get access to the twitter #Music app from Apple's iTunes App Store for free.
The new #Music app update adds genre categorization under the revamped charts section. It has made it easier for users to surf through a wide range of genres like Alternative, Dance, Country, Folk, Electronic, Hip-Hop, Pop, R&B, Metal and Rock. For E.g. by clicking on "alternative," users are sent to a new page with the latest alternative bands on Twitter, like the Arctic Monkeys, Vampire Weekend and The Strokes.
The new Charts section has added five new categories, like Superstars, Popular, Emerging, Unearthed and Hunted. The categories include the biggest acts, or new hidden talent and music that is popular on blogs, currently. The older version of the #Music app has only two (Popular and Emerging) charts. In addition to the updates their have a few bug fixes and improved Rdio authentication.
Twitter's #Music v1.1 for iOS change list includes:

Tons of genres plus Superstars, Popular, Emerging, Unearthed and Hunted charts.
This build also includes:
- Fixes for some scenarios that could cause tracks to be unavailable.
- Rdio authentication now happens in-app, rather than kicking you out to Safari.
- Other bug fixes.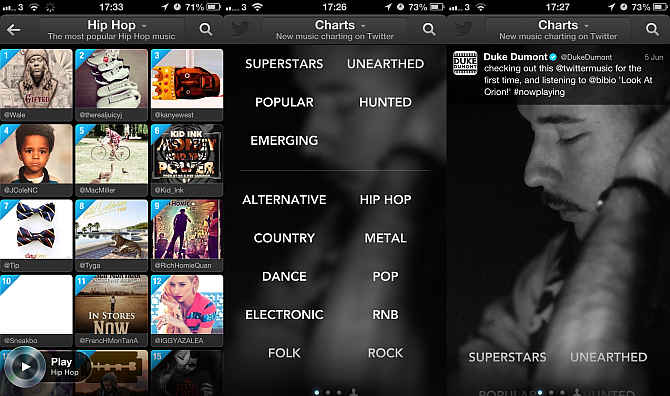 Source: TNW