Back in the 80s, they said "Love is a Battlefield". Now, it's more like a Battle Royale game you can play on your smartphone. Tinder transformed the online dating scenario by introducing an element of fun through its swipe-based functionality and subsequent match alerts. Now, it's gamifying the dating process even further with its new Explore section, Hot Take feature, and Swipe Night Feature!
What is the Explore section on Tinder?
The new Explore section on Tinder will let you look at profiles near you, arranged on the bases of common interests. This should increase the likelihood of being matched with someone you can actually get along with. This section gives users more control over who they speak with, and allows them to get to know someone before being matched with them.
"A new generation of daters is asking for more from us in the post-Covid world: more ways to have fun and interact with others virtually and more control over who they meet on Tinder," Renate Nyborg, CEO of Tinder said while talking about the new Explore section.
The Explore section will also help with photo verification, so that you don't have to feel cheated when you meet people IRL. This feature lets users take and post real-time selfies that can be verified with their profile pictures by potential matches.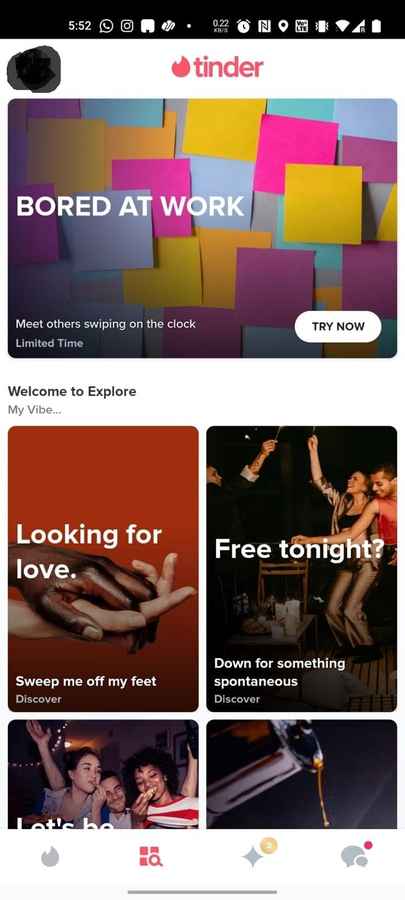 What does the 'Hot Takes' Feature do?
The 'Hot Takes' feature is what truly gamifies dating. You can chat with someone, and then take a short, time-sensitive quiz on pop culture to see whether the two of you share similar views. Based on that, you can decide whether you'd like the app to pair you with the person, or whether you'd like the timer to expire so that you can meet someone new.
Tinder will also be introducing a new feature known as Swipe Nights, however, the company is yet to reveal what the feature will bring to the table.
Also Read: Grand Theft Auto: The Trilogy – The Definitive Edition: 5 Things You Should Know