Cyberbullying in India isn't something unusual. It happens every day, or maybe every minute, thanks to India's hefty contribution across various social media platforms. The most recent victim of large scale cyberbullying in India is TikTok, the viral short video platform owned by ByteDance.
Millions of Indians are attacking TikTok, and rating it 1 star and putting negative reviews on Google Play Store. There's been so much hate around the app that it fell to 1.3 stars, which was 4.5 stars until May 16th. The reason? Well, a TikTok creator got into a war of words with a popular YouTube creator who called out 'TikTokers' for 'substandard' content on the platform which angered the fans, and this shifted into online hate-mongering going by the hashtag #YouTubevsTikTok.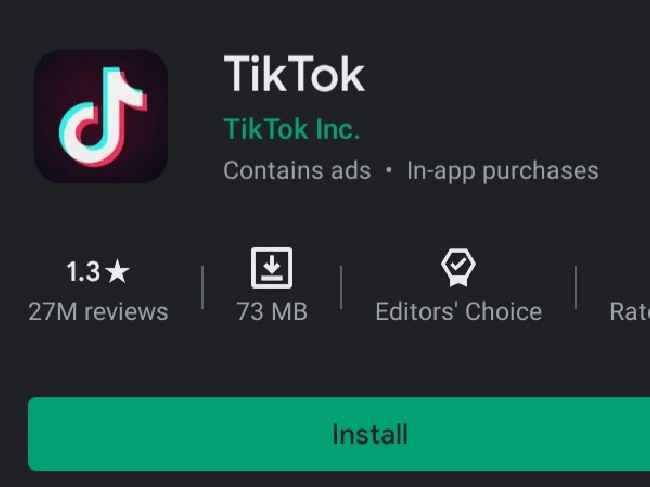 Note that TikTok's rating on Apple's App Store has also dropped, but it is still at 3.8 stars, most likely because of a lesser user base than Android and the user type.
A 20-year old YouTube creator, Carryminati, known for his roasts had put a video titled 'YouTube vs TikTok- The End' as a response to TikTok user Amir Siddiqui's remarks on YouTube and its creators. Carryminati's video was later pulled down by YouTube for 'violating terms of service', but no specific reason was given. It was supposedly removed after being reported for harassment and cyberbullying by Amir's supporters. Which later led to a mass hate-mongering campaign against the whole TikTok community and of course, the app. Note that YouTube's user-base is led by India, and it's also one of the top markets for the video platform.
The Chinese video app has more than 1.5 billion downloads on Play Store, and close to 27 million reviews. In Q1 2020, TikTok also generated the most downloads for any app ever in a quarter with 315 million installs across Android and iOS. In fact, Google Play accounts for a majority of TikTok app downloads. The Apple App Store generated 495.2 million downloads or 24.5%. However, TikTok has been under consistent scrutiny regarding its content monitoring, especially in India.
TikTok is not alone, and it's not the first time
There have been multiple instances where Indians have bombarded app reviews with negative comments and a 1-star rating. Snapchat has been on the receiving end too. Similar to TikTok, In 2017, Indians got hyper and triggered the hate against Snap Inc CEO, Evan Spiegel and the app for his controversial statement about India. Snapchat's on the Apple iOS app store had gone down to 1 from 5. Many uninstalled the app and slammed its CEO on social media platforms with hashtags like #boycottSnapchat.
What's funny is that an Indian e-commerce giant Snapdeal also got crushed just because it had a name that starts with 'Snap'. There are several other instances where Indian's lost their cool on Apps. Last year, Zomato got hammered by users for not refunding money to a user who cancelled his ordered because his delivery executive was a non-Hindu. Even worse, Uber Eats was bullied in a similar manner because they stood by Zomato's take on the matter.