Qubo Smart Security WiFi Camer with Face Mask Detection
India's most versatile weatherproof outdoor camera that protects your outdoors 24x7 and provides crystal-clear video streaming day and night through the qubo mobile app.
Click here to know more
Advertisements
Highlights:
Spotify files a complaint against Apple with the European Commision (EC).
The complaint was filed because Apple's App Store rules are said to be biased and unfair.
Apple is said to charge 30 percent tax for in-app transactions and limit Spotify's contact with its consumers.
Spotify has filed a legal complaint against Apple with the European Commission (EC). The music streaming platform's CEO and Founder, Daniel EK, announced the news via a blog post. As per EK, Apple acts as both, the referee and the player, to introduce new rules to its App Store, which "purposely limit choice and stifle innovation at the expense of the user experience." The company has put up a dedicated website called Time to Play Far, wherein a timeline depicts how Apple has discriminated with Spotify and other similar services. Spotify says it tried to directly resolve the issue with Apple but apparently that didn't pan out.
EK also details how Apple's practices and policies are unfair. Apple owns and operates the iOS platform and the App Store, and keeps giving itself an unfair advantage. For example, Apple charges 30 percent tax on purchases carried out via Apple's payment system. This includes buying Spotify Premium and the media streaming platform blames this high tax rate as the reason why it had to "artificially inflate" the price of its Premium membership, which would then cost much higher than competitive services, like Apple Music. So, Spotify opted to not provide in-app purchase option on its iOS app to circumvent paying 30 percent tax imposed by Apple.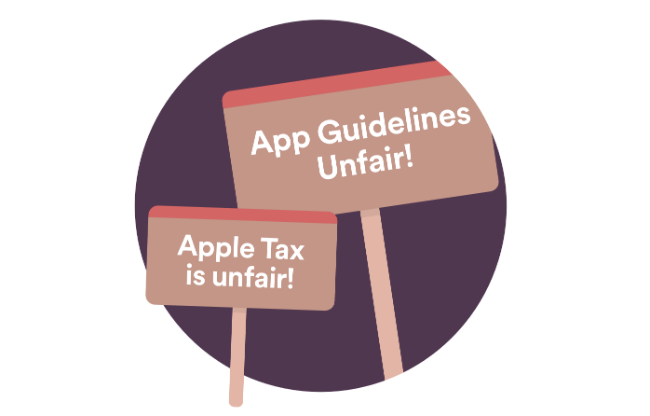 Spotify calls Apple's App Guidelines and 30 percent Apple Tax unfair
However, Apple is said to have applied a "series of technical and experience-limiting restrictions on Spotify". As an example, EK says that the App Store owner limits Spotify's communication with their customers, which, in some cases, even includes sending emails to customers who use Apple. "Apple also routinely blocks our experience-enhancing upgrades. Over time, this has included locking Spotify and other competitors out of Apple services such as Siri, HomePod, and Apple Watch," claims Spotify. EK goes on to say that the company isn't seeking preferential treatment, but equality like many other apps on the App Store like Uber or Deliveroo enjoy. These apps apparently don't need to pay Apple tax.
Summarising its wants in three points, Spotify says: "First, apps should be able to compete fairly on the merits, and not based on who owns the App Store. We should all be subject to the same fair set of rules and restrictions—including Apple Music. Second, consumers should have a real choice of payment systems, and not be "locked in" or forced to use systems with discriminatory tariffs such as Apple's. Finally, app stores should not be allowed to control the communications between services and users, including placing unfair restrictions on marketing and promotions that benefit consumers."
Daniel EK clarifies that this case is not about Spotify taking on Apple, but about Apple implementing fair rules for all companies.
Related Reads:
Spotify India Free vs Premium: Comparing the two tiers