A team of students from Exeter University in UK has developed an app that can sync music from different devices. The app, developed by Edward Noel, Rob Parker, Alex Bochenski and Jonathan Neuman, is called SoundSynk and allows the user to play music from an infinite number of devices at the same time.
The idea behind the device came to the team when they were all sitting together on a Saturday evening. They were playing music on the laptop and wanted the volume to be a little higher. The team tried to synchronise all their phones, laptops and tablets to play the same song. The idea didn't work but lead the team to finally brainstorm and develop SoundSynk.
SoundSynk allows you to connect phones, laptops and other devices through an artificial mesh network and play music simultaneously. The prototype was entered in the Image Cup, a global student technology competition held in Russia sponsored by Microsoft and has won 50,000 dollars that will be used to develop the app further. The image cup had more than eighty-seven student teams from across 71 countries worldwide. The team developed a prototype of the product within 24 hours for the regional's in the Imagine Cup.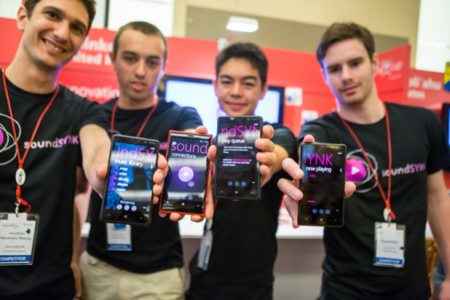 Rob Parker added that the new technology will allow the users to create hyper local social networks and the team was very excited about the future use of the technology.
According to the BBC News, the app has been tested on more than 75 devices and will be made available across all platforms in August. The team is ready to showcase their app at a Basement Jaxx performance at the Reading festival where there will be more than 80,000 people and will be the biggest test for the app.
Source: BBC