Screenshots of Facebook's virtual assistant, Facebook M, in action, have appeared on BuzzFeed and shows some of the assistant's features and capabilities. Facebook M offers similar functionalities as compared to Google Now, Siri, and Cortana. The assistant is currently being being tested by a handful of people in San Francisco. Unlike its competitors, the app will also make use of humans during its communications with users. The service can be used to buy items, make travel arrangements, book tickets and more. The service is being tested within the Facebook Messenger app and can be accessed by tapping a small button located on the bottom of the app.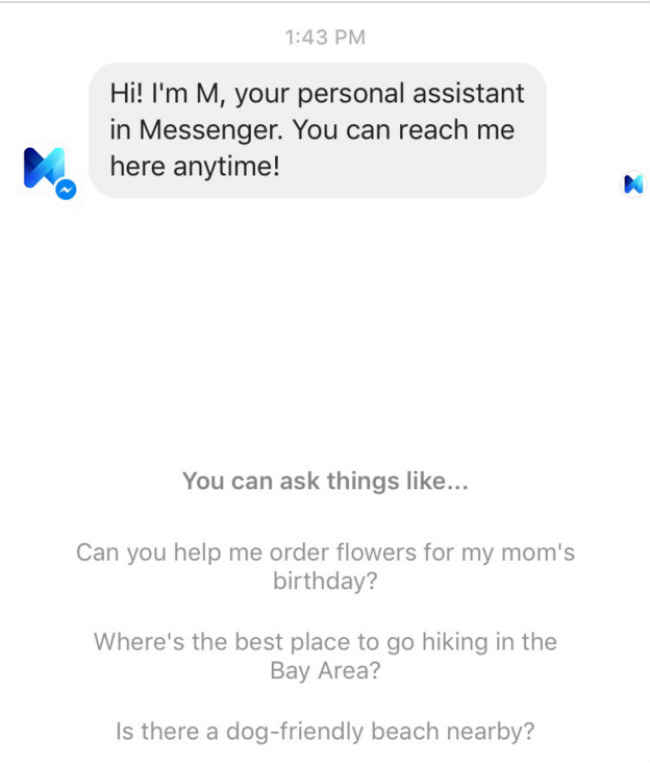 The screenshots show the user trying out a number of different things. One of the first things to be tests was the ability of the assistant to book an Uber cab. However, Facebook M was unable to do so. Maybe the company will add the ability in the future.
Next, the assistant was asked to find vegetarian restaurants nearby. After a small clarification on the exact location, the assistant was able to suggest a restaurant. The assistant's ability to understand and perform complex tasks was then tested when the user asked it to send a summary of Yelp reviews or a screenshot. The assistant not only understood the question, but provided a screenshot of the Yelp review page.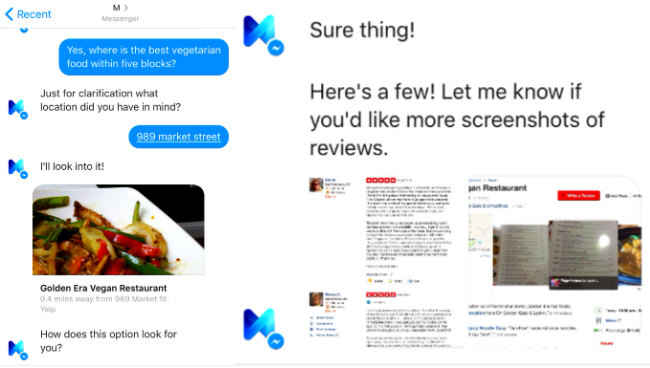 Next, the assistant was asked to find out the cost of flight tickets from San Fransisco to New York and it showed a range of prices for the flight. It was then asked to find the cheapest flight tickets for certain dates. It not only found the cheapest tickets, but also informed the user that they could find cheaper tickets if they changed their week of travel.

The user then asked Facebook M to find prices for a different date and then corrected the date halfway through the initial search. The assistant managed to show the prices for the revised date and offered to search for other options.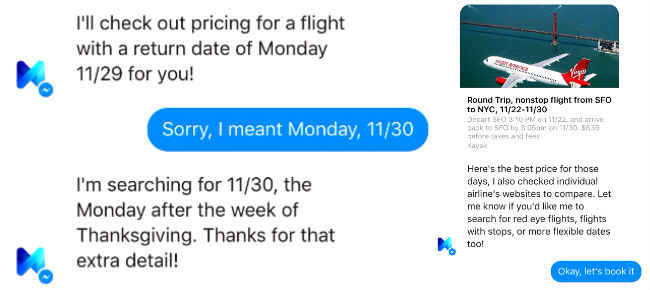 The assistant then offered to book the tickets through the app itself. The user was then taken to a checkout page for the final payment.

The service was also able to send the user confirmation emails for the booking to an email address of their choice, but was also able to add the date to the user's preferred calendar service. In the end, the assistant also seemed more than happy not to save the user's personal data.

Source: BuzzFeed