Acharya Balkrishna, Managing Director of Patanjali Ayurved Ltd & Co-Founder of Patanjali Yogpeeth Haridwar, has announced that Patanjali's "swadeshi" instant messaging app "Kimbho" will re-launch on August 27. The app was launched with an aim to take on WhatsApp and WeChat. It is expected that the app will be available on both Android and iOS.
Balkrishna, while greeting people on the Independence Day on Twitter, said that the app will now be available with new features. "There may be some shortcomings in the "Kimbho" app, with all improvements we will do an official launch on August 27 2018," he said. His announcement was followed by a tweet from Patanjali's spokesperson SK Tijarawala who echoed Balkrishna's announcement and gave more information on the launch. "In the August presence of HH @yogrishiramdev @Ach_Balkrishna Hon'ble Union Minister @nitin_gadkari ji will launch #Patanjali Swadeshi Chat Messaging App #KIMBHO the #ChatExpressway on 27August," he tweeted.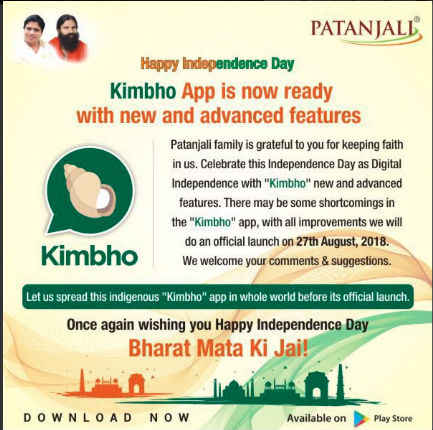 Kimbho is a Sanskrit word and according to Patanjai's spokesperson SK Tijarawala, it means "How are you? or What's new?"
Earlier this year, Yoga guru Baba Ramdev's Patanjali had published Kimbho, but the app was nowhere as secure as it should have been, and French security researcher Elliot Alderson claimed that it was possible to break into the Kimbho app to access personal user information. The Kimbho app was taken down from the Play Store following the discovery of security issues.
The app is owned by Patanjali Communications and its developer Appdios, was the one who published the Bolo Messenger app in 2015. The company had claimed that it uploaded the new app on Google Play Store and Apple's App Store only for a day for technical testing. Patanjali claims that Kimbho witnessed 1.5 lakh downloads in the first three hours when the trial version of the app was put on Google Play Store and App Store.