Want to modernise your banking loan application?
Build an application that analyses credit risk with #IBMCloud Pak for Data on #RedHat #OpenShift
Click here to know more
Advertisements
The Finnish mobile manufacturer is starting the Here Venue indoor Maps service in Kolkata first. The service has initially been launched just for malls in Kolkata and may be later extended to cover airports as well. Kislay Kumar, General Manager – East Market, Nokia India, said that initially only eight city-based malls have been added in the list. The service will allow the user to get details about specific stores, floor levels, elevators and even restrooms in a particular mall.
Nokia's website also has detailed instructions on how to use the "Here Venue" service. "If indoor map of the venue is available, you can view it by tapping the grey building icon. To select the floor in the building, tap the floor icon in the map view. To view the details of a place inside the building, tap the desired place in the indoor map. To return back to the normal map view, tap the map area outside the building."
The venue-based mapping services will be available on Nokia's Windows devices as well as Nokia 'Lumia' and 'Asha' range. The service will also be available for Automobile companies who use Nokia's Mapping service such as Volkswagen, BMW, Hyundai and Mercedes.
Venue-based maps services are present across 20 cities in India like Delhi, Mumbai, and Bangalore.For now, Here' services are available across other operating systems like Apple's iOS and Google's Android, but the venue-specific services will only be available for Windows Phone devices.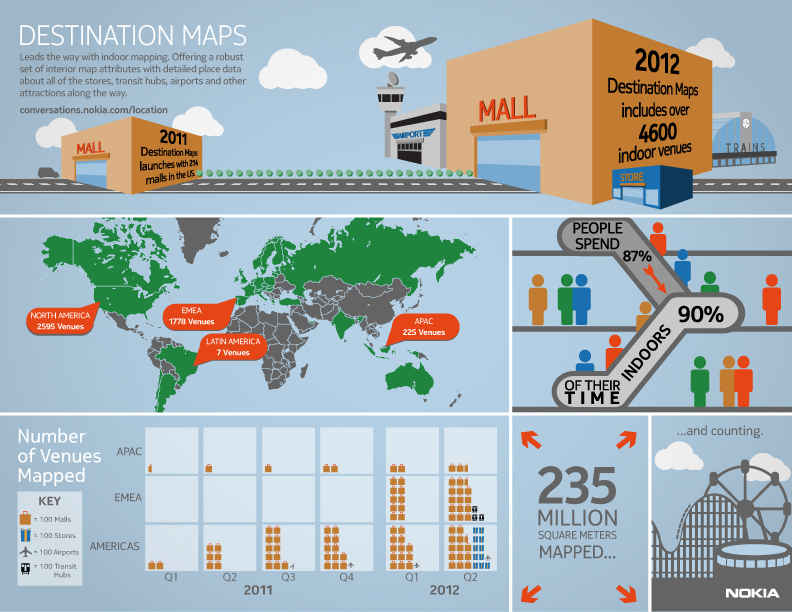 Source: TheHinduBusinessLine