Microsoft has updated SkyDrive.com with new features, giving additional controls over what you've shared, new editing features and much more.
SkyDrive has got a new update which allows easy file sharing between family and friends. Users will now be able to have more control in file sharing, you can choose to share an entire folder and all its contents or give access to individual files inside a folder. The new 'Shared view' also shows you all the stuff you've shared, as well as all the files shared with you.
The Redmond giant has also added new editing features that let users edit files shared with them without having to sign in. You can click on the "Recipients can edit" feature and anyone with whom you have shared the file with can edit it.
Users with devices like the Nokia Lumia 1020 which have a high DPI display will be able to view high DPI images and thumbnails in SkyDrive. The new update also lets users view animated GIFs on SkyDrive.com. Microsoft has also added an 'All photos filter' to specific albums. SkyDrive has also added a photo rotation feature that allows you to rotate and correct images with just a click of a button.
SkyDrive has added new offline connectivity features as well. Now, users will be able to mark they want to access offline and they will be able to make edits that will be updated on SkyDrive automatically once you are connected without any manual configuration. It will also synchronize files with other devices that you work in so you always have access to the latest files.
SkyDrive.com group program manager Omar Shahine wrote in a post to the Inside SkyDrive blog: "Today we're releasing a set of new features that make SkyDrive.com an even better place to store your most precious digital memories, with support for more file types, new editing features, more ways to share with anyone, and added controls over what you've shared."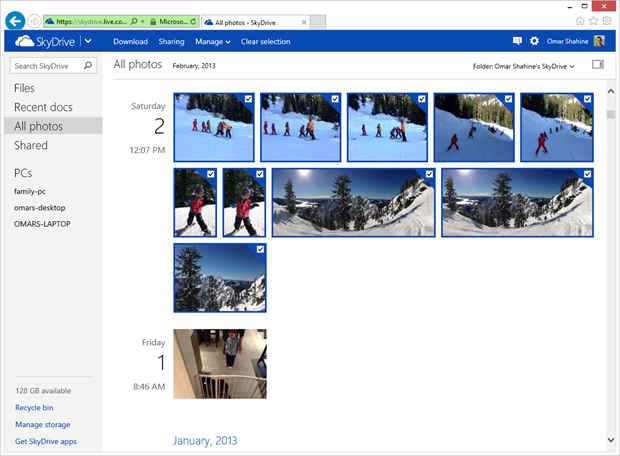 Source: Microsoft SkyDrive