LinkedIn has announced Showcase Pages for companies, allows companies to highlight different aspects of their business and connect to the community. The feature will be useful to companies who want to improve customer engagement and convert them into potential hires.
LinkedIn's Showcase Pages will help segment and display content for specific audiences. David Thacker, the company's vice president of marketing solutions products, confirmed that Showcase Pages are "intended to work the same way" as Company Pages. He added that each company can create up to 10 Showcase Pages for free, but LinkedIn is hoping businesses will also pay to promote those pages with Follower Ads and Sponsored Updates.
LinkedIn mentioned in its official blog post that Company Page administrator can easily create their company Showcase Page. First, the administrator need to identify the business areas that you need a Showcase Page on. Then the user has to go to the "Edit" dropdown menu and select "Create a Showcase Page." After the page is created, the administrator can start sharing content and also monitor the performance of the Showcase Page through the company's analytic tools.
LinkedIn has got good response from big tech companies like Microsoft, Adobe, Cisco and HP. Microsoft has created a page focused on Office and one more on Dynamics, while Adobe has created a page for its Creative Cloud suite of products and for its Marketing Cloud.
However Thacker stated, "There's no reason small businesses couldn't use this to highlight different aspects of their business" too.
The company has also developed a new recruitment tool called Talent Updates that lets companies share status, which can target specific individuals to keep their business top-of-mind. The tool will help recruiters post status updates about recruiting events, to employee videos and company blog posts directly to company followers.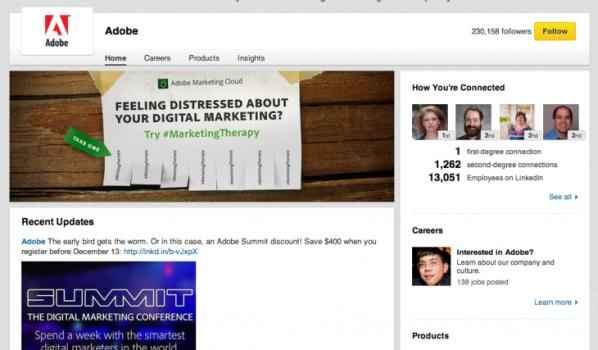 Source: LinkedIn, Techcrunch