After making Facebook easily accessible to Indians by extending the local language support on the platform, the company is now apparently planning to localise its photo and video sharing app Instagram by bringing Hindi language support to it. According to tipster and mobile researcher Jane Manchun Wong, the Menlo Park-based tech company "is working on supporting Hindi as part of their growth efforts." Instagram currently supports no Indian language though there may be people in India who could be accessing Instagram in languages other than English.
In the images posted on her Twitter handle, you can see that Instagram is notifying people about the activity in Hindi. Even the IGTV page has Hindi language support. The development comes almost two months after Instagram's parent company Facebook extended automatic translation of 24 languages, including Marathi, Telugu,Kannada, Gujarati, Punjabi, Malayalam and Urdu, by incorporating Artificial Intelligence (AI) and, more specifically, Neural Machine Translation (NMT).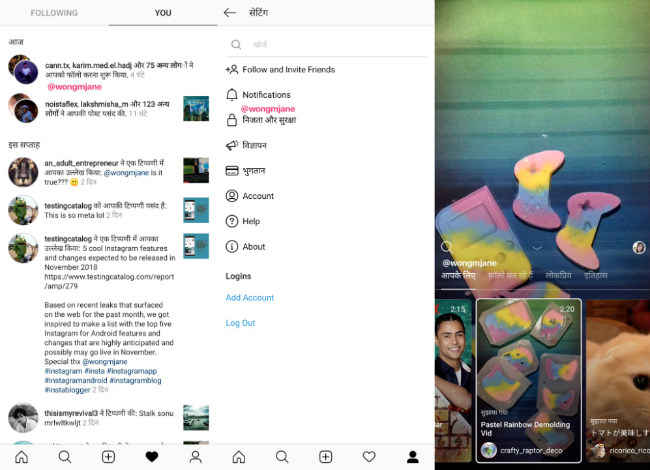 Not only Facebook, other companies like Google are also expected to expand and support more than 30 languages, including Danish, Dutch, Hindi, Indonesian, Norwegian, Swedish and Thai on Android phones and iPhones by the end of the year. According to a report from Google and KPMG, by 2021, Hindi internet users will surpass English internet users in India.
Instagram has over a billion users globally and India has over 71 million users. Recently, Facebook said that more than 2.6 billion people now use Facebook, WhatsApp, Instagram, or Messenger each month, and over 2 billion people use at least one of its "Family of services" every day on average.