Google collects user data to improve the overall experience of its services and provide ads, however, some may get offended by the fact that the company is tracking their each and every move to build behavioural patterns using AI. To address this issue, the company introduced auto-delete controls for Location History and activity data a week ahead of this year's Google I/O. These controls are aimed at providing users more tools to keep their personal information protected. Google has now announced that it has started rolling out auto-delete controls and you can find them in the My Activity menu within the Google app.
For those who don't know, users already have an option to turn the Location history off manually. With the latest roll out, users won't have to worry about manually switching the toggle on or off, and can just set one of the three settings provided in the app. Google's new auto-delete controls for Location History and Web & App Activity data let users set auto deletion of data every 3 months or 18 months. The third option is still for user to manually delete it.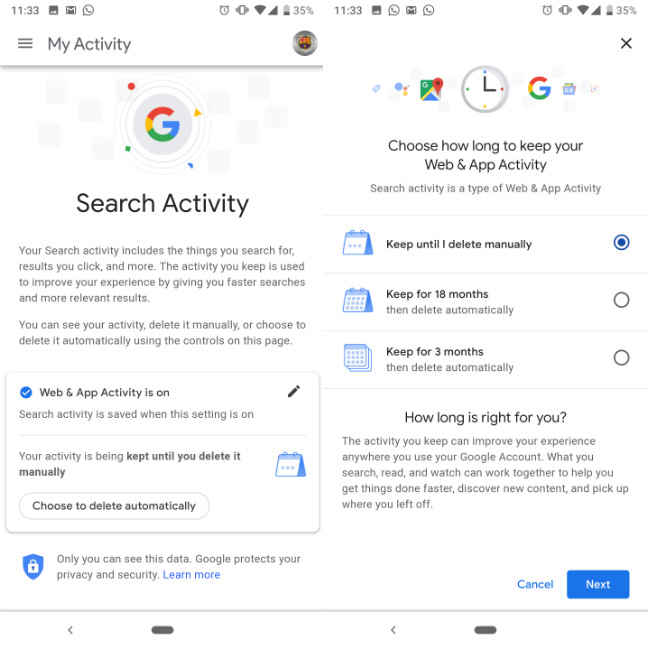 "Whether you're looking for the latest news or the quickest driving route, we aim to make our products helpful for everyone. And when you turn on settings like Location History or Web & App Activity, the data can make Google products more useful for you—like recommending a restaurant that you might enjoy, or helping you pick up where you left off on a previous search. We work to keep your data private and secure, and we've heard your feedback that we need to provide simpler ways for you to manage or delete it," Marlo McGriff and David Monsees, Product Managers at Google wrote in a blogpost at the time of introducing it.
How to access these settings:
First, you need to open the Google App, and tap the three dots ('more' option) in the bottom right corner of the screen. Tap "Search Activity," and Google will automatically sign-in with your account. You will be greeted by a "Search Activity" screen. Scroll down and choose "Choose to delete automatically" option. From the next screen, you can choose one of the three options, tap "Next" and your preferences will be saved.