Google has rolled out a new feature that will let users report a 'slowdown' to intimate others about the slow-moving traffic situation in specific areas. The latest feature builds on the already available speed trap and accident reporting options. This feature is now available in India on Android. However, iOS users are yet to receive the functionality. When checked on Google Play Store, the last update was on March 18, which could mean that this is a server side update.
The move is seen as an addition to Google's effort to make on-the-road commutation easy for Indians. Google has been giving information about traffic jams for a long time now by pulling the data from other drivers who are in the area but the process of data collection is a bit time-taking. With this feature, you can report a 'slowdown' and intimate others about it in a lot less time as the data collection process will become quicker, that too with increased accuracy.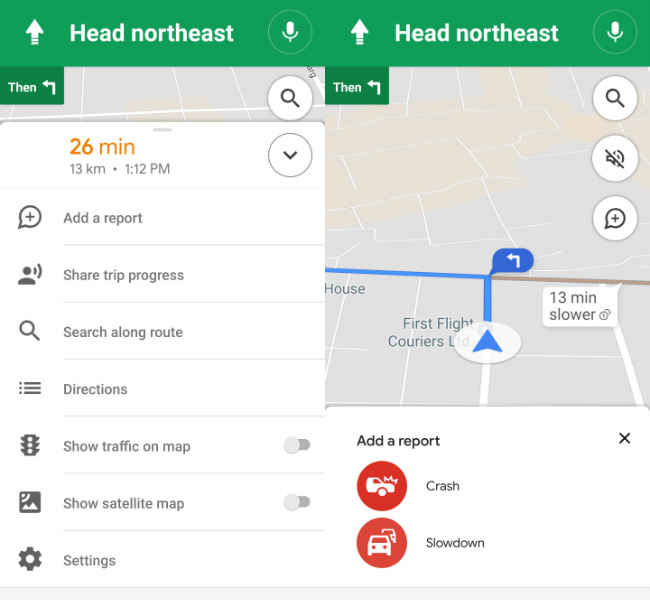 Interestingly, Google Maps is using different names on the basis of the user's location or language settings. Reportedly, Maps users in the UK will see this option marked as "congestion" instead of "slowdown." The feature can be accessed by pulling up the menu from the bottom of the Maps screen. Tap "Add a report" and then you can add a crash or slowdown report.
Previously, users globally got an update that enabled them to report an accident or a speed trap in the app itself if they encountered one on their journey. Even the rollout of these features was not officially announced. The speed trap feature is supposed to help commuters know if there are any speed cameras along the route with the help of a small camera icon. The feature could also be used to dodge any attempt of the regulating authorities to catch the defaulters.
Related Read:
Google Maps on Android now supports auto rickshaws for public transport users in Delhi