HIGHLIGHTS

Play Pass is an app/game subscription service that Google is currently testing.

It could have a monthly subscription fee of $4.99 (Rs 345 approx) in the US.
In an age when XAAS (anything as a service) is stepping up to be the preferred pricing model for all types of digital consumers, it appears that even the paid apps we install on our Android phones might adopt a paid subscription-based payment plan. According to a recent report by Android Police, Google is currently testing a new app- and game-subscription service called Play Pass. This service is akin to Apple Arcade, a monthly app subscription service Apple announced last year.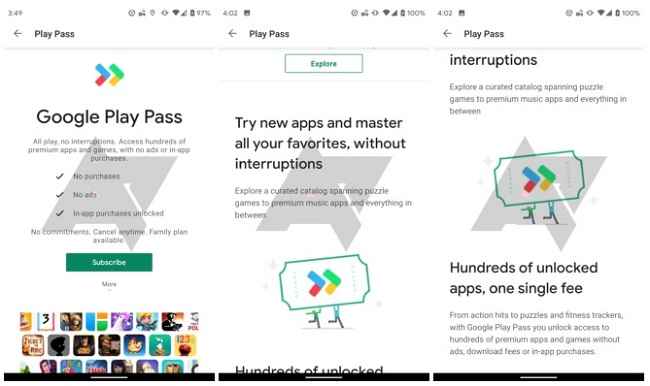 Android Police was able to shed light on Play Pass in its exclusive report after one of its readers sent across a few screenshots of the Google service that's still in development. From the screenshots shared, we can tell that Play Pass lets a subscriber "explore a curated catalog spanning puzzle games to premium music apps and everything in between". We still don't know which all apps and games this service will include although Stardew Valley and Marvel Pinball are seen in the screenshots.
"From action hits to puzzles and fitness trackers, with Google Play Pass you unlock access to hundreds of premium apps and games without ads, download fees or in-app purchases," reads the description in another screenshot. In the US, Google could charge a user $4.99 (Rs 345 approx) every month for Play Pass after a ten-day trial but we're not sure if that's the final price. We're also yet to receive any information on the India roll-out of this new Google service.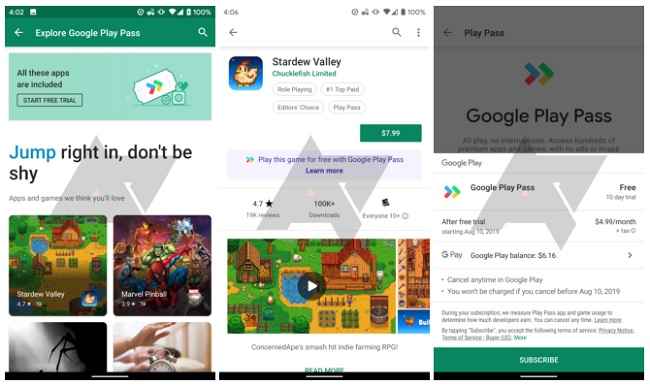 Google reportedly confirmed the development of Play Pass, which means the subscription service is on its way for sure. We're not entirely sure whether Google is trying to fix a marketplace payment gap with the new Play Pass service. Recently, Tinder announced a direct payment feature that bypasses Google Play's fees, which should give Google cause for concern. While there's no definite roll-out date mentioned for Play Pass, we expect it to come out in the coming weeks.
Cover and inline image courtesy: Android Police