On its 20th anniversary, Google announced that it will be making some new changes to Search and the first change is now being rolled out. The Google Feed is being rebranded to Discover on Google.com, for mobile phones. The new update is not yet enabled for us as we checked both Android and iOS, but it looks like the rollout is currently limited to select users, as per 9To5Google. The update adds more content to the rather minimalistic Google web homepage and adds article cards displayed below the Google Search bar, similar to the Google Feed. There will also be the same topic headers on top of each card that, upon tapping, will bring up additional information.
These cards are said to be similar to the ones on the Google app's Discover, with a title and a brief summary, along with a cover image. On the upper right is a three-dot menu that gives options like dismissing or hiding a card or expressing disinterest in a topic. On the bottom right corner is the option to see more or less of a topic. One can also tap "Follow" from the three-dot menu to get more info that topic in their Search experience. This is somewhat similar to what Google did with the new Google News. The new feature will also display videos and fresh visual content based upon the user's activity.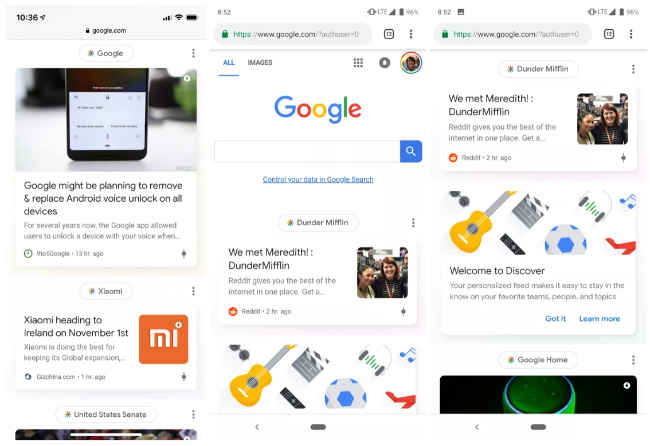 Image courtesy: 9to5Google
Previously Google had announced that Discover can only be personalised to show English or Spanish content in the US, but will soon support more languages. "Think of it as your new mobile homepage where you can not only search, but also discover useful, relevant information and inspiration from across the web for the topics you care about most. This will be rolling out over the next few weeks," the company stated in an earlier press release. Google will also bring some additional changes to Search like Activity Cards, add Google Lens to images and more. You can read more about this here.