HIGHLIGHTS

Google's apps left Facebook's apps behind to become the top downloaded apps in Q4 2019.

WhatsApp was the most downloaded app of 2019 and was followed by TikTok.

Facebook, Messenger and Instagram take the third fourth and fifth spot for most downloaded apps of Q4 2019 respectively.
Sensor Tower has released its new report covering global download trends in the mobile app ecosystem for Q4 2019, and for the entirety of 2019. Going by the report, 2019 was a pretty interesting year for app developers as the overall app downloads grew to 9.1 percent, which is equal to 114.9 billion. App Store contributed 30.6 billion downloads while 84.3 billion downloads happened from the Google Play Store. When talking about total Q4 app downloads of 2019, WhatsApp takes the top spot and while Facebook, Messenger, and Instagram took the third, fourth and fifth spots, TikTok came in second.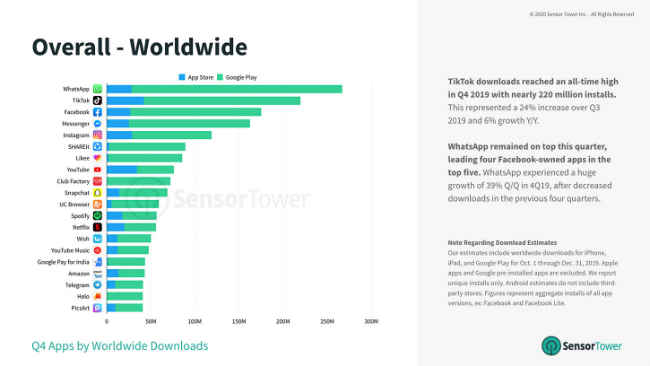 The report also notes that in about five years, in Q4 2019, Google dethroned Facebook as the top mobile app publisher. Users downloaded about 850 million Google apps, as opposed to Facebook's approximately 800 million downloads. As for the overall downloads in 2019, Google with about 2.3 billion downloads lags behind Facebook that has about 3 million downloads. This isn't surprising since Facebook owns WhatsApp, Facebook, Messenger, and Instagram. In Q4 2019, between October 1 and December 31, Call of Duty: Mobile was the most downloaded game with over 180 million downloads. PUBG Mobile slipped to the fourth spot and above it was Sand Balls and Brain Out.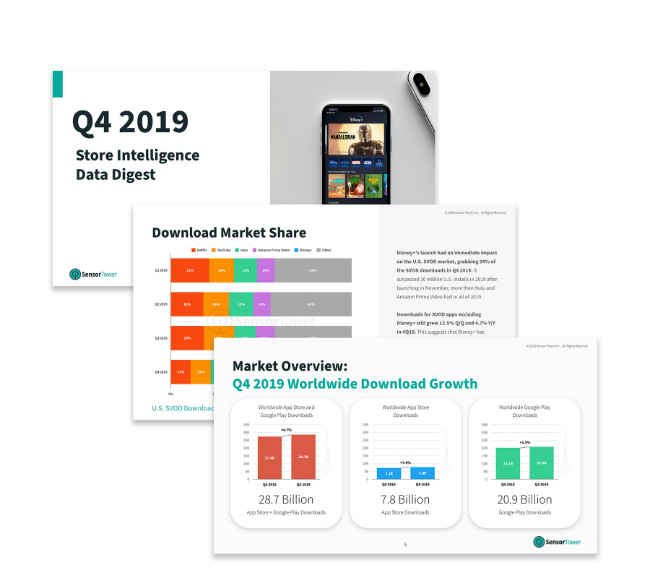 Surprisingly, Disney+, which was officially announced on November 12, was able to grab the 9th spot for Q4 2019 on the Apple App Store. It was downloaded over 30 million times in Q4 2019 in the US, which is more than double of its TikTok, its next nearest competitor. Disney+ is said to have grossed over $50 million in its first month and left behind other subscription OTT platforms like Showtime and HBO NOW. As mentioned above, TikTok became the second-most downloaded app of 2019 with over 220 million downloads in Q4 2019. TikTok's revenue increased by a whopping 540 percent in Q4 2019.