HIGHLIGHTS

A report dug around the inner workings of Google Maps.

It found that Google Maps and other competing services altered world borders.

Kashmir is apparently shown as a disputed territory for Pakistanis.
Google Maps is the biggest maps and navigation service with over 1 billion users worldwide. However, a new report by the Washington Post unearths the fact that the search giant changes how world borders are portrayed, depending on the country where you access the app from. Not only Google but Apple and Microsoft apparently do the same, as per the report. One example of such changes would be viewing Kashmir on Google Maps. For India-based Google Maps users, Kashmir is shown as a part of India. However, for users elsewhere, it is marked with a dotted line, denoting that it is a disputed territory.
Such alterations, depending on where you are using the app from, are said to be quite common. Another example the report presents is how the northern border dividing Western Sahara and Morocco is missing when Moroccans view it on Google Maps. You can see, in the image below, how the border is portrayed when viewing maps in Morocco view and in Western Sahara View. Similarly, the left portion in this article's cover image represents how the Kashmir region is shown to people of Pakistan, which is a dotted line denoting disputed territory. On the right is the Indian version of the same map, which shows Kashmir as a part of India, with a solid line.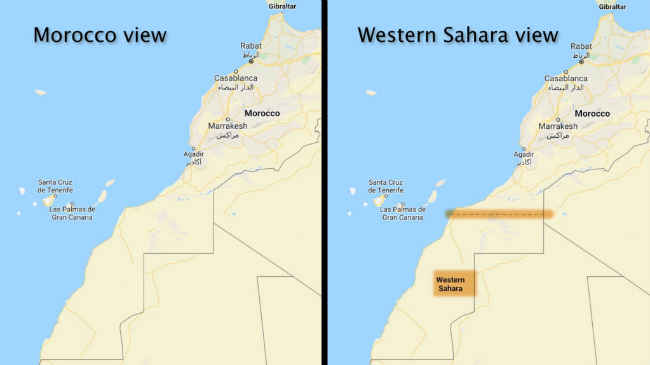 The Washington Post report focuses primarily on how Google Maps modifies its maps to suit "the shifting whims of diplomats, policymakers and its own executives." Ethan Russell, director of product management for Google Maps, said in a statement to the WP, "Our goal is always to provide the most comprehensive and accurate map possible based on ground truth. We remain neutral on issues of disputed regions and borders, and make every effort to objectively display the dispute in our maps using a dashed gray border line. In countries where we have local versions of Google Maps, we follow local legislation when displaying names and borders."
Apple, however, is said to be responsive to local laws when it comes to displaying borders and labelling a place. Jacqueline Roy, a spokeswoman told WP, "We are taking a deeper look at how we handle disputed borders in our services and may make changes in the future as a result." Microsoft is said to reach out to the International Court of Justice, the United Nations or academics, among others, regarding borders, or it otherwise indicates a border is disputed, as per its cartographic policy.