Highlights:
iOS developer says Apple violated App Store guidelines.
The allegation has attracted both support and criticism.

Apple's newly-launched service, the Apple News Plus, violates guidelines laid down by the company on App Store, iOS developers have alleged and are demanding that it should be rejected. The claim has attracted both support and criticism. While some say that the iPhone-maker is showing "Double Standards" and inconsistent application of the App Review Guidelines, others note that the guideline that is being discussed is designed for third-party apps.
According to Apple's Guidelines, a strategy of "tapping 'Try it Free' button, confirming the payment, and it's done" is forbidden for developers. In the App Store guidelines, Apple says, "Push Notifications must not be required for the app to function, and should not be used for advertising, promotions, or direct marketing purposes or to send sensitive personal or confidential information. Abuse of these services may result in revocation of your privileges."
Dave DeLong, the iOS developer who questioned Apple's move, says that Apple hasn't provided any links to privacy policy or support page and hasn't even "provided any info on how to cancel." Users can, however, cancel the subscription in the app (under Following > Manage Subscriptions) as well as in the Settings and App Store app pages.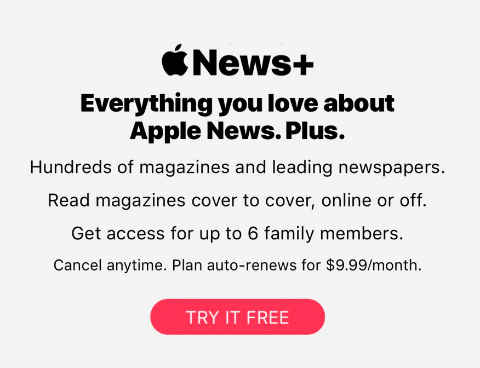 Apple recently launched its Apple News Plus, a service that integrates magazines with its Apple News service. Apple said that the new service will feature over 300 magazines like National Geographic, Men's Health, Vogue among others. As news and information from trusted sources is critical, Apple says that the entire service revolves around the same theme with curated content and trusted articles. Those interested can subscribe to the Apple News Plus service at $9.99 (Rs 650 approx).
Further, this is not the first time that Apple has been called out for allegedly flouting its own guidelines. Previously, Apple sent people push notifications promoting Apple Music, Carpool Karaoke, and Apple Music on Amazon Echo.
Recently, Apple was at loggerheads with Spotify and the music streaming app went against the Cupertino-based tech company in the European Union over the Apple Tax and restrictive rules that Apple imposes on apps that are a part of the App Store. Spotify claimed in its complaint that for those apps not willing to pay the 30 percent cut of in-app purchases. In a statement, Spotify even called the company 'Monopolist.'
Related Read:
App developers want better revenue cut from Apple