Highlights:
Apple Maps now features turn-by-turn navigation
The feature is also available when one chooses the Walk option
The app also gets a Ride tab that will enable users to book a cab from within the app

Apple Maps has been available in India from quite some time now, however, comparatively, it wasn't as great as Google Maps. This was partially due to the absence of some critical features like turn-by-turn navigation that help the user find their way, however, the company is now rolling out the feature for the app, which is also available when one chooses the Walk option. Additionally, some new options like cab bookings, and a new Transport tab are also now available on the navigation app but the Transport option seems to be incomplete as of writing this article since there are no options under it.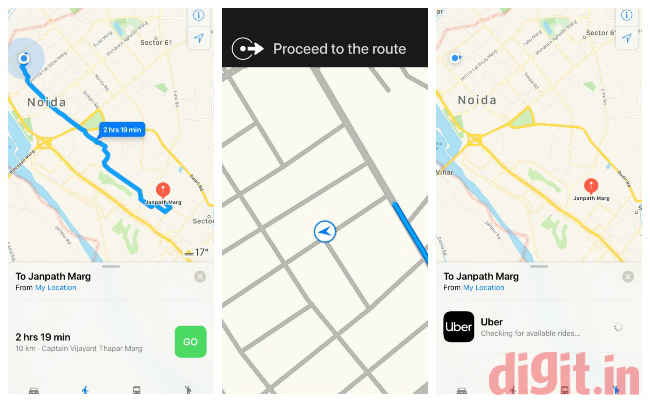 The Maps app has also received a Ride tab, which is somewhat similar to the one Cab feature on Google Maps. However, we were only shown an option to book an Uber and mayhaps later, the app will add support for other cab services as well. Even though Apple Maps has received some new features, the app is far from perfect. It still takes a while to load and is slow to pinpoint one's precise current location. The turn-by-turn navigation feature is yet to be polished to an extent that it can take on Google Maps, but the update is a step in the right direction. We came across the new features on one of our iPhones in the office after spotting that many users on Twitter are claiming the same.
In other Apple news, the company's CEO Tim Cook spoke about the company's ongoing legal battle with Qualcomm, saying that the chip manufacturer is paying people to write fake news. Cook also dismissed that India could get a cheaper iPhone and when asked about the idea of a budget iPhone, Cook said, "For us, we're about making the best product that enriches people's lives. We're not about making the cheapest. We want to make a great value but that's not necessarily the cheapest. What we've seen is that there's enough people in every country in the world that we play in that we can have a really good business by selling the best phones. We knew that when we went to the iPhone X and the follow up with the XS and XS Max, that everybody would not want to spend a $1000 for the phone and so we made the iPhone XR." Cook spoke more on many other topics and you can read more about it in detail here.
Related Reads: