Make 2021 your best year with IBM Developer
Make 2021 the year where you truly shine, grow, build & Code. Get support and motivation from the IBM Developer community. #IBMDeveloper #CodePatterns
Click here to know more
Advertisements
Amazon dabbles in a variety of services, which can be availed by their customers like online shopping, web hosting services, and more. Now, the company has created an internet browsing app with a rather generic name called 'Internet: fast, lite, and private.' The app is listed on the Google Play Store from March 20, 2018, and went unnoticed until it was spotted recently by TechCrunch. The company has not announced the browser yet, but it is a lightweight app which will cost you less than 2MB to download and is said to be geographically restricted to users in India.
It's clear from the app's description that it is meant for emerging markets, where internet connection can be unreliable and slow. It is also focused on maintaining user privacy as it claims to not require extra permissions to run or collect your private data "like other browsers" and runs on devices running Android 5.0 and up. The browser supports anonymous web surfing option with 'Private tabs', which is similar to the Incognito mode in Chrome. While using the feature, the browser doesn't log web history and comes with other features like tab previews, a full-screen mode and an displays trending news on the home screen. The app's feedback section on the Play Store has an email address to Amazon India, which tips that the browser was built by the company's India division. It's description reads,"Internet browser is lighter than the competition. This means more storage to download the latest videos and music from your favorite sites. Get new features regularly, with updates so small you may even decide to download them with your data plan." As per the TechCrunch, the app has been downloaded by about 1000 users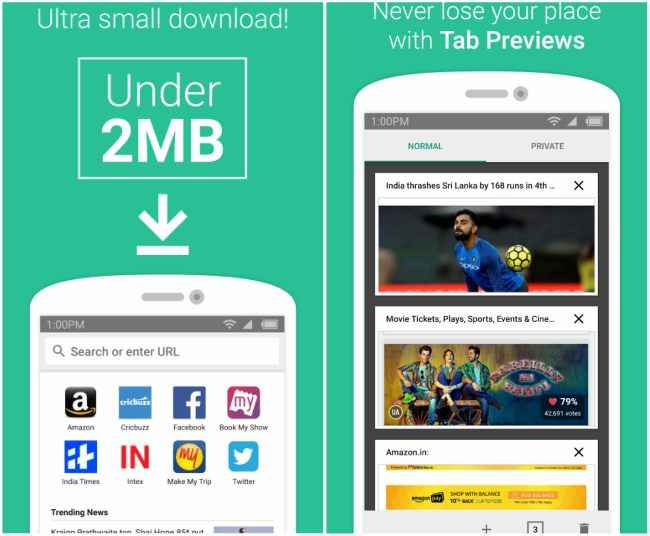 This is not the only app by Amazon, which has launched for India as the company previously introduced its optimised Kindle Lite app for Android users in the country. It is also less than 2MB in size and is aimed at users who have limited storage on their smartphones and use slower 2G/3G connections. The company said that the app works well even on slow and patchy internet connections, and comes with features like personalised instant reading, image zoom, night-mode, recommendations, Whispersync (syncing a user's eBooks across devices) and more. Both the Amazon Kindle Lite and the Internet apps now join lightweight apps join the likes of Facebook and Twitter, which also have stripped down apps which are focused for users in India. The Facebook Lite app was launched in India back in 2014, while Twitter Lite was launched as a progressive web app just last year. There is also a lighter version of Skype, which was announced by Microsoft in February last year.
The company's Echo lineup of smart speakers are also available in India and in response to Google launching its Home and Home Mini speakers in India, the company has some offers for customers who are purchasing the Echo devices. We have also highlighted the 5 features which Amazon Echo has, that Google Home doesn't. You can read it here.