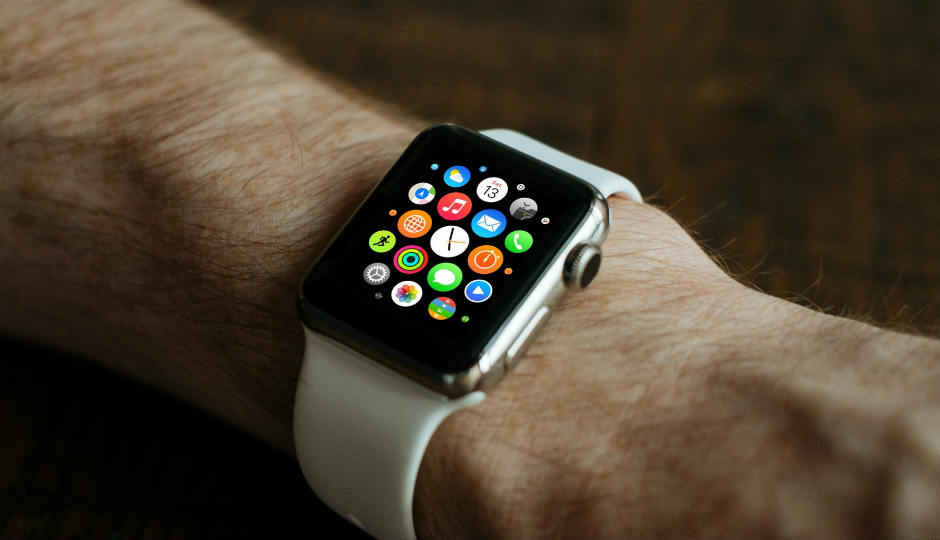 HIGHLIGHTS
The numbers aren't looking good, neither is the state of some of the key players in the wearables industry.
Fitbit laid off 6% of its workforce. Pebble shut shop. Jawbone is reportedly planning to exit the wearable space and enter the medical tech arena. Misfit handed over its business to Fossil way back in 2015. The wearable world is stagnant and in a downward spiral. Will it stand the test of time? Are you still using the smartwatch you picked up 6 months ago? Are fitness trackers purely riding on a novelty factor? Do we really need another device to charge? Let's try and answer, these and other pertinent questions. The fate of the wearables market depends on them.
Why are we buying wearables in India?
To say that wearables do not attract the same enthusiasm as smartphones would be an understatement, at least in the 'developing market' we live in. However, market reports will tell you that Indians are still stocking up on wearables. According to a report by the International Data Corporation, wearables clocked just over 400,000 units in the first quarter of 2016. They continued their successful streak through to the second quarter of 2016, with a jump of 41.9 percent over the previous quarter. While Chinese manufacturer Xiaomi led the rally of wearable shipments in India in the first quarter, native GOQii took its title away in the second quarter, while Fitbit sat comfortable on the third spot throughout the two quarters.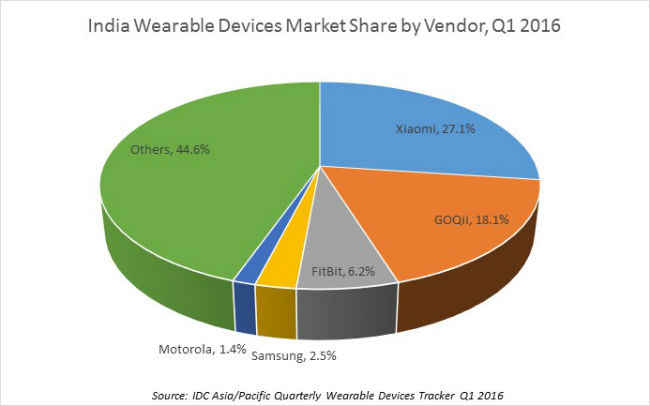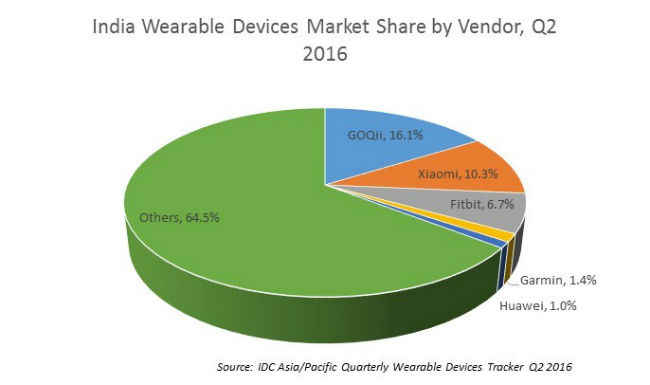 While a robust growth trajectory looks good on paper for the wearables industry in India, it may not remain in the green for long. The same IDC report goes to show that Indians are more likely to buy basic activity trackers, instead of smart wearables that run third-party apps such as the Apple Watch or the Samsung Gear S3. Here in India, it all comes down to price and novelty. While the latter may also be a factor that influences wearables' purchases in countries like the US and UK, price sensitivity is, and has been, a crucial deciding factor for Indians. A Rs. 1,999 Mi Band 2 is any day more attractive to the Indian buyer than a Rs. 14,999 FitBit Charge 2 or a Rs. 32,900 Apple Watch 2. In fact, almost 94% of wearables accounted for in IDC's Q2 2016 numbers account for 'basic bands and trackers'. "The average price of over $190 has had a negative impact on smart wearables (smartwatches and such) as it is still perceived as a premium device which not many consumers can afford," Raj Nimesh , Senior Market Analyst – Client Devices, IDC writes in the report.
A new toy to play with, or as we called it earlier, novelty, is the second factor that influences wearables' purchases, in India. That, coupled with an affordable price tag, is a recipe for success that many wearable sellers like Xiaomi and Huawei have adopted in India. GOQii, India's largest wearables vendor by market share, takes a different approach by selling subscriptions instead of devices. The cheapest, 3 month subscription for GOQii services, including a fitness band and real-life health consultations starts at Rs. 1,999. Still very affordable for personal consumption as well as gifting.
Global smartwatch shipments grew as low as 1% annually
Why are they not buying wearables abroad?
In markets that are not driven by price, wearables had a real opportunity to make a difference. However, they have failed to do so. Every now and then Apple launches a watch or Samsung releases a new Gear device, to create some 'buzz' in the market. A market, which for long, has been hoisting red flags for wearable makers. Since 2014, the western world has made its lack of commitment to wearables very apparent. An Endeavour Partners' survey by from circa 2014 claimed that 50% of wearables' users had a tendency to dump their devices. As per the report, "The wearables that are very successful are the ones that are designed to solve a very specific problem for someone that a smartphone isn't doing."
Come 2016, a Gartner report remains almost unchanged. According to the findings of the report, the abandonment rate of smartwatches is 29%, and that of fitness trackers is 30%. "The abandonment rate is quite high relative to the usage rate. To offer a compelling enough value proposition, the uses for wearable devices need to be distinct from what smartphones typically provide. Wearables makers need to engage users with incentives and gamification," stated the report.
In this two year period, smartwatches and fitness trackers became smarter, added more sensors, and heightened their appeal. But they still haven't hit the sweet spot with consumers. A latest study by Strategy Analytics points out that global smartwatch shipments grew as low as 1% annually, from 8.1 million units in Q4 2015 to 8.2 million in Q4 2016. This, after two consecutive quarters of declining volumes. Another report by eMarketer shows the dire state of US adult wearables users and penetration. You can view the data from this report below.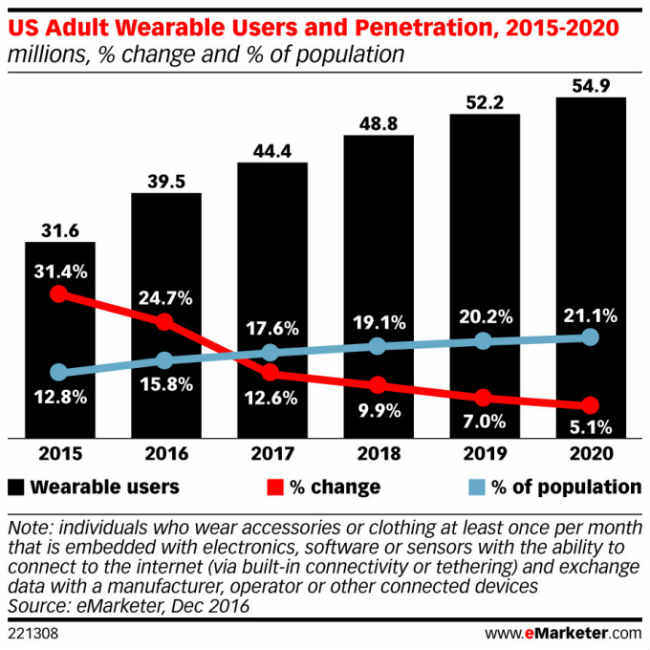 "Smartwatches in particular," the report states, "have failed to impress customers." As per the firm's estimates, 39.5 million adults in the US will use an internet-enabled wearable device at least once a month. The firm cut their own estimate, which it predicted to be 63.7 million back in October 2015. "Without a clear use case for smart watches—which have more features than fitness trackers, but significant overlap with smartphone functionality—the more sophisticated, expensive devices have not caught on as quickly as expected," said eMarketer analyst Nicole Perrin in the report.
The Silver Lining, beyond fitness tracking and useless apps
After years of playing the same record, there is one good thing that seems to have come from the wearables space – medical wearables. Why? Because they actually have some utility to offer. In some cases, this could be monitoring long term illnesses, or in others, reminding patients to take their medicines on time, or help a paralysed man feel touch, or even help calm down patients who suffer from panic attacks. Medical wearables have the ability to actually make a difference for their users, as opposed to trackers and smartwatches that bombard people with data they cannot interpret or trust. As per a study carried out by researchers at the University of Pittsburgh, fitness trackers don't actually help people reduce weight and become fitter. Another one published in Lancet Diabetes and Endocrinology, states that while fitness trackers and smartwatches do increase activity levels in people, it is not enough to battle chronic illnesses.
In conclusion, it is safe to say that the days for wearables as we know them now, are numbered. The future belongs to wearables that can do more than just replicating smartphone tasks. Wearables that can truly engage users, assist them in achieving tasks that they otherwise cannot using a smartphone. Competition for wearables has presented itself in the form of VR/AR headsets, virtual assistants and IoT devices, all of which present stronger use-case scenarios even at this nascent stage. Will wearables suffer the same fate as tablets? One can't help but wonder.
SEE ALSO: Brain wearables and my battle with concentration