Fossil, the American fashion house, seems to have taken it upon itself to flood the hybrid smartwatch space. What's a hybrid smartwatch? Well, it is essentially a chronograph watch with some smarts such as notification alerts, step tracking, sleep tracking and more, built into it. When it comes to Fossil, the company has a number of hybrid smartwatches under its brand. Sometimes, the company licenses other high-street designer labels to create watches like the Emporio Armani Connected and Michael Kors Access Hybrid Slim, both of which we have reviewed in the past. On other occassions, Fossil also makes smartwatches under its own brand name; such as the Fossil Q Nate, Fossil Crew Master, Fossil Q Tailor, and more.
The Skagen Connected Hybrid Smartwatch is also made by Fossil, and interestingly enough, Skagen Designs, the Danish watch brand is a wholly-owned Fossil subsidiary, which was acquired by the company back in 2012. So ultimately, what you get in the Skagen Connected is an American hybrid smartwatch with a design philosophy that originates in Denmark.
Build And Design
There is no doubt that the Skagen Connected is a gorgeous looking watch. Its closest competitor in terms of looks would be Fossil's own upcoming Modern Pursuit connected smartwatch which was showcased at CES 2017.
The Skagen Connected stands apart amongst all other Fossil hybrid smartwatches I have used so far. Blue and Brown is a classic design marriage. Add a bit of Gold to the mix and you've got yourself a watch that looks suave and premium at the same time.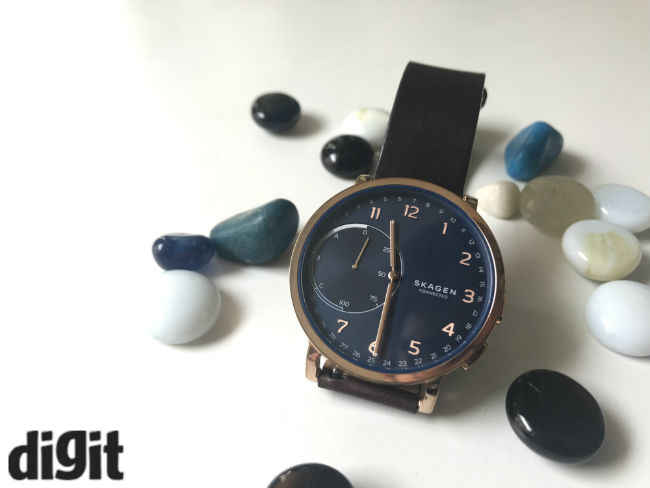 The Skagen Connected features a round Gold dial made of metal. This is complemented by a Blue watch face with Gold hands and numbers. Similar to the MK Access Hybrid, three chronograph-like buttons rest on the side of the Skagen Connected, which can be used to switch between its various smart features. However, unlike the Emporio Armani or Michael Kors hybrid smartwatches, the Skagen Connected does not feel bulky around the wrist. In fact, the watch weighs just 63 grams compared to the 117 gram MK Access Hybrid Slim. It's not just the inclusion of leather straps that makes the Skagen lighter, it is also the uniquely light stainless steel dial, which may give the illusion of being fat and heavy at first glance.
There are many online portals that sell the Rs 14,995 Skagen Connected Hybrid Smartwatch, but many of those portals have made the mistake of deeming it a men's watch. To all those who write product descriptions for these ecommerce platforms, I would like to give you a very important design tip. Just because a watch has a big dial, it does not automatically becomes a men's watch. If Fossil is marketing this as a men's watch, it is doing so wrongly. In fact, the watch is distinctly feminine as far as its looks are concerned. It does not even look that great on a male hand (at least the range of male wrists at my disposal in office), and clearly accentuates the female wrist with its Blue and Gold watch face. That said, I feel design is a very personal choice and I would not judge a man wearing the Skagen Connected. Okay, maybe a little.
Overall, I would give full marks to the Skagen Connected for its good looks and lightweight design. My only qualm with the watch would be that the secondary dial inside the watch is a tad bigger than those I have seen in previous Fossil watches, and the base of the hour, minute hands rests inside the secondary dial, which should ideally not be the case.
The Smarts
The Skagen Connected has the same smarts built inside the watch as the Emporio Armani Connected or the Michael Kors Hybrid Slim. The smartwatch features step, sleep and calorie tracking, along with notification alerts, a second time zone display and the Fossil smartphone link functions. Apart from its name, Skagen Connected, the app accompanying the hybrid smartwatch also has the same structure and UI as Fossil's bandwagon of hybrid watches. You can read an in-depth review of the app and the Skagen Connected's smart features in any one of our previous reviews here, here or here.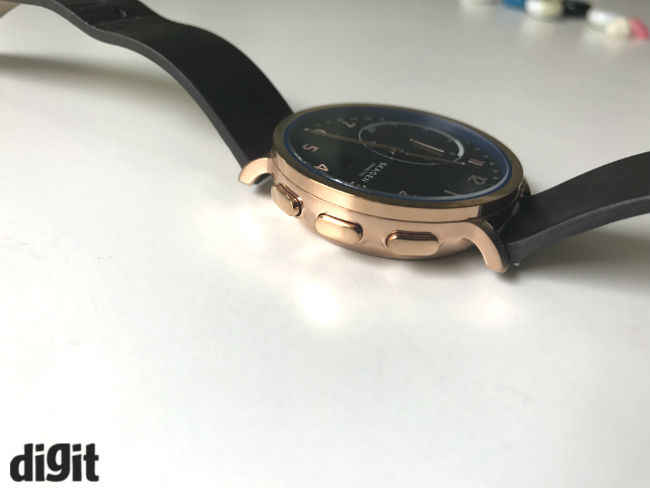 Battery Life
Again, like all of Fossil's hybrid smartwatches, the Skagen Connected is also powered by cell batteries that are said to last at least 4-5 months before they have to be replaced. As we have said before, this makes the hybrid watches very appealing compared to the smartwatches that have to be charged on a daily basis. Then again, smartwatch like the Gear S3 or Apple Watch 2 house many more sensors and apps that guzzle up battery life, whereas watches like the Skagen Connected offer limited smart functionality.
In conclusion, the Skagen Connected is a solid buy for those who still appreciate the beauty of a chronograph and don't expect another smartphone on their wrists.