We live in a world where we are almost constantly on the go. As such, keeping an eye on our health has become ever important. This is why OPPO has decided to introduce its new OPPO Band Style fitness tracker. The new device aims to be the ideal smart accessory for anyone looking to augment their health and fitness-centric lifestyle. The device is packed with features and sensors to ensure that the right information is accessible to the user that too on the go.
Here's a look at some of the key features of the OPPO Band Style:
Smarter health
The most important feature in any fitness device is the information it can provide. The more information it can offer, the more knowledge a user will have about their body. This information can help prompt lifestyle changes for healthier living. As such, one key aspect of the OPPO Band Style is the ability to continuously monitor SpO2 levels. The wearable can monitor a user's entire eight-hour sleep cycle and conduct non-stop SpO2 monitoring up to 28,800 times. This gives users detailed information about their blood oxygen levels all throughout the day. These can help detect underlying health disorders like sleep apnea.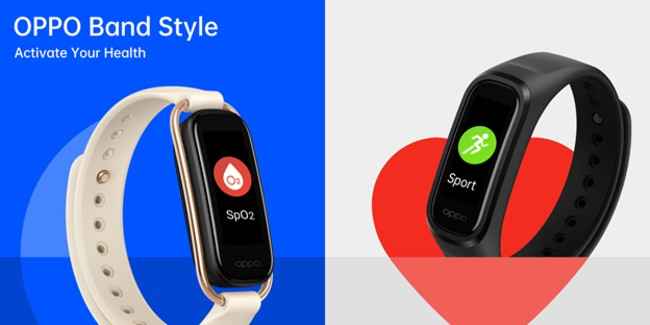 Besides this, the OPPO Band Style also offers 24-hour heart-rate monitoring and sleep monitoring. 24-hour heart rate tracking will continuously monitor the user's heart rate. If the heart rate goes too high or too low, the OPPO Band Style will vibrate to let users know about the irregularity. This can be quite helpful when working out as it can let users know if they are over-exerting themselves.
Sleep monitoring records and analyses a user's sleep length and sleep stages. This will help users understand their sleep patterns and know if they need to change their sleep habits.
Smarter exercising
The OPPO Band Style is able to track 12 activities. This includes Outdoor Run, Indoor Run, Fat Burn Run, Outdoor Walk, Outdoor Cycling, Indoor Cycling, Elliptical, Rowing, Cricket, Badminton, Swimming and Yoga. The information recorded includes heart-rate, activity length, and calories burned. This can then be compared with future workouts to track improvements and motivate users.
Two very notable tracking modes include the Fat Burn mode. This mode has been specifically designed by OPPO to help users run more effectively. The mode will provide real-time guidance, while also simultaneously monitoring fat-burn efficiency. Another notable feature is the 50-meter water-resistance that will allow users to take the device to the pool and track their swimming. There is also a simple Get-up Reminder that is designed to alert users when they have been sedentary for too long and prompts them to take a break.
Smarter Design
The OPPO Band Style is available in two variants, Black and Vanilla colours. The Band Style also features a metal buckle design.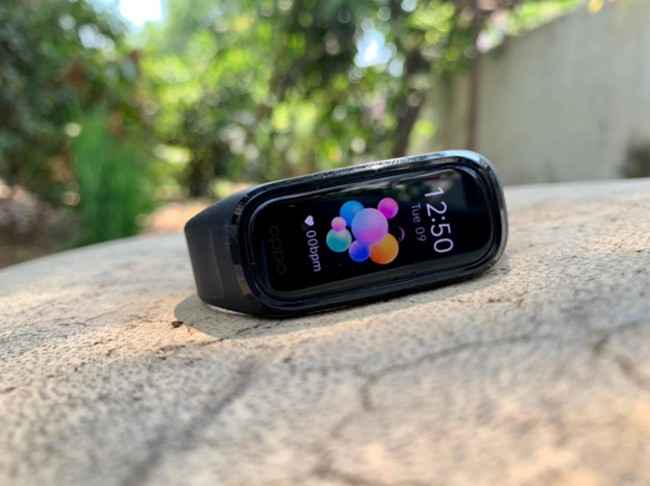 The wearable itself sports a 2.79 cm (1.1") full-colour AMOLED display with 2.5D curved glass. The glass is scratch-resistant, which is always a good thing. It should also be noted that while the OPPO Band Style comes with five watch faces pre-installed, users can always download more watch faces.
Smarter Living
The OPPO Band Style packs a 100 mAh battery inside its svelte frame. The company notes that not only can the device charge in 1.5 hours, but it's quite efficient and can last up to 12 days on a single charge.
Of course, users will have to pair the OPPO Band Style with their smartphones in order to work. Pairing the two devices is pretty straightforward and is done via the HeyTap Health app. However, not only will users be able to monitor health statistics on their phone, but the OPPO Band Style will also provide notifications for incoming calls, messages, and notifications. Users will also be able to control music playback or set an alarm that will gently wake them up via vibrations.
As one can see, the OPPO Band Style is a device that goes beyond simply tracking fitness and especially the SpO2 monitoring. It aims to provide users with all the information they will need to prompt lifestyle changes, which will lead to a healthier lifestyle. Add the numerous other features, and you've got a device that should pique the interest of anyone looking to improve their fitness and health.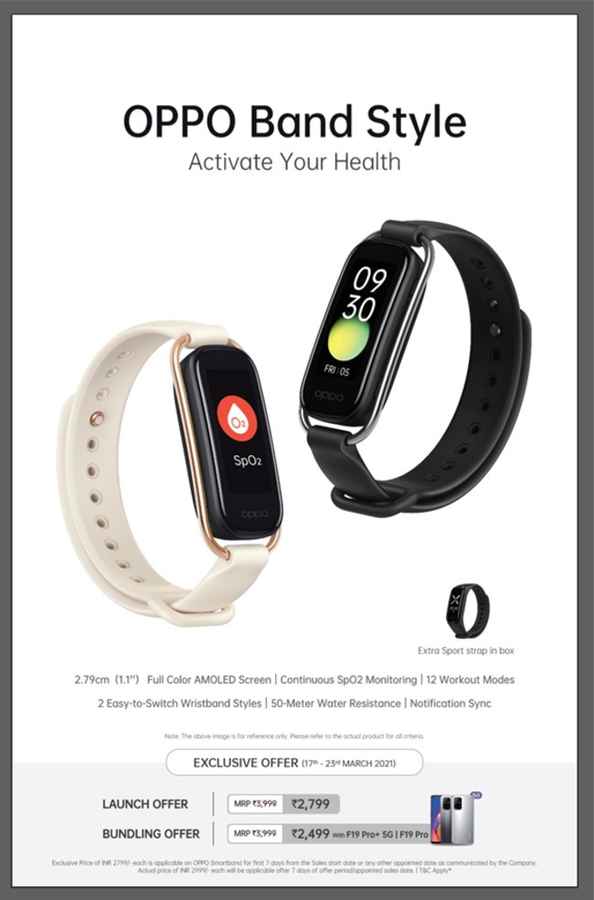 The OPPO Band is priced at Rs 2,999 and will be available in two colours – Black and Vanilla. The Band Style is an Amazon exclusive device and you can buy this device online at a special price of Rs 2799 for a week starting 8th March 2021. To make the offer more lucrative OPPO is offering a bundled discount under which the OPPO Band Style will be available for INR 2,499 with the OPPO F19 Pro+ 5G or the OPPO F19 Pro smartphones.