TomTom is known for its navigation systems and with the launch of the new TomTom Spark Cardio and Music GPS watch, one may get the feeling that TomTom should stick to its strengths. The TomTom Spark is the latest addition to the company's fitness watch range. "WORKOUT WITH MUSIC, NOT WITH YOUR PHONE," is TomTom's tag line and selling point for the watch, which costs a whopping Rs. 25,999 for the complete bundle including- TomTom Spark Cardio + Music GPS Fitness Watch + Headphones (Woah! they have got to come up with a smaller name).
Yes, the watch can store upto 500 songs with 3GB of built-in storage, and with it you can connect a pair of wirelss earphopnes to access your music sans your smartphone. From a purely functional point of view, this may be the only unique feature on the Spark. Come to think of it, by adding music play, TomTom is trying to enter a category which has a handful of players. The Adidas Micoach Smart Run also houses an integrated MP3 player and works similarly.

In-house music aside, there's much to say about the TomTom Spark at first look. So, let's kick things off now.

Design
The TomTom Spark is completely made of plastic. At first look, it is clunky, and on the wrist it is bulky. The Spark sports an LCD monochrome screen and no, it does not have touchscreen capabilities. Under the screen is a four-way button which is your control center for the Spark. Pressing the up, down, left, right buttons helps you navigate various settings and modes on the watch. Now, some look at this as a plus point for the Spark, since a touchscreen on a fitness watch, attracts sweaty fingerprints. "What we have is a D-pad which is very intiutive and provides easy operability while you work out," explained Peter Frans, Co-Founder, TomTom. But, I disagree. The D-pad on the TomTom Spark is extremely difficult to press. One really needs to push down upon it before the D-pad reacts. If I was working out and wanted to check my progress on the watch, I may have to stop to navigate the watch. Hence, a touchscreen would have been simpler.

The TomTom spark comes with a range of wristbands and the watch unit can be detached to fit into a new strap. Another feature of the detachable watch face is that it cannot charge without doing so. Yes, we are back in 2012, and for a watch that costs a little less than thirty thousand rupees, we would have expected a dock.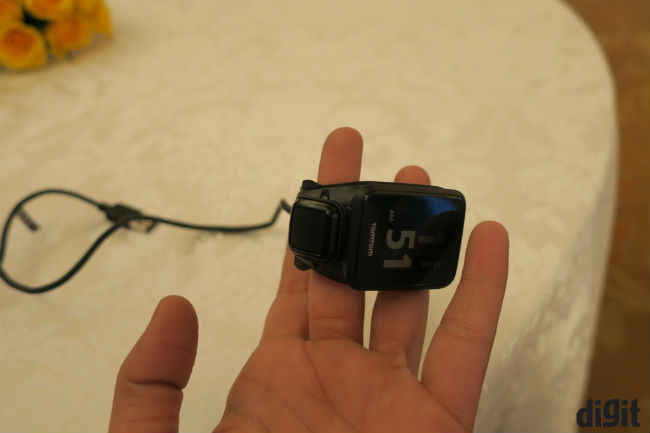 TomTom Spark Charger
Fitness Features
When it comes to fitness tracking, the TomTom Spark can boast of a host of modes and options. Not only does it have the usual trackers such as - heart rate, GPS, steps, calories, sleep and distance, but, it also has various sports modes. The Spark houses 8 multi-sports modes including cycling, swimming, treadmill, freestyle, outdoor running as well as indoor cycling and gymming. Real-time information of activities can be accessed directly on the watch face and a deeper analysis can be seen on a smartphone using the accompnying app. Of course the music feature is the highlight of the watch and access to pair headphones is a simple (but painstaking) press of the upward button on the D-pad. Also, for a price of Rs. 25,999, one expects a smartwatch to atleast be able to show you notifications from your phone. The Huawei Band Zero cost Rs. 5,000 and I loved its notifications feature. Sadly, the TomTom Spark is purely focussed on fitness and has little to offer smartwatch enthusiasts who are not into fitness.

I will limit my first impressions to these two factors as of now. We are yet to try out the accuracy of tracking on the TomTom Spark. Click here for a complete price list of all the variants of the TomTom Spark GPS fitness watch.