Not long after Dish TV launched the Dish Online app that let you watch Live TV on your smartphone or tablet, while on the move, Tata Sky responded with its own Everywhere TV app. We had tested this app, and the experience did get us to the conclusion that "an immediate subscription to it was a must!". Clearly, a lot of Tata Sky users believe in the same. The leading Direct to Home (DTH) operator shared some user trends with us.
Read: Tata Sky Everywhere TV Review
According to the data shared, Everywhere TV seems to have generated the maximum interest in North India, with 33% of the subscribers being based out of this part of the country. At 32%, the users based in the Western region of the country are also fairly active. Maharashtra, as a state alone, holds 23% of that demographic. Delhi sees just 13% share of North India's figures, indicating to wider growth outside the capital city. South India seems to have given the Everywhere TV service a rather tepid response, with just 10% of the users based in Karnataka and 9% in Tamil Nadu.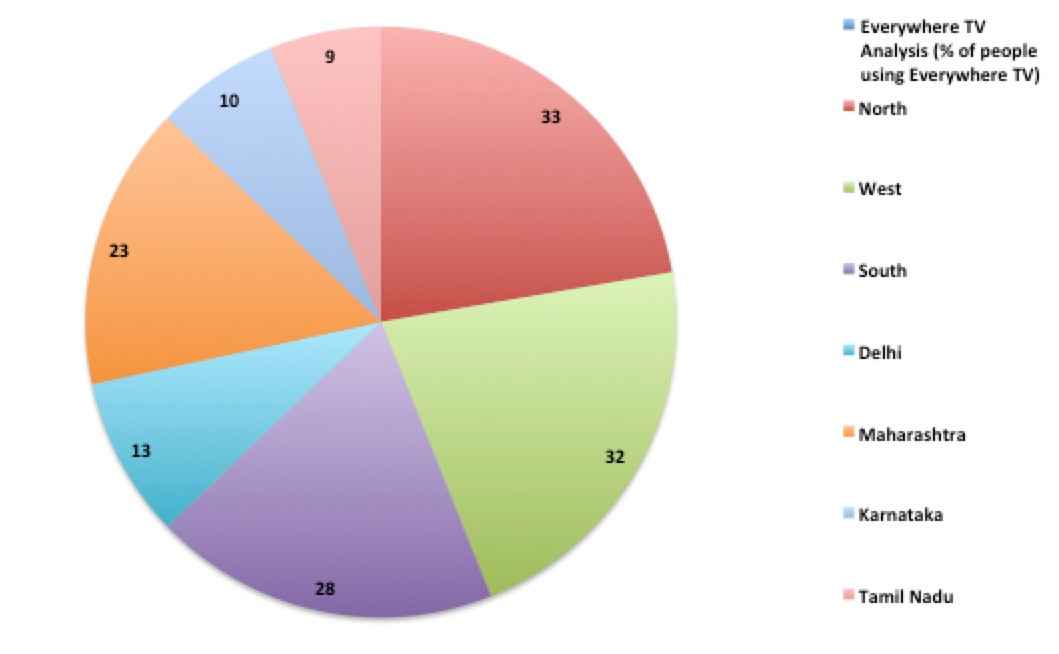 When it comes to the particular channels and genres, Colours, the leading Hindi GEC channel, leads with 35% viewership share. Star Plus follows in a close second, with 34%. The Hindi news channel, Aaj Tak, leads in its segment with 24%. Sports channels like Star Sports, Ten Sports and Sony Six are behind the news channels in the viewership share pecking order.
Tata Sky has also shared the usage behavior details. The data suggests that 64% of the total usage happens during the evening hours, mostly when people are returning home from work. Morning and afternoon combine for the rest of the usage.
Data usage with video streaming is always something to keep an eye on, particularly if you do not have an unlimited 3G usage data plan. Interestingly, that hasn't deterred a lot of the Everywhere TV subscribers. Tata Sky's data suggests that 60% of the user base actively uses Everywhere TV on 3G connections. Within that, maximum users are using the Airtel 3G network, followed by Vodafone 3G.