Samsung launched its QLED line of TVs in India and as far as you or I or probably a majority of people are concerned, these TVs are way out of our budget. Prices for these TVs start at Rs. 3,14,900 for the 55-inch TV and go up to Rs. 24,99,900 (gasp). While the prices are almost double of what they are in the US, be assured that these TVs are the pinnacle of what Samsung currently has to offer. The new range of QLED TVs are available in both flat and curved screen models, with a similar design, profile and sound output. What Samsung is touting this year is the new and improved panel, an all new universal remote control and the ability to use your TV as a photoframe.
At launch, we checked out the 55-inch and 65-inch versions of both flat and curved screen QLED TV. These TVs were originally announced back at CES along with the new flat soundbar and home bluetooth speakers, which will be available in India. From what we heard on the two speakers at the launch event, the audio quality seems good. As for the TVs however, we have some mixed opinions about what they offer.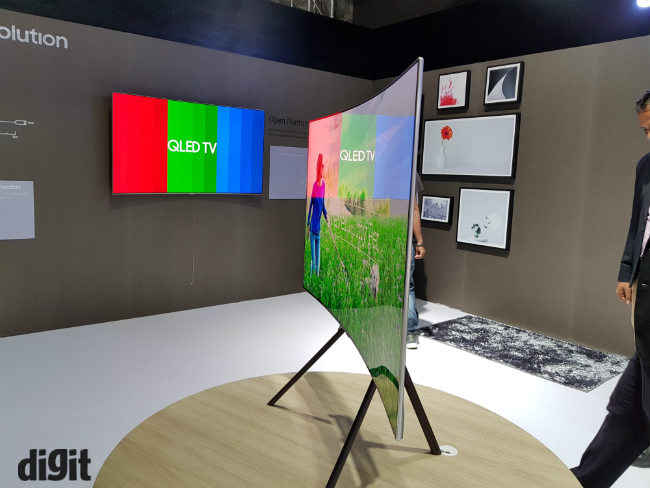 QLED panel
Let us talk about the QLED panel first since that is the most important aspect of the TV. Samsung even had an entire tech briefing lined up post the launch to explain how its new TV technology is better than normal OLED TVs (LG makes OLED TVs in the same space) in every way. So, QLED is essentially Samsung's proprietary Quantum dot technology + LED. Now, this technology has been around for almost three years and was present in Samsung's last gen SUHD TVs as well.
So, the technology basically a layer of Quantum dots placed on top of LEDs. This layer has billions of nanoparticles of Quantum dots, which produce their own individual colours depending on their size. The size of the particles is the factor which decides the wavelength of light emitted by these Quantum Dots. In its third generation these 'new' nanoparticles have an all new metal alloy core and a new metal shell which makes the pictures brighter and more accurate.
Samsung claims that the TV has achieved 100% colour volume over the 68% colour volume offered by a normal OLED. The company also says that QLED's offer higher contrast and is better compatible with HDR. The other big reason, which makes Samsung's QLED technology better perhaps is the burn-out issue, or the lack of it. OLED displays have a tendency to burn-out at times, which leaves ghost shapes on the display. Samsung claims that it's display doesn't have that issue and will work for years offering more longevity.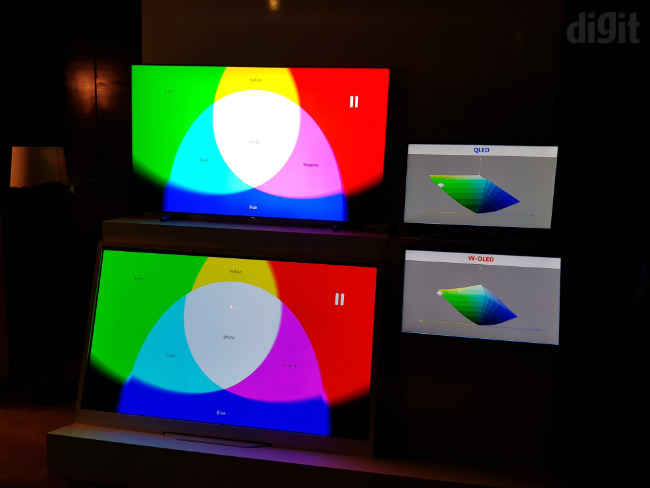 Beyond that Samsung is also touting that its new QLED TVs offer almost 2000 nits of brightness over last year's 1000 nits. This should help with the HDR performance of the TV and Samsung claims that QLED will offer more life like colours, producing deeper blacks and a better overall image.
Design
Fancy technology aside, the new QLED TVs have pretty much the same design and build as last year. Although, this year there are no ports on the back of the TV and all ports are now on the One Connect box. Hence, Samsung can mount the TV flush against the wall and it looks good since there is only one single, thin and transparent wire coming out of the TV, which carries all the data between the TV and the One Connect box. There is a power cable as well, which is actually 'visible', but Samsung says it will be well hidden when the TV is mounted or propped up on the new easel stand.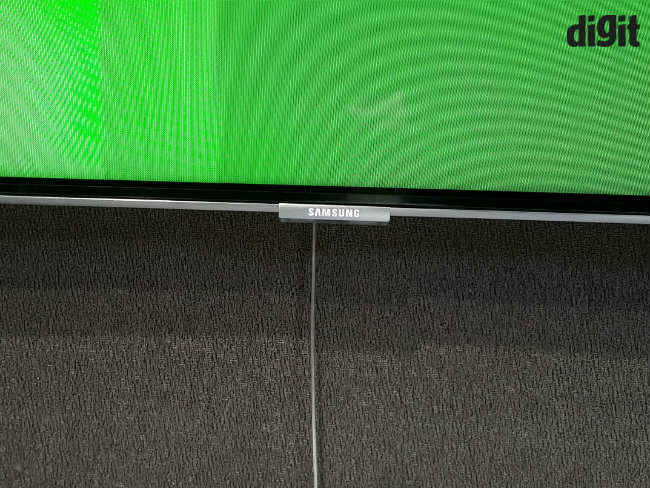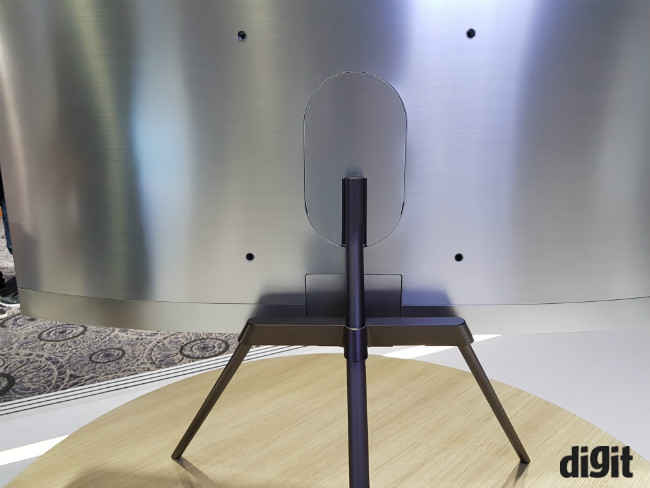 Samsung also showcased the new 'frame' wall mount of the TV, which is designed to make the TV a part of your home's ambience. With this, instead of fading to black, the TV can be used to display artistic images, which will match your home decore. Users can also use their own images, tinker with the layouts and even change frames as per their requirements. Yes, it does make you think "why doesn't anyone else think of it?", but at the same time, it is quite an interesting use of a TV.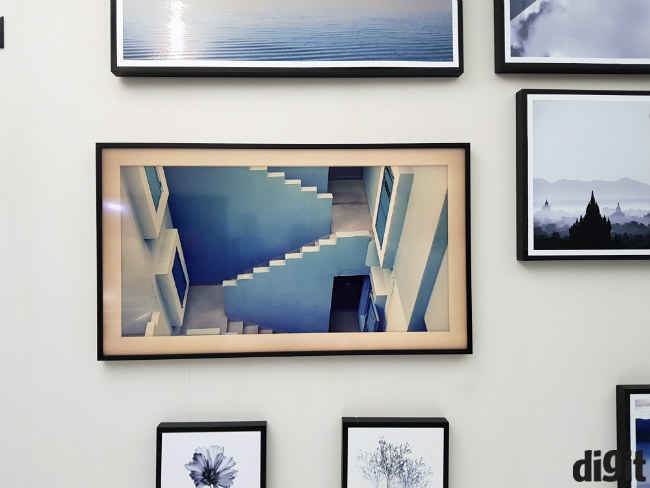 Interface
Lastly, we can talk about the interface, which seems similar to what we have seen in the past from Samsung. You get a Tizen based OS, which is minimal from the get go and can be operated using a single universal remote. Samsung tells us that the OS (or the TV rather) detects almost all set top boxes and game consoles, sound bars and what not and all can be used via the One Remote. To achive this the TV accesses the metadata of the connected devices, helping it to connect and control the devices easily. There is a new app as well, which provides a similar interface as the one on the TV, which makes it much simpler to use the TV compared to the bundled remote.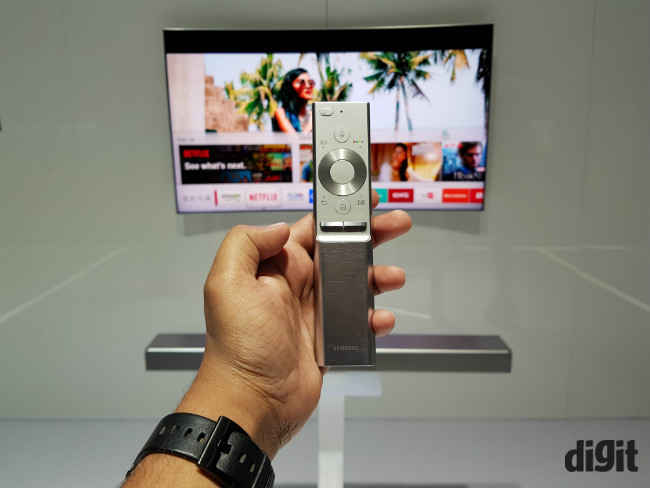 On the hardware front, the One Connect box becomes the central hub for the TV and has all the essential ports one would use, including 4 HDMI ports, optical audio out, LAN port, USB ports and a standard Antenna port. What we do feel is missing in these 4K TVs is a displayport, which is fast becoming essential if you are connecting the TV to a high-end PC. The exclusion of a standard USB 3.0 port is understandable as that will deter pirates from viewing downloaded content.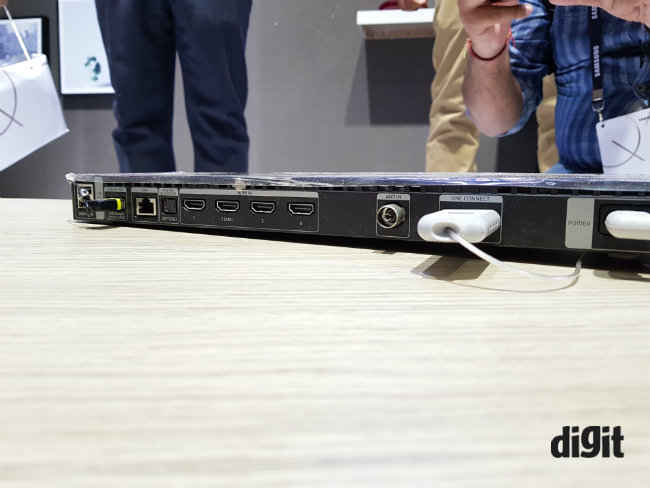 All in all, we think the new Samsung QLED TV is one of the most important TVs of this year, but it is not as innovative as LG's 1mm wallpaper TV. That being said, we are not so sure if LG has any plans to launch it in India. Moreover, even if LG launches that paper-thin OLED, it will be very very expensive.