In spite of facing network issues with a service provider, or the availability of more competitive data and internet plans, some users hesitate to change their service provider as they don't want to change their mobile number. Now via the Mobile number portability facility, you can switch your telecom provider without changing your phone number. With the MNP facility, you can easily switch your data/mobile connection to a better network while conveniently using the same mobile phone number.
Bharti Airtel is one of the biggest service providers in India and offers competitive data and network plans to its consumers. You can now easily port your Vodafone mobile phone number to the Airtel network via the MNP facility. Airtel offers its subscribers amazing plans for 3G, 4G LTE, 4G+ services, etc. Airtel's mobile MyThanks app makes it easy to recharge your phone, broadband, and DTH connection in a single plan, as well as make payments via third-party apps like Google Pay, Phonepe, Paytm, etc.
Customers can now easily shift their Vodafone mobile plans to Airtel plans and avail free services and incentives. The MNP process is very easy, and you can follow the below-mentioned steps to port your Vodafone number to Airtel with ease.
How to port Vodafone to Airtel
Using the MNP process you can easily port your existing Vodafone SIM connection to Airtel. Simply send an SMS request to port Vodafone to Airtel and follow the below-mentioned process to complete the process.
How can I port my Vodafone to Airtel via an SMS?
1. The first step is to send an SMS from your mobile phone via the messaging app.
2. Next, send the number '1900' (1900 is a USSD code) via an SMS.
3. Type 'PORT' space along with 'your mobile number' and send the SMS. Please note that PORT is case-sensitive and has to be typed only in block letters.
4. Once the message is delivered then you will receive an SMS with a UPC (Unique Porting Code) against your porting request.
5. Once you receive a message with your UPC code, you can physically visit the nearest Airtel store.
6. Simply ask the customer support executive at the Airtel store to help you with the formalities.
7. The customer support executive will ask you for your documents which include your identity proofs like Aadhar card, driving license, PAN card, etc.
8. Once your documents are verified, you will have to pay a small portability fee.
9. That's it. Once the formalities are completed and the fees are paid the Airtel store operator will complete the MNP process and will give you a new Airtel SIM card.
How will I know when the MNP process is complete?
You will receive an SMS on your alternate number before the porting process is over and your Vodafone to Airtel port is completed. The SMS will confirm the completion of the porting process and will have a tele-verification code. Once you have the tele-verification code, you can insert the new Airtel SIM card into your mobile phone and verify the tele-verification code by calling '59059'.
How to port Vodafone number to Airtel
Follow these simple steps to port Vodafone to Airtel via the app
1. First, open the messages app on your phone and type PORT space your 10-digit mobile number and send it to 1900.
2. Once your message has been sent you will receive an SMS with a UPC (Unique porting code) for the porting request received.
3. Next, you will need to visit the Airtel store.
4. Ask the customer care executive to help you with the porting process.
5. The customer care executive will ask users to share certain documents for the MNP process.
6. Once your documents are successfully verified, a small porting fee has to be paid by the customer.
7. Once the fee is paid, the airtel executive will issue you a new SIM card and complete the process.
Airtel also offers its customers the option of getting their new SIM delivered at their doorstep. Here are the steps you need to follow to get the Airtel SIM delivered to your home. Remember to keep your address proof documents handy for verification to get the request processed quickly. The delivery executive will also take a Rs 100 fee to the executive delivering your SIM card at home. With these steps port Vodafone to Airtel with ease.
Airtel also offers its new customers the option to track MNP progress using the Airtel Thanks app. Simply sign-in on the app using your port-in number. This lets you track your progress live on the home screen and allows you to easily activate the new SIM upon its delivery. The AirtelThanks app is available for download on both Android and iOS smartphones.
How to port Vodafone to Airtel via website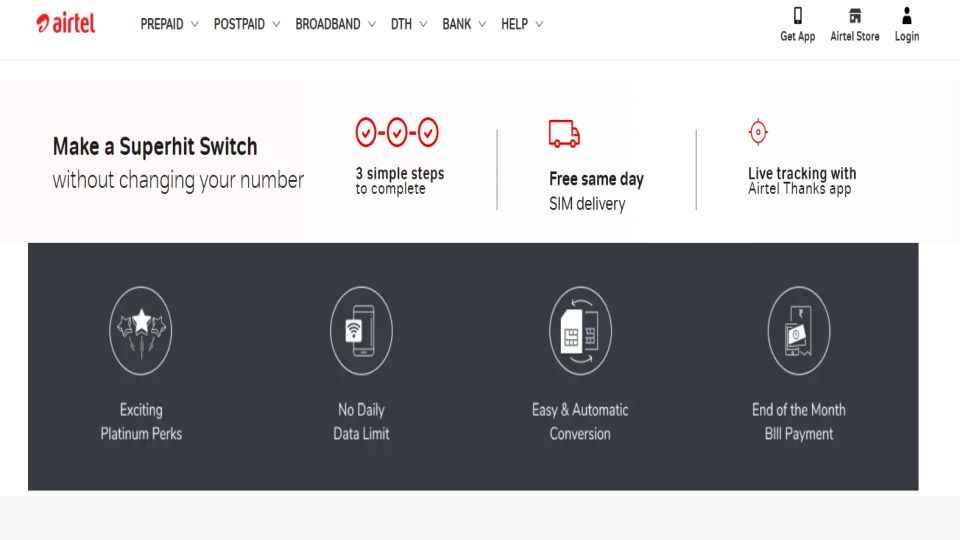 To port your Vodafone number to Airtel you can also check the Airtel website. You can simply give a request to port your number to Airtel and choose the data and calling plan you require. The company gives you the option of choosing a prepaid or a post-paid plan as per your requirement.
The site will ask for your name and mobile number, along with your complete address for your doorstep KYC validation. Simply submit the details and post that Airtel will call you regarding your SIM delivery.
How much time does it take to port your phone from Vodafone to Airtel?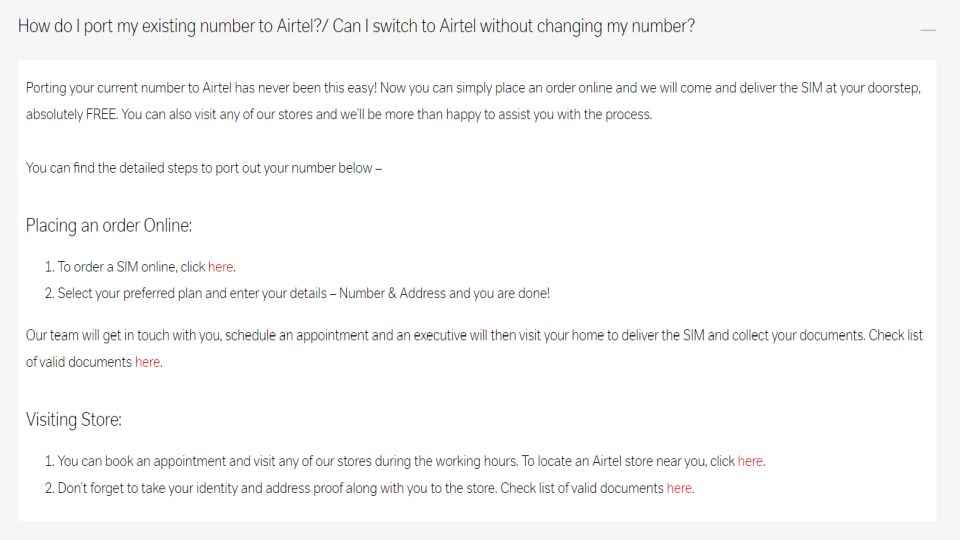 The porting process from Vodafone to Airtel takes a maximum of 7 working days.

In the meantime, customers can continue using their existing postpaid or prepaid Vodafone connection.

Once the porting process is completed, your old Vodafone connection will automatically stop working.

You will receive a tele-verification code on your alternative mobile number which you would have given at the Airtel store.

Next, insert your new Airtel SIM card and verify the code by calling on 59059 to start your new mobile connection.
What documents are required for porting a mobile number?
The following documents are required for mobile number porting.
Address proof- consumers will have to submit any 1 address proof from the following for MNP. Aadhaar card/driving license/PAN card/Voter ID

Along with this one passport size photograph has to be given.
The airtel executive will also take your biometrics at the time of verifying your documents for the completion of the MNP process.
Are there any eligibility criteria for porting a number from Vodafone to Airtel?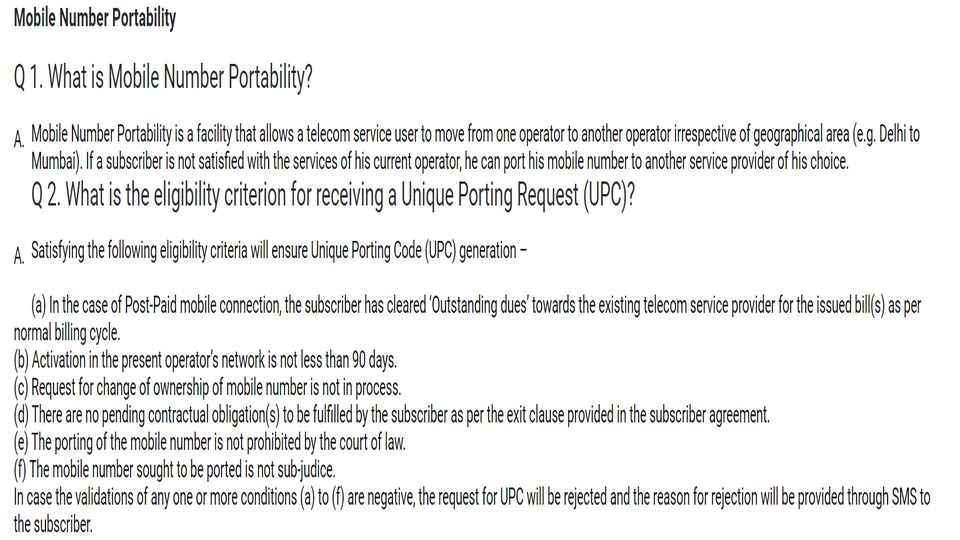 Customers must have cleared all previous due before shifting their Vodafone number to an Airtel connection.

The user must be utilising the current connection for more than 90 days.

Airtel will not carry forward any previous balance from your previous prepaid connection so users will have to be prepared to forfeit the amount.