The Sony Xperia Z1 Compact is indeed much smaller than the Xperia Z1 but Sony proudly says that the smartphone does not compromise on providing powerful performance. The only two things that one has to compromise with the Z1 Compact is the smaller 4.3-inch 720p display and a 2300mAh battery compared to the 5-inch full HD display and a 3000mAh battery on the Xperia Z1.
The spec sheet clearly makes it the best mini around so we haven't taken the trouble to compare it with the other minis, rather we did some performance tests and compared to some major flagship smartphones to see how the Z1 Compact fairs against them.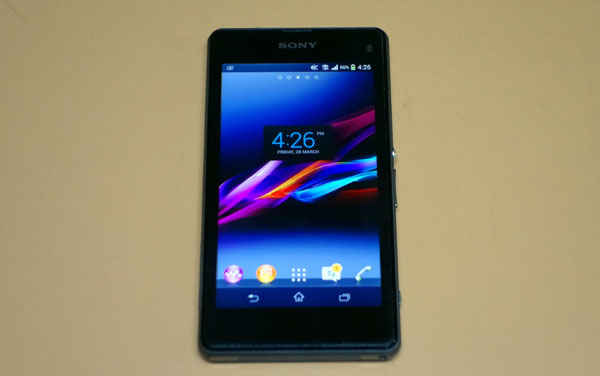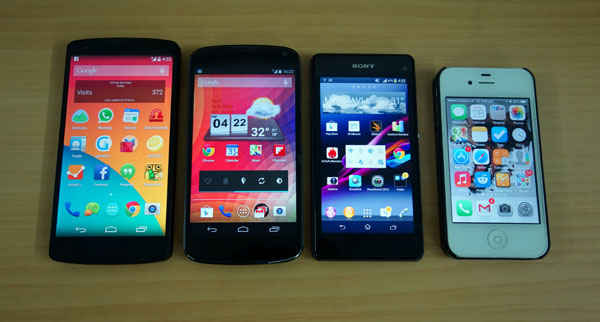 Size matters: LG Nexus 5, LG Nexus 4, Sony Xperia Z1 Compact, Apple iPhone 4S
Synthetic Benchmarks: We ran a few benchmark tests including Antutu, Quadrant, Smartbench and 3DMark. Check out the results below.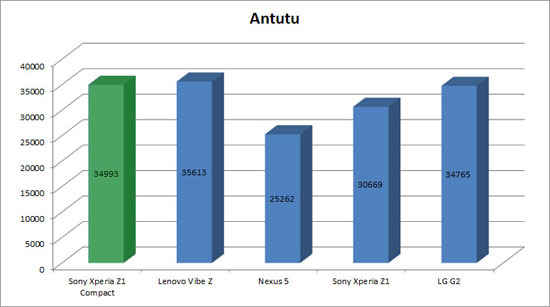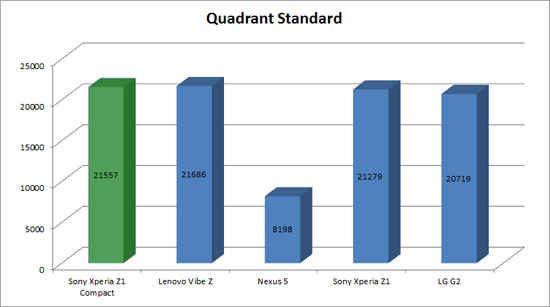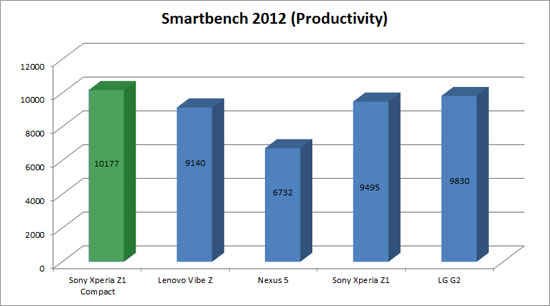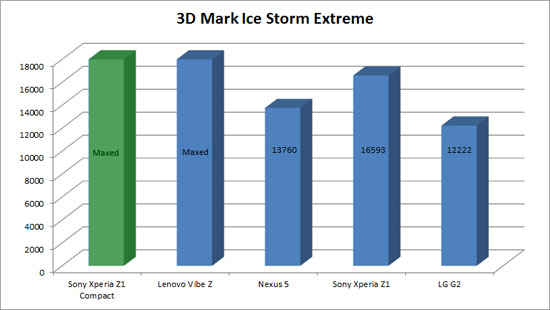 The results make it quite evident that the Z1 Compact is at par with the Lenovo Vibe Z and proves to be better than its elder sibling the Xperia Z1. So the Xperia Z1 compact is one of the most powerful high-end smartphones available in the country today.
Gaming: With a powerful Snapdragon 800 processor clocked at 2.2GHz with 2GB of RAM and an Adreno 330 GPU, gaming performance was just bliss. Every game that we tried was super smooth and didn't give any troubles handling high FPS rates. The smartphone is also super-fast when it comes down to day-to-day productivity apps. Be it social networking, emails, or enjoying multimedia content, the Z1 Compact doesn't lose a sweat. Sony has truly made the Z1 Compact a desirable smartphone. For the ones who are not big fans of smartphones with screen size of 5 inches and beyond, the Z1 Compact is the smartphone to have.
Battery: We carried out our standard battery test where we play a full HD video on the device after a full battery charge, display at full brightness and the device connected to Wi-Fi. After one hour of playback the Z1 Compact lost 12% of juice which means that the smartphone can play the video non-stop for 8 hours. The 2300mAh battery then proves to be excellent and at par with smartphones with more than 3000mAh of battery.
Do watch out for our full review of the Sony Xperia Z1 Compact which will be out in the coming week.