Smartphones are going to become smarter and faster, and if anything, that'll require power-consumption to be optimized in the face of all that performance. Efficiency is certainly the holy grail of mobile processors, for even if your processor is powerful enough to play 1080p HD video, there is no point if your battery runs out in 20 minutes. Each new generation of processors (both mobile and desktop) brings unprecedented efficiency levels to the playing field, and their comparative consumption can prove to be the main deciding factor for manufacturers to choose one over the other.
Samsung shows off Orion dual-core ARM A9 processor
While ARM and GlobalFoundries' 28nm dual-core Cortex A9 is all ready to be taped out, awaiting only manufacturer customization, Samsung has brought into play a 1GHz 45nm dual-core ARM Cortex A9-based application processor it calls Orion. If the name didn't sound powerful enough to you, let us take a look at its abilities, and then we're sure you'd agree, maybe the Orion has more power than any phone can fully tap. Perhaps this will be the base for its Honeycomb tablet? Samsung itself claims its suitable for a wide range of devices, from tablets and smartphones to netbooks.
Samsung is certainly not acting shy about expounding the Orion's capabilities, claiming it can offer five times the 3D graphics performance over the Hummingbird processor, support 1080p video encoding and decoding at 30fps, and features on-chip GPS baseband receiver, triple display controller, and HDMI 1.3a interface.
This is truly astonishing, and Samsung claims the SoC processor will be able to power up three displays (two displays on device, and one display via the HDMI out). The embedded GPS receiver will also allow location based service applications access to location data right from the get go. You might be sceptical about this performance monster's power-efficiency, or lack thereof. Samsung is confident however that the Orion will meet the most "stringent performance requirements while maintaining long battery life."
The Samsung Orion application processor has two Cortex A9 cores, each with 32KB data cache and 32 KB instruction cache. The cores will share 1MB of L2 cache to enable efficient context switching while multi-tasking, and feature an optimized memory interface and bus architecture perfect for data intensive multimedia applications such as 3D games and HD video playback.
Customers will be able to choose between various types of storage for their devices, as the Orion will support a wide range, from NAND flash to SATA to eMMC. Memory support also extends from LPDDR2 to DDR3. The Orion can also support package-on-package (POP) with memory stacking, and, a derivative is also available as a standalone package.
The Orion will apparently be available near the end of 2010 for a few customers, and will start being mass produced some time in the first half of 2011.
LG adopts dual-core Nvidia Tegra 2 for its future Optimus smartphones
The Nvidia Tegra 2 is certainly a very capable SoC, and everyone is excited about that performance and multi-tasking powerhouse reaching the masses. While mobile devices with larger form factors (such as tablets and netbooks) have not faced very serious problems in the prototype stages, the Tegra 2 processor has made news in the recent past for plaguing soon-to-be mass produced handheld portable devices with power consumption issues, like the case of the new Sony PSP and Notion Ink Adam tablet being delayed...
All those issues seem to be a thing of the past, because LG - a major player in the global mobile market - has decided to adopt the Tegra 2 for its future smartphones, including the upcoming Optimus series. This makes LG the first company to adopt Nvidia Tegra 2 on a large scale to mass produce.
It officially announced its decision to adopt the Tegra 2 SoC yesterday, expressing the great hopes it has for its Optimus smartphones with Nvidia Tegra 2 inside, specifically in the spheres of 3D graphics, hardware acceleration of online and local Flash content, and HD video playback up to 1080p HD.
LG announced that the first of its Optimus mobiles to feature the Tegra 2 SoC will be released by the end of this year, and we presume this refers to the LG C900 WP7 phone we saw a short while earlier, though Android is definitely not off the cards.
A spokesperson from LG commented on the bright future of Optimus series with Nvidia Tegra 2: "LG is committed to making its Optimus Series smart devices the de facto standard in speed and graphics performance." If you want to know more about the Tegra 2's specifications and architecture, check out our previous comprehensive coverage, here.
Qualcomm Snapdragon roadmap
With all the news that came before this, Qualcomm's announcements almost sound trivial, but, are sure to make a lot of people sit up and take notice. One of the biggest manufacturers of mobile processors, modems, and other telecommunications equipment, Qualcomm's processor roadmap is always studied with much interest, and its latest, is no exception: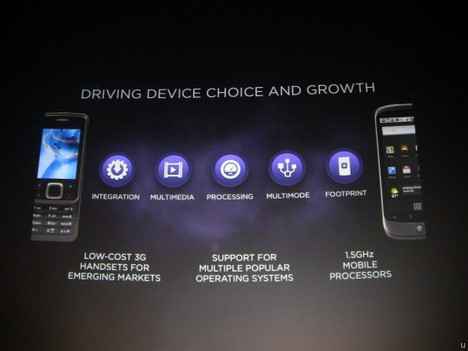 As you can see in the above image, Qualcomm has announced it will the first devices featuring the 1.2 GHz MSM8x60 dual-core Snapdragon processor will only ship by Q1 2011, and, devices featuring the 1.5 GHz QSD8672 dual-core Snapdragon processor will ship Q4 2011. The 1.5GHz dual-core processor was expected to hit devices by Christmas this year, so there has obviously been a hold up somewhere.
It is truly safe to say that mobile computing is becoming faster, more capable and power efficient, and the fight to make a processor that wins on all the counts - power versus price versus performance - is on!