From flagships to mid-range and even budget segment devices, Samsung has already launched a number of new phones in India in 2021. While some of them have been outright hits, others have received a mixed reaction from buyers. And now, the company is taking another shot at the market with its latest offering, the Galaxy M32.
An entry-level mid-range phone, in essence, the Galaxy M32 houses a monstrous battery, and some interesting hardware under the hood, all paired to an eye-catching design to lure the undecided. While all these come together to make the new Samsung phone an overall well-balanced device, they also add up to make it an offering to consider if you're looking for a device to play games and consume multimedia content on.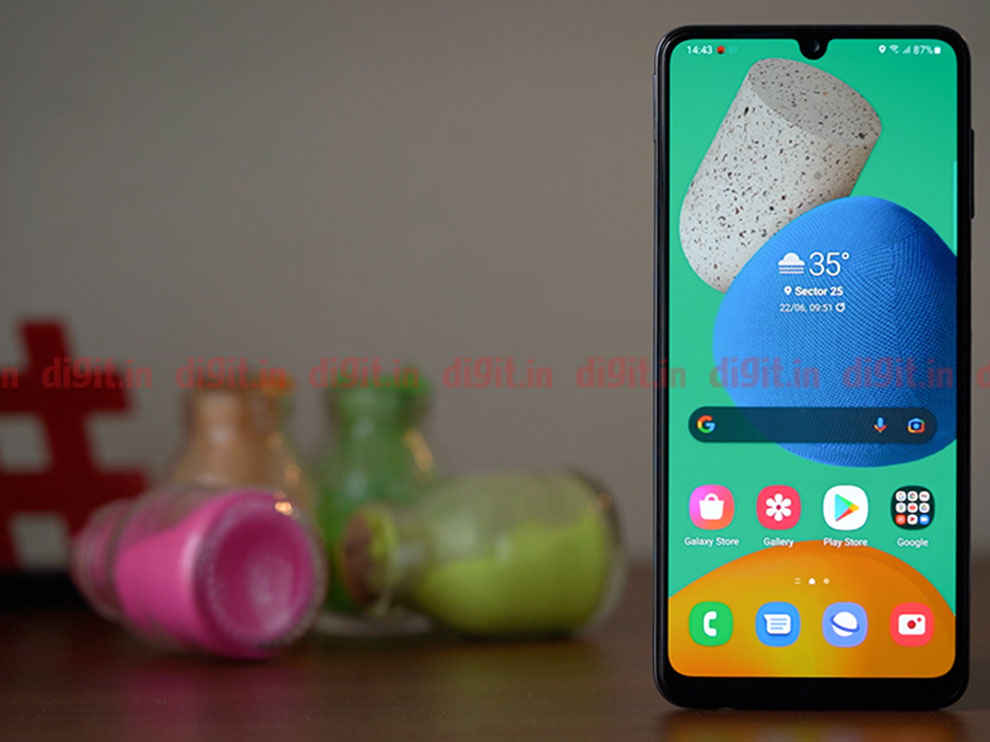 We've had the device with us for a few days now. During this time we've put the Galaxy M32 through the paces to figure out if it's a good buy for those looking to buy it as a device to run graphics-intensive games and play movies on. So let's take a deep dive to understand if the Galaxy M32 is the device for you.
Galaxy M32: Specifications and performance
Let's begin with the stuff that matters. At the heart of the Galaxy M32 is a MediaTek Helio G80 SoC that's paired with up to 6GB of RAM and up to 128GB of onboard storage. The MediaTek Helio G80 SoC houses an octa-core processor with two Cortex-A75 cores clocked at 2GHz and six Cortex-A55 cores clocked at 1.8GHz. The chipset can also dynamically manage the CPU, GPU and memory based on heat, power, and the demands of different usage scenarios.
Yet, despite MediaTek's tall claims, the Helio G80 SoC is only a typical budget segment chip, and for all intents and purposes, it performs as such. The chipset can power demanding games, but not without making a few compromises. For example, Call of Duty Mobile only supports up to Medium graphics settings on the phone with the High frame rate settings available to users. However, even after this, some high-end graphics features such as Bloom and Anti-Aliasing remain unavailable to users at the moment.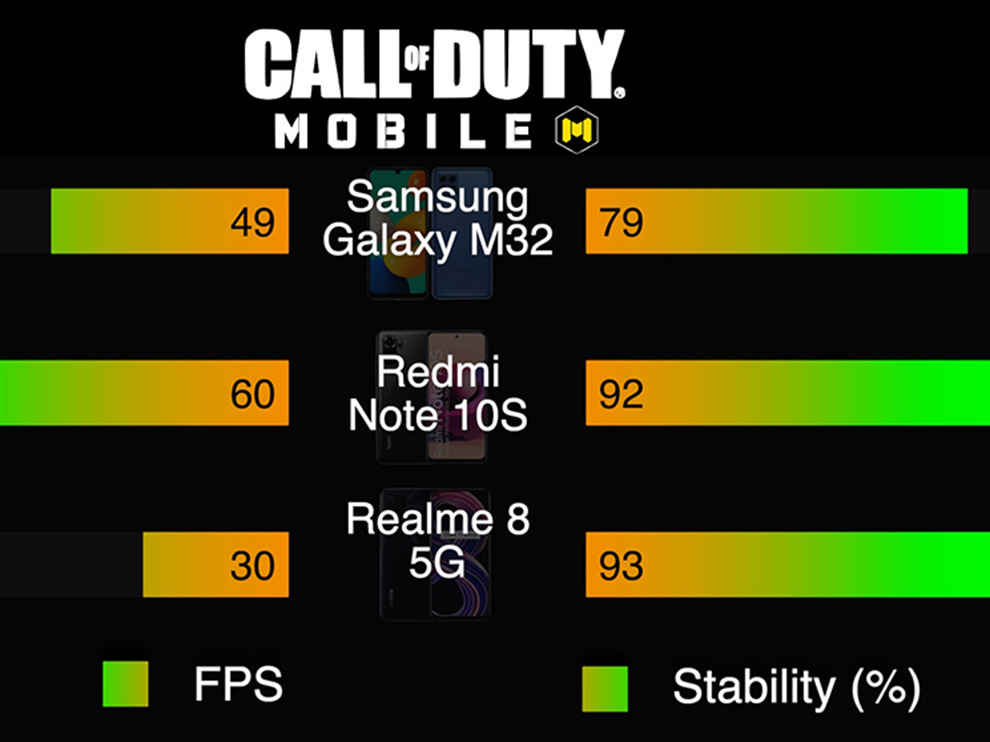 Testing the phone using Gamebench showed that the M32 did encounter a few issues while running graphically demanding titles such as Call of Duty Mobile. The benchmarking tool revealed that the phone managed to clock a median FPS of 49 frames at a stability of 79 per cent during a gaming session. Interestingly, the game managed to do so by using around 20 per cent of the CPU resource and only 753MB of RAM available at its disposal. While these numbers don't make for great reading, we cannot forget that they describe the performance of what essentially is an entry-level mid-range device. Other benchmark tests also showed a similar trend, with the phone clocking 147320 points on AnTuTu and 345 and 1227 points, respectively, in Geekbench's single-core and Multi-core tests.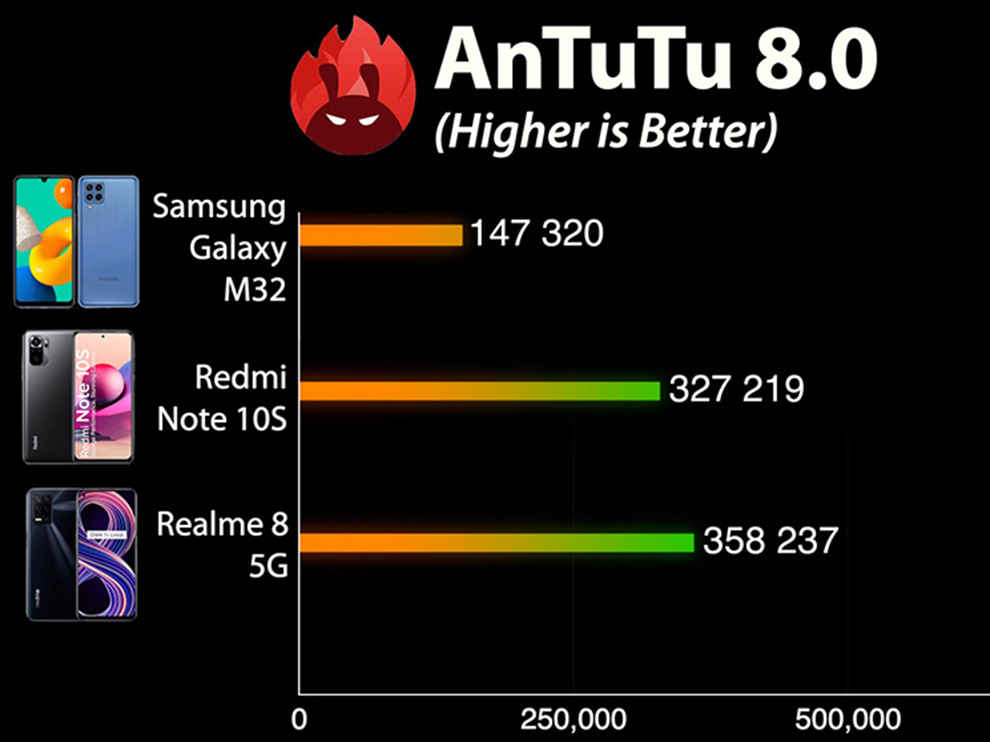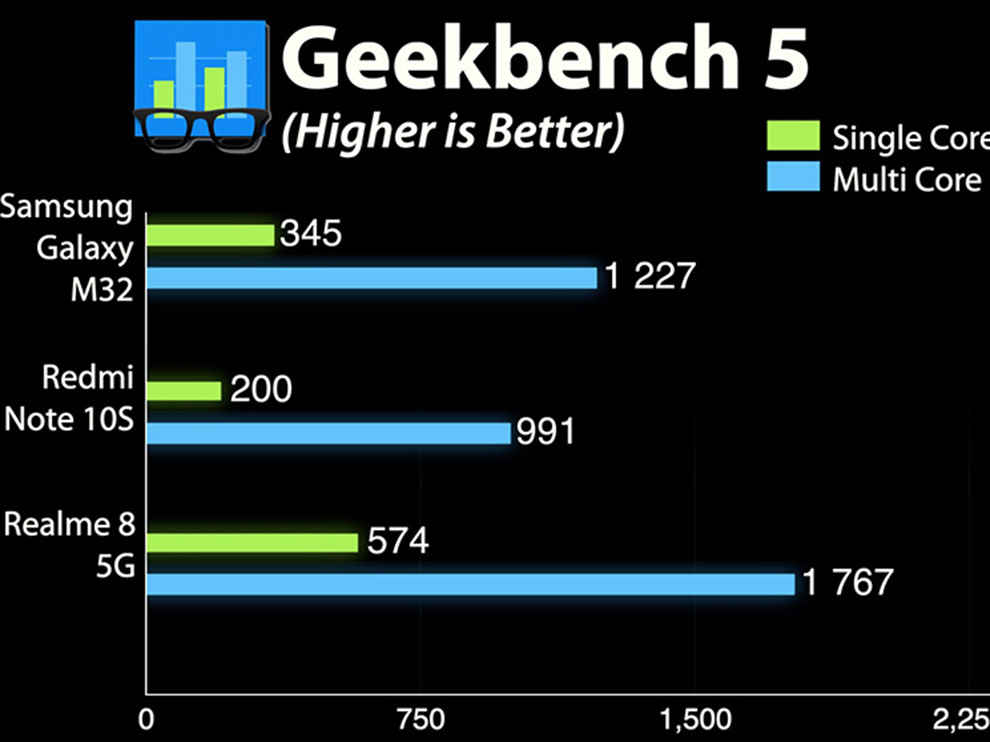 But away from benchmarks, and GPU-intensive games, the Galaxy M32 does not disappoint with its general performance. Working in tandem with the highly optimised One UI 3.1 software -- that also brings Samsung Pay Mini to the phone -- the Galaxy M32's hardware manages to handle multi-tasking as well as apps and programs of daily use with relative ease. This meant that while browsing the web, or switching between apps, there weren't any micro stutters or any other signs of slowdowns. Video streaming applications such as Netflix and Prime Video also ran without a hitch on the Galaxy M32, thereby ensuring an overall enjoyable experience while consuming multimedia content on the device.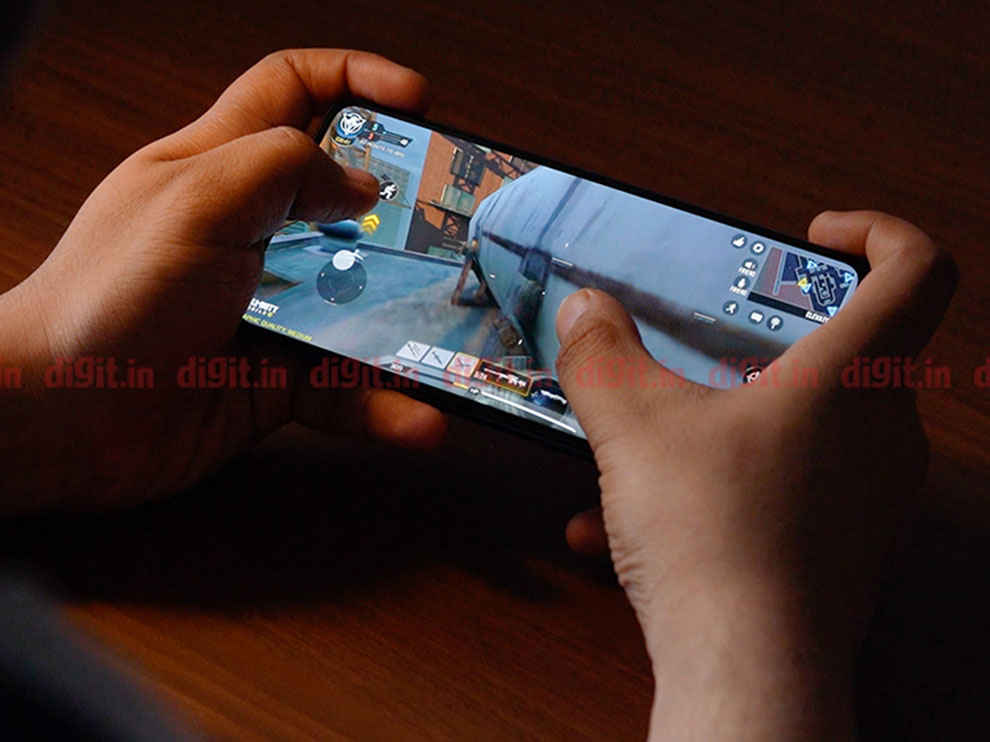 Both the design of a phone, and the display it comes flaunting, also play an important part in enhancing the experience of consuming multimedia content on a smartphone. And the same is the case with the Galaxy M32. The phone features an industrious design language, that focuses on keeping things simple. Great attention also appears to have been paid to the ergonomics of the device.
Despite being equipped with a massive battery, the Galaxy M32 remains a relatively lightweight and manageable device ( as it measures 159.3x74.0x9.3mm and weighs 196 grams.) It offers a back panel made of polycarbonate, which gives the device a nice in-hand feel and helps in keeping the phone feeling light in the hand during long gaming sessions.
The Galaxy M32 is a typical M series phone, and as such, offers classy exteriors for the price. Samsung has steered clear of making flashy design choices, and instead, has gone with a simple gradient pattern that runs through the back of the device. This merges seamlessly with a square-shaped quad camera set-up and the company's logo also placed on the back.
The bottom of the phone's frame features cutouts for a 3.5mm jack and a speaker grille. The placement of both is such that they do not hamper the gaming experience on the device. This is especially true for the speaker grille which does not get muffled while holding the phone in the hand to watch movies or play games on it.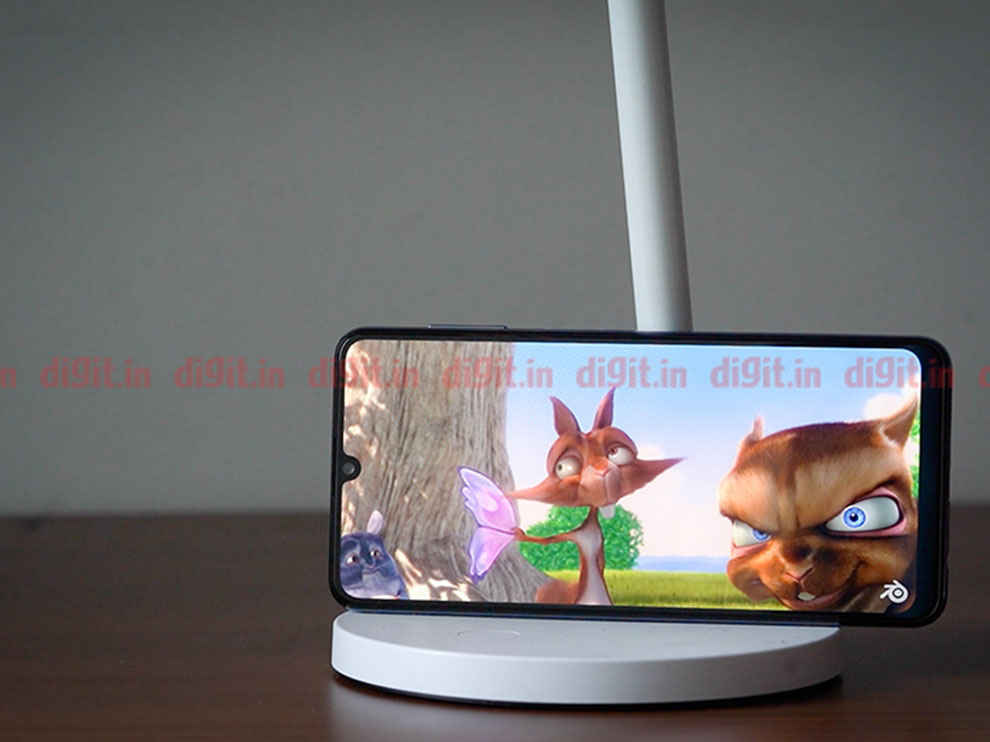 Samsung Galaxy M32: Display
At the front of the Galaxy M32 is a tall display that is one of the best -- if not the best -- in the segment. The phone comes with a massive 6.4-inch FHD+ Super AMOLED display which offers support for a smooth 90Hz refresh rate. Although not the fastest, it still does enough to provide an immersive viewing experience.
The 90Hz dynamic refresh rate panel runs a FullHD+ resolution and is claimed to provide a shorter length of motion blur by minimizing afterimage in-display transition and shorter Motion Picture Response Time. The display is protected using a sheet of Corning Gorilla Glass 5 for preventing scratches and breakage.
But how does this display perform in real life? Well, as we found during our review, this Super AMOLED panel lives up to all the hype as it provides very good colour accuracy and dynamic range. This 6.4-inch panel feels quite crisp to look at because of its impressive high pixel per inch count. The display performance in other aspects is also great as the panel is capable of churning out punchy colours, and offers really nice viewing angles. This is also one of the brightest displays in the segment, and with the phone in High Brightness Mode, the display can automatically reach 800nits of brightness. Suffice to say, these are all ingredients that make for not only great gaming but also video streaming experience on the Galaxy M32.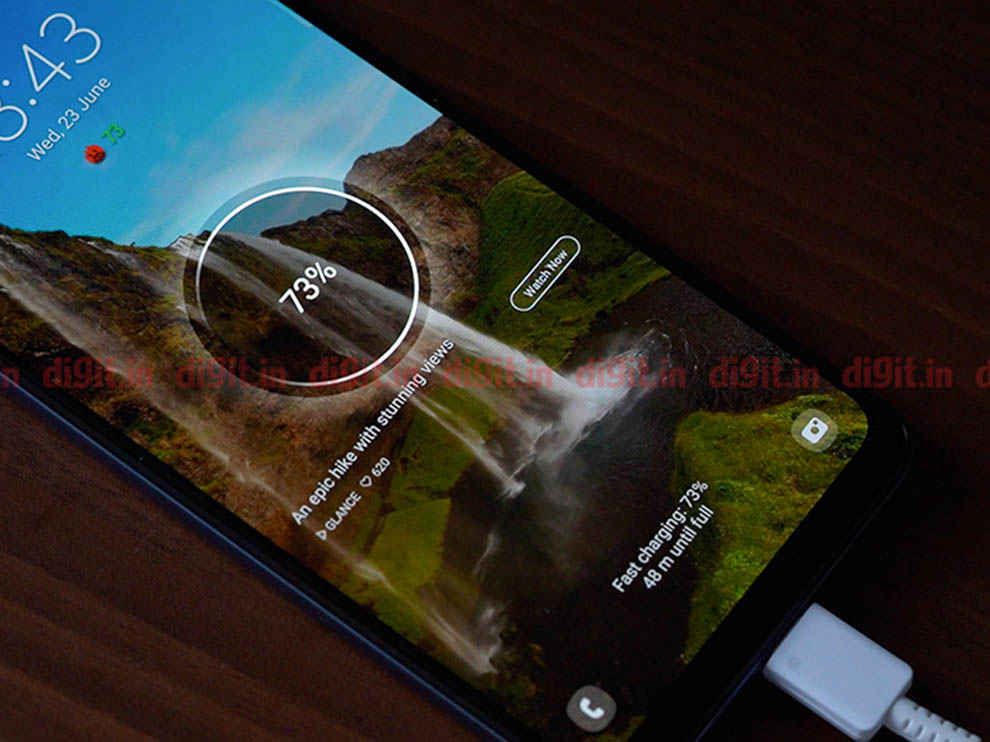 Samsung Galaxy M32: Battery
Arguably one of the biggest highlights of the Galaxy M32 is its massive battery pack that helps improve the overall experience of using the device. Samsung has equipped the phone with a mammoth 6000mAh battery pack that easily gave us around 2 days of moderate usage on a single charge. Suffice to say, the presence of such a big battery not only proved to be a convenience during normal use, but a greater one when we played games or watched videos on the device.
This was also proved when tested the battery in our video loop and gaming test. For the former the phone managed to last for around 24 hours, while a quick 15-minute session of Call of Duty Mobile only drained 3 per cent of the battery. The Galaxy M32 also supports Samsung's 25W super-fast charging technology which is also found on some of its flagships. This helps the battery pack charge up to the brim in about 1 hour 45 minutes. However, Samsung only ships the phone with a 15W charger which takes around 2 hours and 20 minutes to complete one full charge.
Is the Galaxy M32 worth buying?
The Galaxy M32 is a well rounded phone that offers a lot to like. It has a big display which supports fast refresh rates and performs at a level that's arguably good enough for a phone from a higher price segment. It also has a massive battery to ensure the M32 can handle binge watch sessions without making you run for the charger. It also has decent core hardware, which backed by the company's highly optimised OneUI 3.1, offers just about enough power to keep the phone chugging along on a day-to-day basis without encountering any problems.
Unless, of course, you're talking about hardcore gaming at high graphics settings. In that case, you're better off looking at slightly more expensive devices such as the Poco X3 Pro or even the Redmi Note 10 Pro. Both these phones offer superior gaming performance, and similar overall experience, albeit at a slightly higher price point than the Rs 14,999 entry price for the Galaxy M32.