Qualcomm just announced its Snapdragon 660 and 630 mobile platforms, and the company is promising a whole lot of "better" with it. The Snapdragon 660 is an upgrade to the Snapdragon 653. It consists of a quad-core Kryo 260 cluster (based on Cortex A73 architecture), clocked up to 2.2GHz. There's also a quad-core lower power Kryo 260 cluster that's built on ARM's Cortex A53 architecture. Qualcomm is using ARM's semi-custom license, that was put to use for the Snapdragon 835 too. Qualcomm claims a 20 percent performance boost on the Snapdragon 660 over the 653. The SoC comes with the Adreno 512 GPU.
On the other hand, the Snapdragon 630 is built on four Cortex A53 and another four Cortex A53 cores, with maximum clock speeds of 1.9GHz. This one's poised to take over from the Snapdragon 625 platform, that was quite popular last year. While the core configuration remains the same, the Snapdragon 630 uses 2.2GHz and 1.8GHz Cortex A53 clusters for its big.LITTLE configuration.
The Snapdragon 660 and 630 both integrate the Snapdragon X12 modem, which support Category 12/13 LTE speeds. The modem was first seen on the Snapdragon 820 and 821 last year, meaning Qualcomm is trying to bring a more premium experience to its mid-ranged SoCs.
The Snapdragon X12 LTE modem supports downlink throughput of 600 Mbps and uplink throughput of 150 Mbps. Also enhancing connectivity is Qualcomm's TruSignal adaptive antenna, that allows carrier aggregation on these SoCs and provides for better voice quality and data speeds on LTE/LTE Advanced networks. Improved network coverage is also being addressed using the high-power user equipment platform. Although HPUE will also have to be used by your carrier to take effect.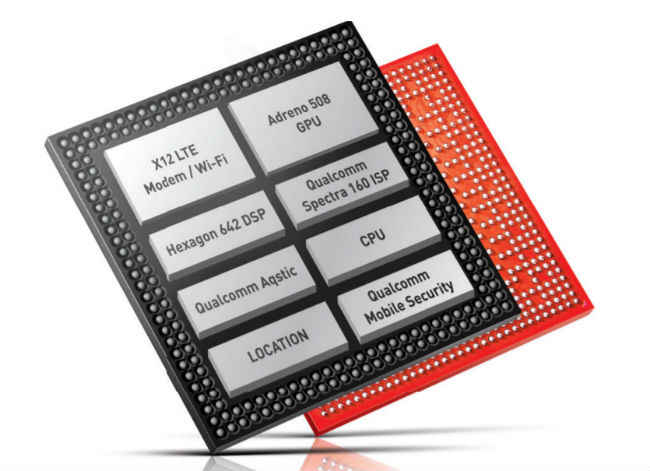 Snapdragon 630 configuration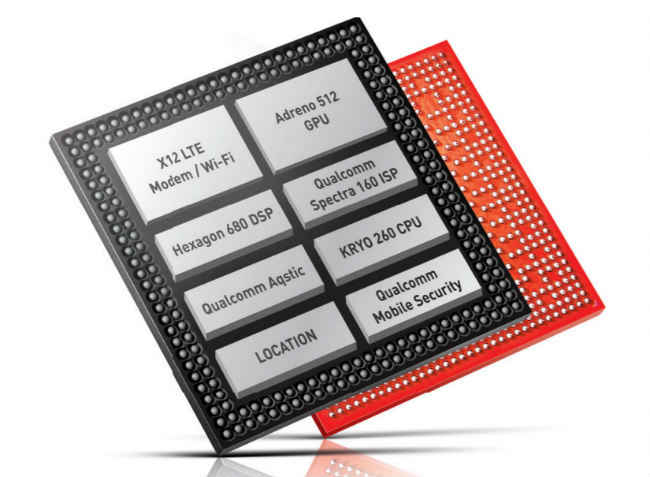 Snapdragon 660 configuration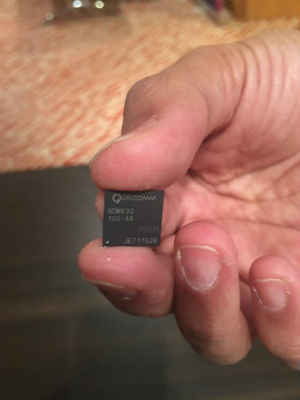 Snapdragon 630 at Qualcomm's launch event
Qualcomm is also promising "improved photographic image quality for more natural skin tones, superior low light photography, as well as better power efficiency and higher throughput for dual-camera smartphones", with its Spectra 160 ISP, which will be present on the Snapdragon 660 and 630 platforms. The Spectra 160 is behind the Spectra 180 (on the Snapdragon 835), but it still supports features like dual-camera PDAF autofocus and hybrid autofocus.
Next up, Qualcomm is also providing Quick Charge 4.0 with both the new chipsets, while the Hexagon 680 DSP also makes an appearance. Qualcomm's Snapdragon Neural Processing Engine SDK is available with the two SoCs, which allows companies to use TensorFlow and Caffe/Caffe2 frameworks on the Hexagon DSP.
Lastly, Bluetooth 5 and upto 8GB of LPDDR4 RAM support are also important additions to the Snapdragon 660 and Snapdragon 630. Qualcomm is making the two new platforms available to its partners right now, while new devices running on the same are expected in the second quarter of 2016.