Apple has always been a proponent of user's privacy and considers privacy a fundamental human right. To this effect, the company offers tons of privacy and security measures on its products to help users keep their data safe and secure. On the iPhone, the latest iOS 14 offers new ways for users to keep a track of personal data and offers more transparency and control over the way apps use the microphone, camera and internet.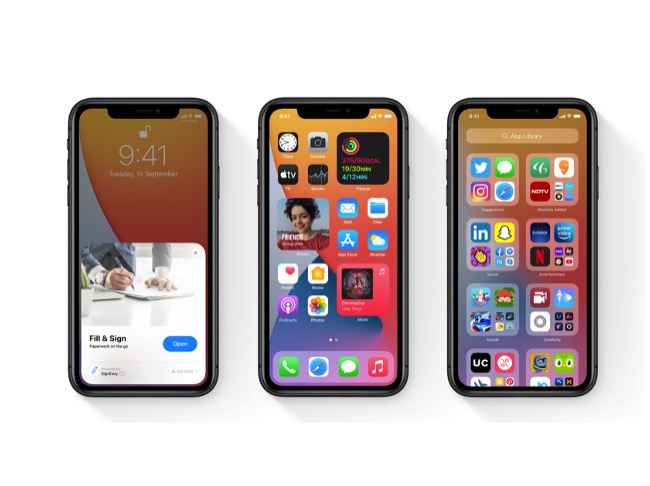 Apple's iOS 14 comes with a lot of visual changes and brings in new features including widgets to customize the home screen, app library, picture in picture mode, translation and more. Some new privacy-centric features include recording indicators, detailed privacy information on App store, app sign-ins and location control. Here we have detailed the new privacy settings added in Apple iOS 14.
Recording Indicators
Apple has provided a privacy notification in iOS 14 in the form of green and orange indicators. Whenever an app is using the camera, the green indicator shows up at the top of the status bar, just above the network signal bars. An orange indicator appears whenever an app is using the microphone of the iPhone.
This feature alerts users for when an app is using the iPhone's camera or microphone and ensures that any unauthorized app doesn't get access to the camera or mics without the user's knowledge. Additionally, the Control Centre also keeps a tab on the apps that have used either the camera or the mic recently and checks whether an app has used any of the two recently.
Clipboard Access
The iOS 14 has introduced a clipboard access feature that lets users know when an app accessed the clipboard. The user gets notified via a little toast message that pops up on the screen when an app uses the clipboard to copy and paste the text and more. Several apps were accused of accessing the clipboard without any authorization and this new addition will help alert users for when an app accesses the clipboard without their knowledge.
Approximate location
As a privacy measure for local news, weather, browser apps and more, iOS 14 offers users to share their approximate location with such apps. This ensures that your exact location details are not shared with the services, keeping your privacy intact. There are several apps that ask for user's location for the service to function normally, however, with iOS 14, users can now choose to provide an approximation of their location rather than the exact details.
You can also determine location access for apps individually by going to the Settings menu and into the Privacy settings. Here, tap on location services and modify apps with access to your location. You can choose to disable the Precise Location toggle to provide approximate location details and also control location access.
Sign in with Apple
Several developers have released support for sign-ups with Apple ID and iOS 14 allows users to easily sign in to an app with their Apple ID. This means that the user does not need to remember one more password and the app will use an existing account for registration.
Apple iPhone users can also update their existing accounts to Sign in with Apple ID, and they will be able to continue using the same account as earlier.
Safari Privacy Report
As a part of the privacy measure, Safari now offers a Privacy Report that lets users keep a tab on the websites that track their internet usage habits. With these features, users can prevent websites from accessing your usage patterns for targeting of advertisements and more. The report shows details about trackers that were stopped from profiling the user and websites that were actively engaged in tracking activities.
To access the report, users need to tap on the Aa icon and then select the Privacy Report option from the list. Additionally, users can also keep a check on saved passwords that may be involved in a data breach and more.
Privacy information on App Store
With the iOS 14, Apple App Store also gets a dedicated Privacy tab that lists a particular app's privacy practices. The privacy information gets a visual representation for users to easily understand how the app collects and processes the user data.
The privacy information page lists a summary of the data that can be used to track a user and data that may be collected by the app. An app's privacy practice will be reported by the developer itself and acts as a disclaimer as it also lets users know of the kind of data that the app might access before they begin to install it on their iPhones.