I've spent some time using Android Oreo on the Google Pixel. The eighth iteration of Google's mobile operating system is not on all smartphones yet, but we know the name now and if you have the supported devices, you can take it for a spin as well. Perhaps the most predictably named of all Android versions so far, my tryst with Android O so far has largely been a reflection of the smartphone industry itself. How? Let me tell you my story.
Cosmetic changes
We review a new smartphone almost every day, and truth be told, the industry is full of cosmetic changes. Manufacturer 1 launches an "Infinity display", manufacturer 2 calls it "full vision display" and manufacturer 3 launches a phone called "Infinity" which touts a "full vision" display. Yes, that's pretty much how the ecosystem works nowadays.
Enter Android O, Google's all encompassing answer to what the world's largest mobile OS will look like on all these devices. The answer? Pretty much like it did already. With Oreo, Google has kept the design scheme mostly the same, with minor changes here and there. For instance, the date, time and settings button now appear below the quick settings toggles (depiected in later screenshots). That's actually sort of neat, since I'm likelier to reach them with one hand on large screen devices.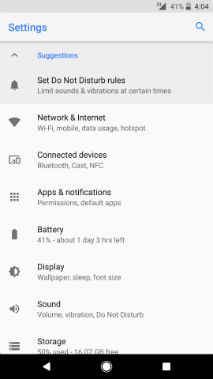 The Settings menu is just over one page now
The biggest cosmetic change you will find on Oreo is in the Settings menu. Google has drastically shortened the menu, hiding additional options within broader ones, and cascading where possible. You can still search for particular settings, but a shorter Settings menu feels much cleaner and easier to use. Also, in typical Google fashion, the Settings menu gives you suggestions for what you may be looking for. Optimistic, I must say.
The notifications drop down bundles other notifications. For instance, if you have too many notifications, you will see small icons lined at the bottom of the drop down.
Control is the order of the day…
When the first developer preview of Android Oreo was announced, Google's goals were quite apparent. Oreo wants to take control away from apps and hand them to you.
To that end, Android O comes with built-in notification controls. You know those apps that send annoying yet useful notifications? You can snooze them for particular time periods now, with the default being set to one hour. This is especially useful with another one of Android Oreo's new features, that of notifying you about running apps. For instance, Android O will flash a message when you're getting messages on Facebook Messenger. The floating bubble tells you this any way, so you can snooze this notification for a while, to avoid clutter.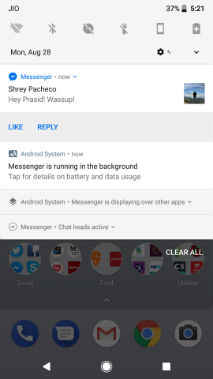 You get notification reminders on Android O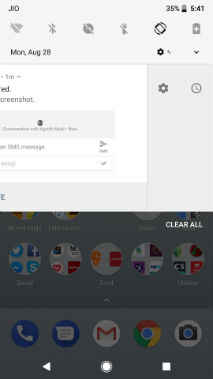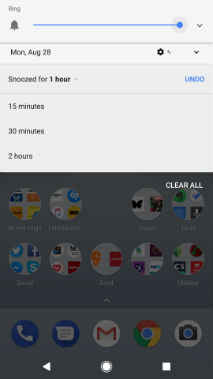 Snoozing notifications is a new feature on Android Oreo
Next up is Oreo's Background Execution Limit on what apps are doing without your knowledge. This doesn't necessarily include sinister activities, but is aimed at background tasks that users don't get to see happening. The OS puts a stop to these applications, which theoretically improves your phone's battery life and even performance to some extent (more on this later).
Lastly, Android O allows apps to use Notification Channels, providing granular controls on how notifications work. Using these, you can set how a notification appears or bar a particular app from notifying you at all. It's similar to Apple's solution on iOS, which lets users block notifications, choose to see badges etc. Notification Channels aren't mandatory, so I see few apps using it as of now. Speaking of badges, Google now has "Notification Dots" that are its own version of Apple's badges.
Using Android O
In practice, Android O really didn't bring about a big change to how I use the Pixel. On the one hand, that makes me wonder whether all the fanfare around each new release makes sense. However, the fact that you do not have a huge learning curve going from one OS to the next is a blessing as well.
On the other hand, the Pixel's performance hasn't changed for the better. That's probably because the best of Android currently has little room for improvement. Given that the hardware is fixed here, Google's software brings changes in terms of usability, but nothing by way of performance and speed. The Pixel was fast before and it's fast now, with no noticeable increase in speed. The same is true for gaming and other graphic-intensive activities, at least in terms of real world performance. We tried running some benchmarks, and they show no real change either. For instance, Geekbench 4 scores the Pixel at just over 3800 for multi-core tests, which is around the same level are original review devices had been scoring.
Similarly, the Pixel's battery life remains at an average of a day. That's the same as we noticed in our review last year. The Background Execution Limits are in place automatically for apps designed for Android O, while they can also be enabled manually from within the battery settings. However, overall change in battery life doesn't seem to be very huge, at least for the moment. We will monitor this over longer periods to figure out if the boost to battery life is indeed significant. At the moment, it doesn't seem so.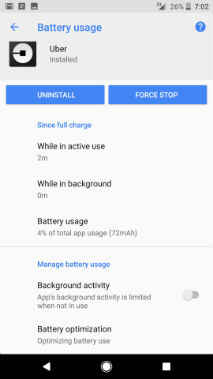 You can turn on Background Execution Limit on an app manually in Android Oreo
So, what is Android Oreo about?
Predictably named, Android Oreo is also predictable in what it does. It's aimed at improving battery lives, providing faster updates and making Android generally more seamless. We do not see huge changes right off the bat, but Google's efforts here are at addressing consumer pain points.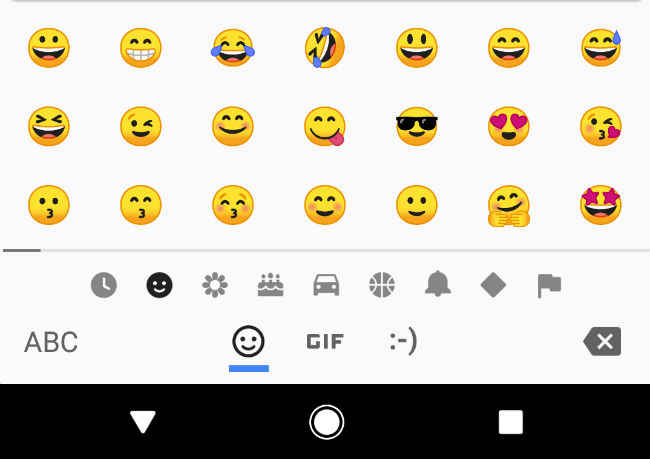 Say hello to round emojis on Android O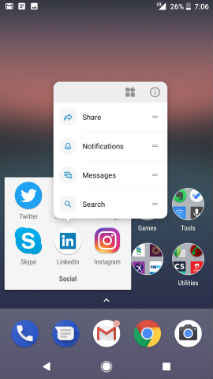 Long pressing an icon gives you customised options, like Apple's Force Touch
Oreo brings Project Treble, which allows OEMs to update the Android part of their phones, without waiting for hardware players to adopt new software. One can only know the impact of this in the long run, although manufacturers haven't done very well adjusting to Google's changes for providing faster Android updates, so far.
Similarly, the Instant Apps feature is weaved into Android O. This allows you to view things in an app form without downloading them. So, instead of pressing "install" on Google Play, you can open the app and get a preview of it. This feature also makes sense in the long term, but at least in India, we're waiting for developers to add support for it for now.
There are some other features of Android O that make sense for the future. Bluetooth 5.0 and better audio support are two such things. But, we can only tell how big a difference these will make once they are actually available to the public. For the moment, Oreo is a cosmetic change for the most part, with some future facing upgrades that may or may not work.