The new iPhone 4S is creating a nationwide buzz with the telecom operators Airtel and Aircel opening the device for pre-booking in India. The pricing of the new iPhone 4S has certainly taken the Apple fans in India by surprise. The 16GB variant, which is the lowest model of the iPhone 4S, has been priced at whopping Rs. 44,500, while the 32GB model is available for Rs. 50,900. Currently, the 64GB model has been listed as the 'sold out' at the Aircel website.
With price hovering around Rs. 45k, the iPhone 4S could be the priciest iPhone launched ever in India. Considering the pricing of the iPhone 4S in other nations, it could be the costliest iPhone 4S in the world right now. The official carriers of the iPhone 4S in India, Airtel and Aircel, have also not given any respite to the iPhone enthusiasts. None of them has yet announced any bundled offers with the new iPhone 4S.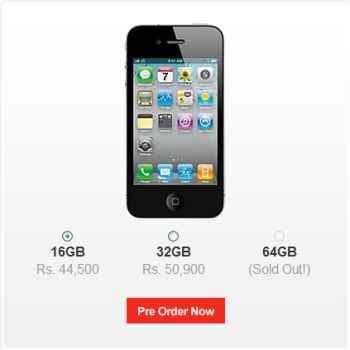 It's notable that the iPhone 4S was launched at the same price as the iPhone 4 in the U.S. And this time Apple had been the quickest to bring its device to the Indian market, which is approximately a month. With India already bearing the brunt of price rise, it's unlikely that people will shell out more than Rs. 40k for this device.
It's learnt that the iPhone 4S is available at much lower price tags in other countries and even you can get a factory unlocked iPhone 4S for Rs. 43,100.

Meanwhile, check out a comparison between iPhone 4S' India price and global price:
| | | |
| --- | --- | --- |
| Region | Price in USD | Price in Rs. |
| India | $868 | Rs. 44,500 |
| Hong Kong | $655 | Rs. 33,559 |
| Canada | $627 | Rs. 32,124 |
| Singapore | $685 | Rs. 35,096 |
| UK | $ 775 | Rs. 39,707 |
| US | $649 | Rs. 33,251 |
*except India, the prices for other regions are of factory unlocked iPhone 4S
*prices are exclusive of taxes
It's quite surprising to see Apple keeping the price of the iPhone 4S highest in India. The iPhone 4S is certainly a top-end smartphone with various new and improved features. But are you willing to pay Rs. 45k to Airtel or Aircel for the iPhone 4S, especially when you have other options to get it at lower price? Let us know in the comments section below:
Also read,