Google is known to be an inventor of path-breaking technology and Project Fi is just that. Unfortunately, Project Fi is in its early stages and it may be a while before it comes to India but when it does, it could solve a lot of our connectivity & call drop issues.

Let's start by telling you what Project Fi is capable of. Google claims that using Project Fi users can "tap into a network of networks." Simply put, Project Fi helps users get connected to the highest quality network present in the user's location. As one moves around, network strength keeps fluctuating and cashing in on this flaw, Project Fi uses Google's new intelligent technology to connect to the fastest WiFi or LTE network in an area.

What's more? Project Fi can connect to two 4G networks at one given time. Traditionally, your smartphones can only connect to one network's tower, but Google claims that using Project Fi, "Your phone can access the best of two 4G/LTE networks so you can connect to more towers and get fast speed in more places." Now, that kind of tech can be a game changer in a country like India where on one hand network providers are rolling out 4G/LTE services in full swing and on the other, users are constantly battling the lack of mobile towers, resulting in poor connectivity.

Currently, Project Fi is only available in the U.S. on the Nexus 6 and the newly launched Nexus 5X & Nexus 6P. These devices work with the Project Fi SIM card, which supports multiple cellular networks, and a cellular radio tuned to work across network types. With Project Fi, users can also monitor their data consumption and pay only for the amount of data consumed, even if it's lesser than the data plan subscribed for.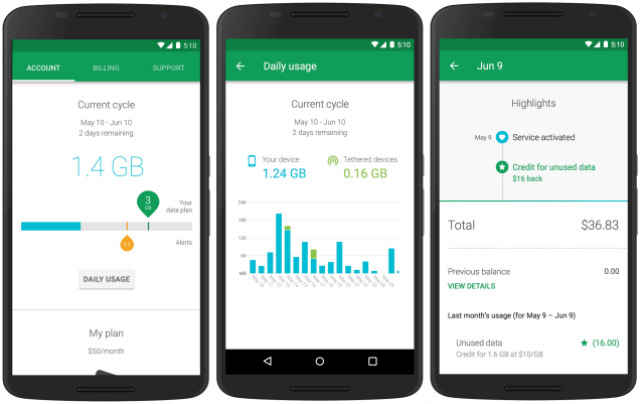 In the U.S., Project Fi has joined hands with network carriers - Sprint & T-Mobile. Pricing for Project Fi starts with the Fi Basics for $20 per month, which includes: unlimited domestic talk and text, unlimited international texts, ability to use your phone as a Wi-Fi hotspot, and coverage in 120+ countries. The service is available only to interested potential subscribers who need to request an invite from the Google Project Fi website.

Interestingly enough, the new Nexus 5X and Nexus 6P can also be purchased through Project Fi on monthly installments starting as low as $15/month for 24 months.
Google has not announced any plans of starting this service in other countries but it could be that leap in cellular technology that Indian mobile consumers have been waiting for.