Who is the most powerful of them all? Who provides the best overall performance? Big question! To simply put it - we have pitted the five top Android smartphones in the Indian market at the moment against each other. To see how they fare, we compared them on the basis of scores derived via certain benchmarks - Quadrant, Antutu, LinPack, GL Benchmark and Peacekeeper.
All five benchmarks together will help us identify the top performer in terms of CPU and GPU performance, as well as web browsing performance. With the results, we will hopefully be able to take any subjectivity or personal bias out of the already complex equation.
The Android phones that we tested were the Samsung Galaxy Note (read our review) and Galaxy S II (read our review), HTC Sensation XE (read our review), LG Optimus 3D (read our review) and the Motorola Razr XT910 (read our review), all of which also feature in our Digit Top 10 list of best Android smartphones, and most of which are on the list of Top 10 smartphones.
To make it easier to understand the comparison, we have laid out the benchmark scores on a series of graphs.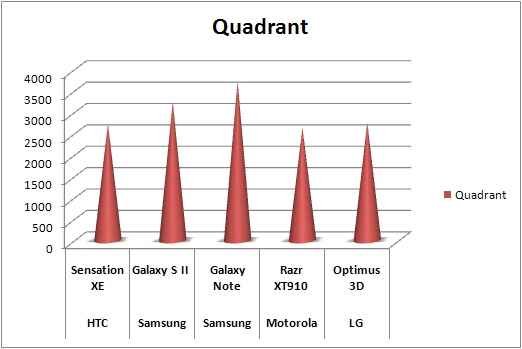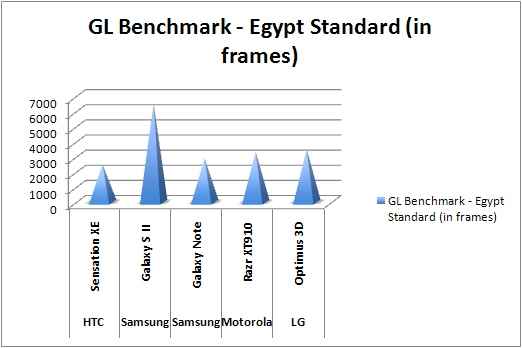 Visit page two to check out AnTuTu, LinPack, and Peacekeeper web browser test...
Check out AnTuTu, LinPack, and Peacekeeper web browser test benchmarks below: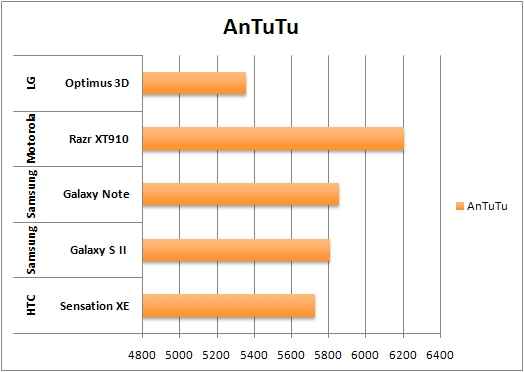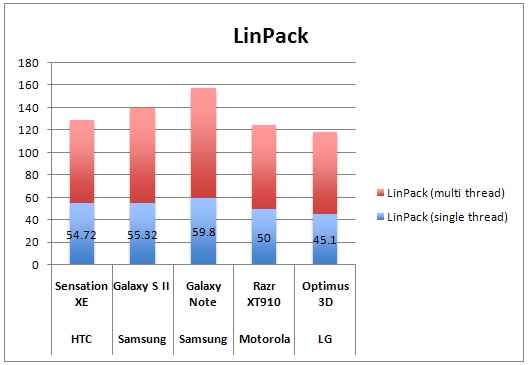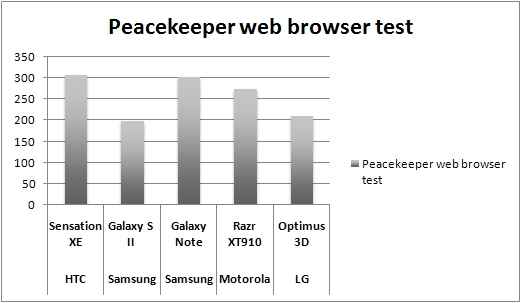 The Galaxy Note seems to have the best overall performance, featuring near the top on three out of five benchmarks - it's an unsure crown, with an onslaught of dual-core and quad-core Android phones expected in the first half of the year.
The Apple iPhone 4S (read our review), running on iOS 5.0.1 is an obvious contender for the top smartphone in the market right now, but unfortunately only supports two of the five benchmarks commonly being used to assess performance. However, it manages to out-perform the others substantially in the two tests - LinPack single-thread 137.95, and multi-thread 141.27, while it gets a 314 on Peacekeeper.