A few weeks back, we reported an issue with MediaTek powered dual-SIM smartphones. As per a letter addressed to the Department of Telecommunications (DoT) by the Cellular Operators Association of India (COAI), MediaTek powered handsets were flagged for causing reduced data speeds on any network's 4G SIM placed in SIM slot 1 of a dual-SIM device, if the secondary SIM slot had a 4G-only SIM (Reliance Jio, since it's the only VoLTE network in India) placed inside. As per tests conducted by the telecom body, data speeds measured from the primary SIM slot were reduced by almost 40% when a 4G-only Jio SIM was placed in SIM slot 2 of a MediaTek powered smartphone.
Following up on the issue, Taiwan-based MediaTek has said that this problem is not just specific to handsets using its chipsets. In an official statement, MediaTek Inc said, "The COAI report confirmed other chipset providers are having the same reduced data rate issues. Half of the eight devices the COAI cited as causing network degradation are powered by other chipset makers or competitors to MediaTek. Additional testing by MediaTek , also confirmed this network slowing effect in handsets based on non-MediaTek chipsets."
As per the said COAI letter obtained by Digit, other handsets facing this dual-SIM network loss issue include Qualcomm powered Xiaomi Redmi 3S, Redmi Note 3, Moto G4, Vivo V5+, Oppo A33 and Samsung Galaxy J7 (2015), while the MediaTek devices tested for the problem include, Intex Aqua Craze, Micromax Canvas 5, Lenovo A-7000, Moto E3 Power and Lenovo K5 Note. You can see excerpts from the letter below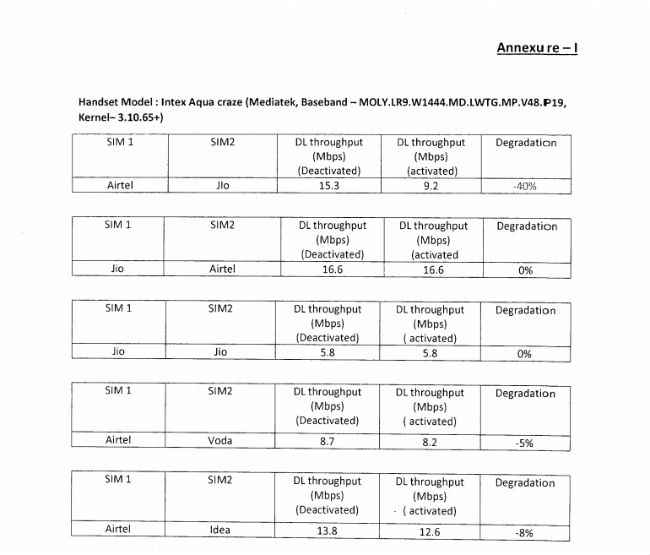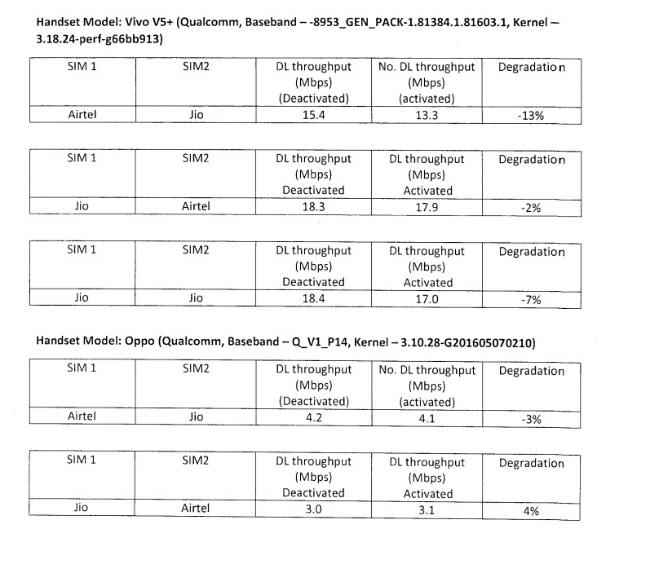 While data speeds are reduced by almost 40% on MediaTek devices, the results show that Qualcomm powered dual-SIM handsets also reduce data speeds by anywhere between 2% to 15%, depending on specific smartphones. While we had previously conducted similar speed tests on MediaTek powered Lava Z25, here are the results of tests conducted by us on the Xiaomi Redmi 3S.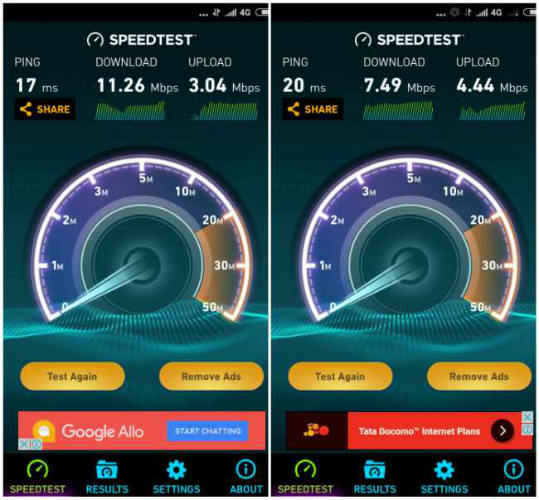 As you can see the percentage drop in data speeds on the Qualcomm powered Redmi 3S is 35% approximately.
Now, MediaTek says that it has designed a software optimization solution which will improve network performance and that the same is currently being tested with mobile operators. The company confirmed, "Once the solution is fully tested and approved - expected in the upcoming days - it will be shared with customers to resolve network concerns." Further, the chipset maker also said that this dual-SIM device issue is limited to India and is being caused due to the fast maturing networks with their own requirements for SIM cards. MediaTek also pointed out that "carriers provide their own SIM card requirements for their networks and share those with chipset makers. SIM requirements across 2G, 3G, 4G and 4GLTE networks in India have led to some unintentional compatibility challenges for the industry to address."