We live in a world where smartphones are more than just communication devices, they are fashion statements. And in the world of fashion, it's all about turning heads. That is why OPPO came up with a Rose Gold coloured variant of its Selfie Expert, the OPPO F3. The new colour immediately draws eyes of everyone around thanks to its vibrancy, and shine. No wonder that a similar colour, Rose Quartz, was chosen by the prestigious Pantone Institute as one of the colours of the year for 2016.
Having a good looking smartphone is one thing, but what if it was endorsed by a true fashion icon. OPPO has partnered with actress and model Deepika Padukone to launch a limited edition version of the OPPO F3 Rose Gold Edition. Called the Deepika Padukone Limited Edition, the phone sports her signature laser engraved on the back, which ensures that it doesn't fade away overtime. That's not all, there's also Deepika's logo at the back with the letter 'P' inside the letter 'D'. The logo is made using polished metal that shines like a mirror. This ups the style quotient of an already glamorous smartphone.
The coolest thing about the OPPO F3 Deepika Padukone Limited Edition is that buyers do not have to pay anything extra for the privilege of owning it. The phone is priced at Rs 19,990, which is the same as the standard edition. Furthermore, the special edition will not only be available online via Flipkart from August 21, but will also be there in offline stores across the country. In addition to the cool looking smartphone, buyers will also get a special photo frame gift package.
To promote the smartphone, Deepika hosted a livestream on Facebook where she was joined by Miss Malini, who asked questions on the behalf of fans. Deepika not only answered all the questions, but also shared her tips on daily dressing.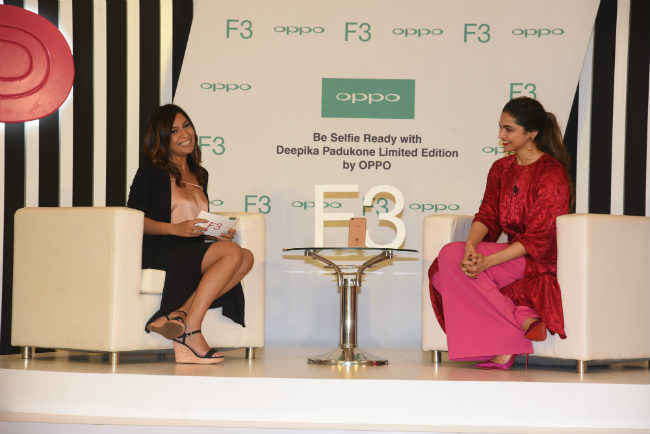 That's not all, OPPO is also host a social media campaign till the 18th where fans were asked to change their profile picture on social media platforms, take a screenshot, and share it on OPPO's contest page. Two lucky winners will be presented with the OPPO F3 Deepika Padukone Limited Edition phone. Further, 10 lucky fans will get a signed photo frame by Deepika. How cool is that!
[Sponsored Post]