Amid much fanfare and expectation, Apple rolled out the iOS 7.1 update earlier this month. The latest OS update brings some interesting features that include CarPlay, SIRI enhancements, HDR auto setting for the camera, visibility tweaks for contrast, transparency and white point, among other things. The performance update also enhances the experience of using iOS 7 on older iOS devices. However, the same update has also brought a whole host of bugs that users are reporting on various online channels, including Apple's own support problems.
Being an iPhone user myself, I have also noticed some of the issues on my iPhone 5, that are to what other users are complaining about. Open certain apps (ex: Camera), and the battery drain is as much as 1% per minute. A ten minute voice call, and battery drops by 5% to 8%, and that is frankly atrocious.
If you are facing any such issues with iOS 7.1 on your iPhone, this guide attempts to offer solutions to some of the much reported problems. While we are talking specifically about the iPhone in this feature story, the same solutions will also apply to iPad and iPod Touch, that are running iOS 7.1 as of now.
Premise behind this story
The basic premise behind this guide is the assumption that the battery life issues on your iOS device is software related, and not because of a worn out battery or faulty hardware or accessories.
Also, you may claim that some or all of these measures take away some features affecting the overall smartphone experience. This is just a suggestion, which you may or may not follow. And we hope that Apple is listening to these complaints and working on a fix to reduce the rapid battery drain that seems to have affected iOS 7.1 devices.
Basic Problem: Rapid battery drain after updating to iOS 7.1
Initially, iOS 7 update had caused the battery drain issue for many users. But, along the way, Apple sorted that out with patches for individual iOS devices. However, with iOS 7.1, the battery drain bug is back. And from the feedback that seems to be floating around the world wide web, this not only seems to be affecting iPhones, but iPads and iPod Touch as well. Personally, I have noticed the battery on my iPhone discharging much quicker than it did with iOS 7.0.6, sometimes as quickly as 1% per minute, when using a social networking app or the camera.
Reason 1: Bluetooth
The trick is to turn the Bluetooth 'on' only when needed. For some reason, every iOS 7 update enables Bluetooth, even though you may already have had it off. Turn it off again, unless you are connected to a Bluetooth headset for calls, or a speaker for music.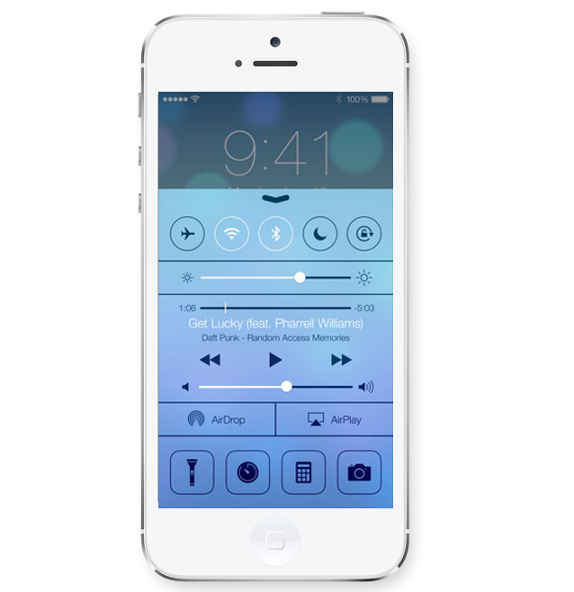 Reason 2: Background app refresh
Background App Refresh keeps unused apps active periodically in the background, to check for new data. This uses up battery. Turn off background app refresh from Settings -> General -> Background App Refresh. Alternatively, you can selectively turn off some apps, while retaining only the critical ones for background data updates. The point is simple - apps permitted to run in the background will eat up lot of battery. While in reality, they may not really be open.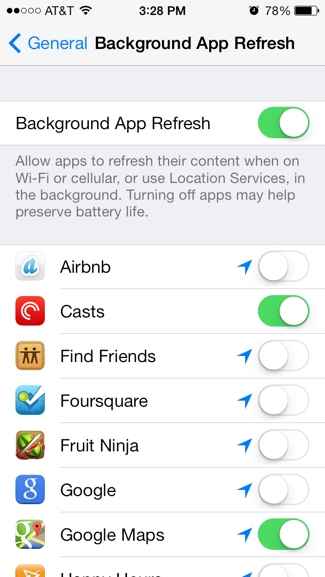 Reason 3: AirDrop
Air Drop is another feature that could be active in the background, while you may not be using it. Swipe up to open the 'Control Center', tap on 'Air Drop' and turn it off.
Reason 4: SIRI's Raise to Speak uses sensors
Unless you use SIRI a lot, you could turn that off to save system resources as well. The iOS 7.1 update also brings the "Raise to Speak" feature with it, which lets you take the phone to your ear which automatically activates SIRI. That keeps another sensor active all the time, eating up battery. If you aren't going to turn SIRI off, at least turn off the Raise to Speak feature to save battery power.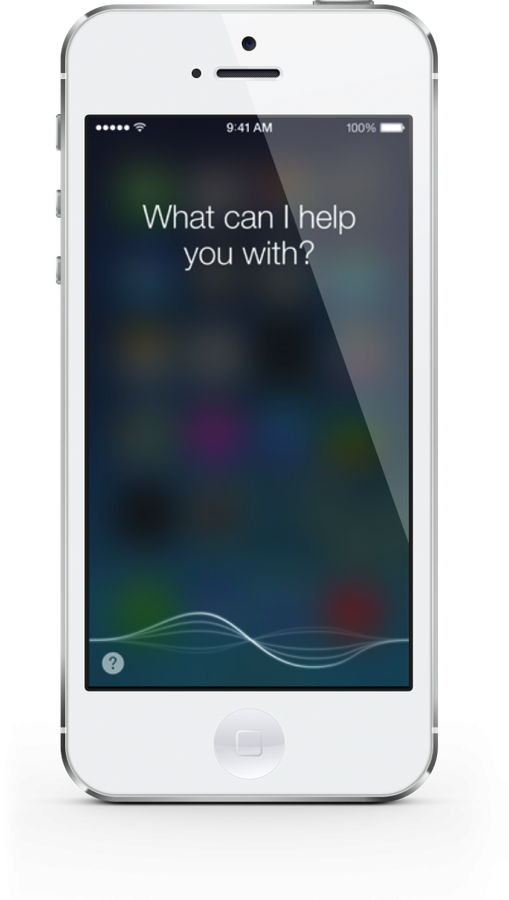 Reason 5: Individual apps
Something that you must keep an eye on are the individual apps. If you notice that a particular app is causing a significant amount of battery drain, check for an update, or worst case scenario - uninstall it.
Reason 6: Location services
Location services also tend to have a significant impact on battery life, because the phone is using multiple hardware to constantly update and register your current location. The more apps requesting the "are we there yet?" information, the greater the battery usage. If you can turn off location services completely, go right ahead. If not, at least turn off the unnecessary apps from asking for your location updates.
This can be accessed at Settings -> Privacy -> Location Services.
If you do not turn off Location Services completely, at least turn off some battery draining system apps that keep updating location data. Head to the folder (within the Location Services page) named 'System Services', and turn off 'Location Based iAds', 'Popular Near Me' and 'Traffic'. You can also turn off 'Diagnostics and Usage', if you don't want Apple to know too much about how you use your phone.
At the bottom of this page is another feature that is silently draining the battery - Frequent Locations. The phone has been tracking and logging every location you have been to, with no specific benefit for you at the end of the day. Turning this off will save you some battery.
You should also turn on the notification bar update to see when 'Location Services' are being used (setting name - Status Bar Icon - toggle to on). This will give you a better idea of which app uses location services, and for how long.
Reason 7: Push Mail
We know that some mails are critical for your work, but if you have multiple accounts (some less important than others), turn off push settings for those accounts. This will prevent the phone from constantly poking the mail service for new messages, which over a period of time, becomes a massive battery drain.
Go to Settings -> Mail, Contacts, Calendars -> Fetch New Data -> and turn off 'Push'. Ideally, set the accounts to Fetch new messages during a particular duration, or if a particular mail account isn't important anyway, set it to Manual.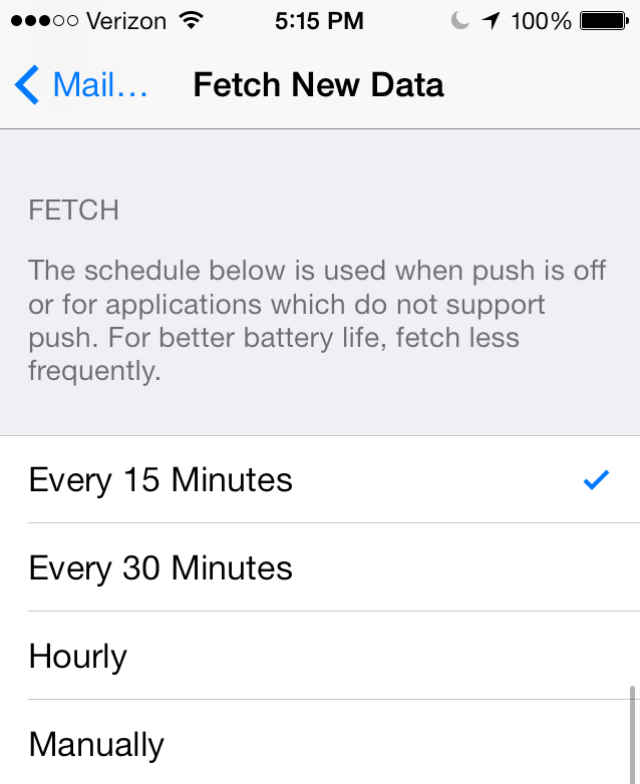 Reason 8: Too many open apps
Once in every couple of days, we suggest taking a look at the apps that may be open on your phone, and swiping them upwards to close. That is, if you don't regularly close apps after you are done using them. Double tap the home button, and you basically get into a task manager. Swipe up the apps that you wish to close.
Additionally, an app that is relegated to the background has (according to Apple) 10 seconds before it goes into a power saving dormant mode; ready to be back in action, the moment you call for it again. But, what if an unoptimized app crashes and doesn't follow the suggested behavior? You may not realize it, but that will keep draining battery in the background.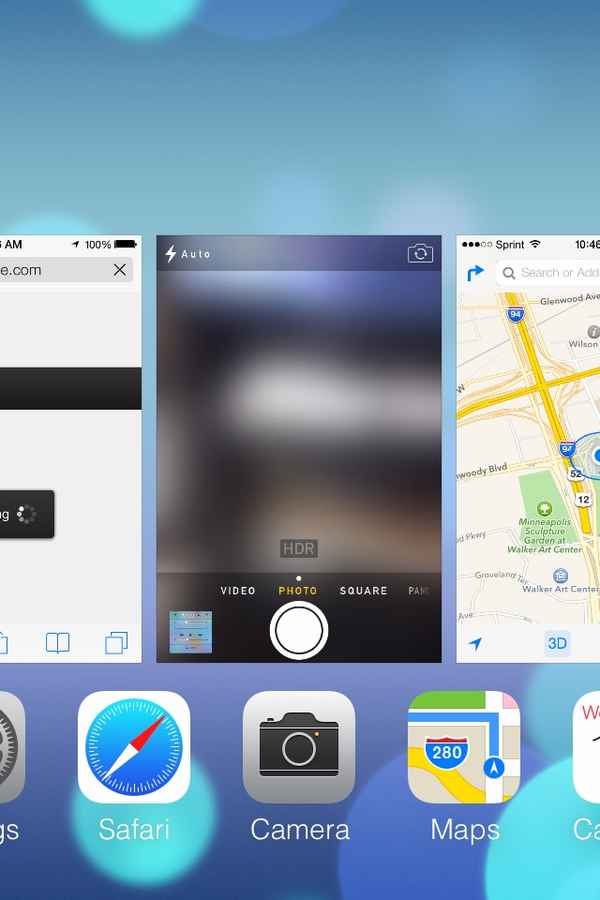 Reason 9: Unoptimized apps
When any major OS update arrives, there is always some time-lag before all app developers optimize their apps for the new OS version. During this time, the app in question may behave in an abnormal way. If your phone starts feeling warm even though it may be kept on a table or you may only be using it for basic work, that is the best indicator that something is wrong on the software side. Apple usually doesn't like to admit that anything can go wrong with iOS or the apps on it, but it does. Take a look at the diagnostics log on your phone, and that will tell you exactly when apps crash. This could help identify particularly troublesome apps. Head to the App Store to check for an update.
Reason 10: Have you tried turning it off and on again?
Have you ever seen a PC slow down after a week of not being shut down? There is a cache build up, some services and tasks may be behaving in a less than perfect way and some previously used apps and services may not have shut down cleanly. A periodic restart clears the phone's memory, restarts the necessary services and closes apps and tasks that may not be needed anymore. No smartphone maker will ever admit to it, but all smartphone operating systems also need the same cotton-wool treatment. We would recommend you switch off your iPhone by holding down the power key and swiping on the screen to turn off the phone. Do this periodically, once a week perhaps, to keep the system services running smoothly.
Still more potential fixes
If the above solutions don't help with the battery drain issue, there are still some more tricks up our sleeve. Before you start feeling frustrated and disgusted.
Unlock the iPhone, and hold down the Home button and the Power button simultaneously until you see the Apple logo as your device restarts. Do this only when very necessary or if none of the above suggested solutions work. This is also known as a hard reset, which is similar to taking out the battery from a running laptop - sometimes essential, but best avoided as much as possible.
Along the way, some settings tweaks could have created a battery drain issue. To return all settings to default, you can go to Settings > General > Reset and tap Reset All Settings. This will rule out the possibility of a problem in settings which may be causing the unnecessary battery drain.