After months of speculation, leaks and rumours, Samsung has finally unveiled its latest flagship smartphones, the Galaxy S8 and the larger Galaxy S8 Plus. Almost everything that we saw and read in leaks seems to have come true. Besides the two good looking phones, Samsung also made a bunch of other announcements including a new Gear VR headset with a motion controller, an updated Gear 360 camera, a new AI enabled virtual assistant named Bixby and much more. Here are the biggest announcements made at the Galaxy S8, S8 Plus 'Unpacked' launch event.
The Phones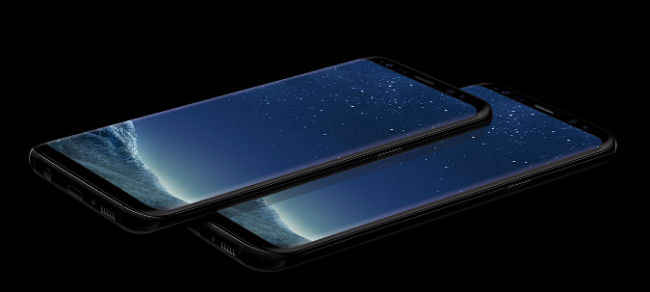 There is no doubt that the Samsung Galaxy S8 and S8 Plus are two very good looking devices. However, looks can be subjective so let's get down to the meat. As rumoured, the Galaxy S8 and S8 Plus have launched with two processor variants. The U.S. version of the smartphones will get the latest Qualcomm Snapdragon 835 Platform, while we in India will get Samsung's own Exynos 8895 SoC. Bezel-less displays are here to stay, now that Samsung has joined the party. The Galaxy S8 and S8 Plus sport 5.8-inch and 6.2-inch almost bezel-free 'Infinity' displays respectively. While the Galaxy S8 is a tad bigger than the iPhone 7, it is smaller than an S7 Edge, keeping with current smartphone size trends. Displays of both devices have an aspect ratio of 18.5:9, which can cause an issue while watching videos as most of them have an aspect ratio of 16:9. So, if you are watching films on the new S8 devices, you could have black bars on the sides of the videos and that really defeats the purpose of Samsung's unusual choice of aspect ratio. The company however says that videos that are available in 21:9 ratio will be scaled to fit the devices' display through a software tweak. Moreover, both the Galaxy S8 and S8 Plus feature iris scanners and facial recognition. On the camera front, both phones have 12MP rear modules with OIS and f/1.7 lens. The front camera now has an 8MP sensor with f/1.7 lens, with autofocus. Click here to read about all additional specs and different variants of the Galaxy S8 and S8 Plus. Pricing of the Galaxy S8 starts at $720 (Rs 46,753 approx), while the S8 Plus starts at $840 (Rs 54,545).
Bixby, the virtual assistant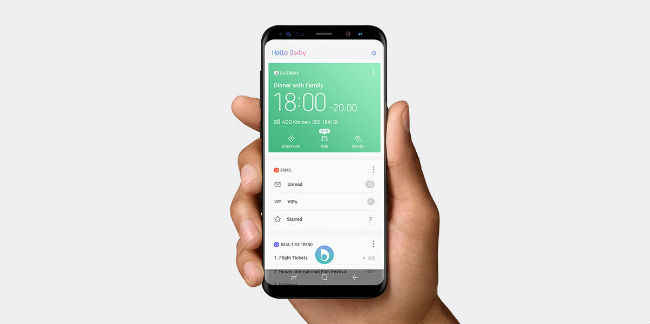 As expected, both Galaxy S8 and Galaxy S8 Plus house the Bixby virtual assistant to compete with Apple's Siri and Google's Assistant. Bixby is powered by Artificial Intelligence and gets its own button on both devices. Like other virtual assistants, Bixby brings voice controls to both smartphones. It is also deeply integrated with 10 Samsung apps as of now, which will offer voice control functionality. So, you can do things like rotate a photo in the camera app using your voice, recognise objects through Bixby Vision by pointing the camera towards them, and in some cases translate a language or generate a buy link for the same, set alarms, reminders, open apps, search the web and more. Samsung claims anything that can be controlled by touch, can be controlled using Bixby's voice commands. In the future, the company hopes that people will be able to control their ACs and refrigerators using Bixby. The company also hopes that developers build apps that support Bixby.
New Batteries!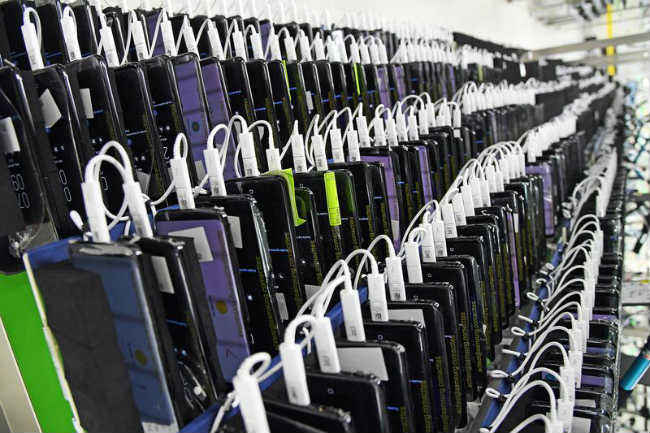 Samsung is applying all its learning from the Galaxy Note 7 battery explosion fiasco and the new Galaxy S8, S8 Plus come with refreshed batteries that will hopefully keep the phones in one piece. The Galaxy S8 and S8 Plus are powered by 3000mAh and 3,500mAh batteries respectively. A little while ago, Samsung had shared its new eight-step battery testing process, created to make batteries safer for future devices. We hope Samsung has implemented the same while putting together the new phones.
Refreshed VR headset and new controllers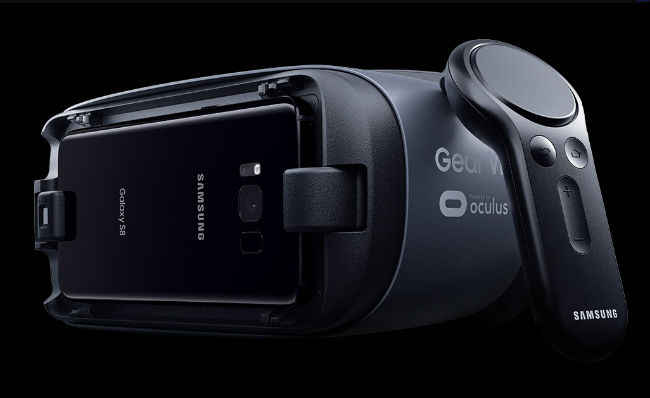 A refreshed Gear VR joins Samsung's product galaxy this time. The new Gear VR was announced back in February at the Mobile World Congress in Barcelona and has now finally launched. Gear VR now includes a VR browser, new interface, and customisable avatars. To make it more convenient for users to interact with apps in the VR environment, the Gear VR comes with a motion controller this time around. The controller has a curved design and a touchpad, making it easier to hold in the hand. Samsung says the new controller will help reduce head movements during VR experiences and give users more room to interact with games. In many ways the Gear VR's controller is quite similar to that of the HTC Vive. The controller will come bundled with the new Gear VR headset at a price of $129 (Rs 8,376 approx), whereas it can also be purchased separately for $39 (Rs 2,532 approx).
360 Camera gets an upgrade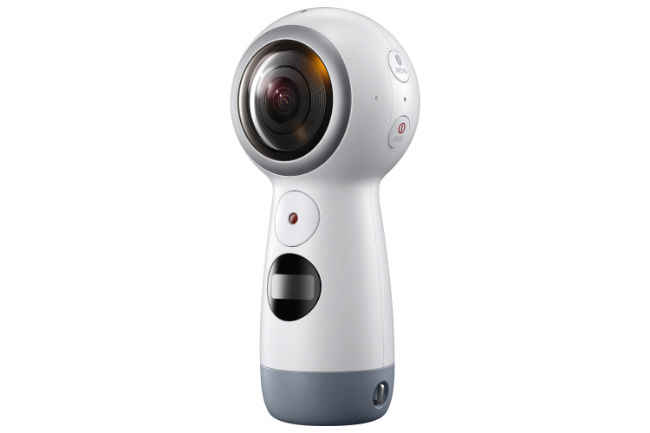 Samsung's Gear 360 has also been upgraded and the new camera was announced at the company's Unpacked event in New York along with everything else. Samsung has now made the camera compatible with the iPhone and added 4K shooting, live streaming capabilities. Samsung has not announced a price and availability for the new Gear 360 yet.
An all new gadget!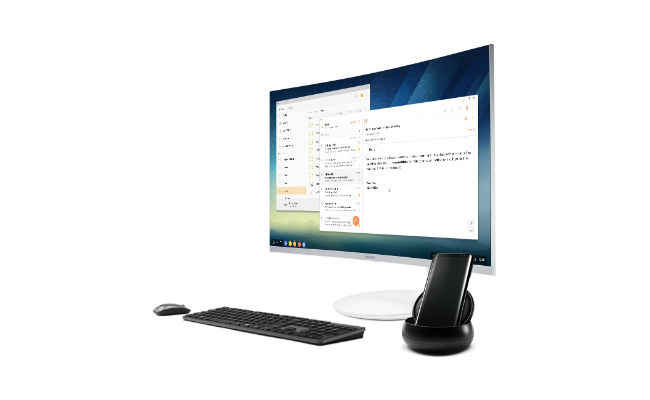 The Samsung DeX Dock was rumoured a few days before the launch of the Galaxy S8 and S8 Plus. Samsung is basically following Microsoft's approach with Display Dock, as DeX can dock the Galaxy S8, S8 Plus to turn any monitor into an Android computer, well almost. It uses an HDMI port to connect to a monitor and has provisioned for connecting a keyboard, mouse, with two USB ports. A USB Type-C port powers the device, which has an inbuilt cooling fan to keep the phones from overheating. Samsung says, "DeX's completely redesigned Android UI is optimized for use with a keyboard and mouse and includes multiple resizable windows, contextual menus and a desktop version Web browser. Key collaborations with Microsoft and Adobe enable Samsung DeX compatibility with Microsoft Office and Adobe mobile apps, including Adobe Acrobat Reader mobile and Lightroom Mobile." Samsung has also partnered with VMware, Citrix and Amazon Web Services for virtual desktop streaming. The DeX Station also incorporates Adaptive Fast Charging (AFC) technology to charge your Samsung smartphone while connected to the dock. Prices for the DeX dock have not been revealed yet, although Samsung says the device may be bundled with the Galaxy S8, S8 Plus in select markets. "The smartphone has become the central point for the modern mobile professional, and when giving a presentation or editing documents remotely, it means they can work effectively using just their smartphone. We developed Samsung DeX with the highly mobile worker in mind, giving them a convenient and flexible desktop experience," said Injong Rhee, CTO of the Mobile Communications Business at Samsung Electronics.