Motorola just announced three new phones in the Droid lineup, exclusive to Verizon Wireless, an American carrier. Motorola has long maintained its tradition of creating great phones for the carrier, phones that infuse a certain degree of innovation that is uncommon. Whether it was the original Droid with its flip out design, or the resurrection of the Razr as an ultra-slim phone, Motorola's always made us jealous of the users on the Verizon network. Now the company has come out from its long hibernation and announced not one, but three phones for Verizon (Droid Ultra, Maxx and Mini), and while they may look like your standard smartphones, there's something rather unique about them on the inside.
The Droid Ultra, Maxx and Mini all come with the company's own system-on-chip architecture, the eight-core X8 Mobile Computing System (MCS). Motorola has said that the MCS is built completely in-house and is currently a one-of-a-kind technology, especially in phones. While their claims stand true to some degree, there are some areas that require some clarification.
Breaking Down the Chip
At its core, the Mobile Computing System from Motorola is essentially a Snapdragon S4 Pro with (MSM8960), but with a massive twist. The MCS comprises of two application cores running at 1.7GHz each and four GPU cores (Adreno 320) clocked at 400MHz each. The two application cores take care of any and all the heavy lifting you may throw your phone's way while the Adreno 320 GPU will handle all the gaming. But these cores are power hungry and will kill your battery life. So Motorola used the concept of compartmentalization to better optimize the S4 Pro SoC. In addition to the two application cores and four GPU cores, Motorola also baked in one contextual computing core and one natural language processing core. So, technically, yes the new MCS is an 8-core beast, but not really, at the same time.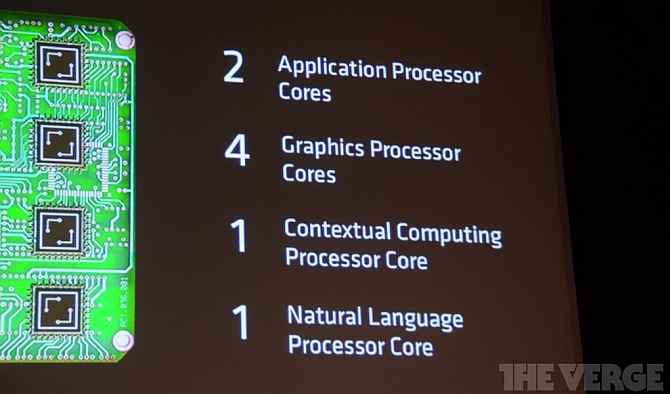 The Two Companion Cores
Motorola's newly announced phones come with an always-on display mode and an always-on voice based user interaction mode. If the SoC was just a regular Snapdragon S4 Pro, you'd have a hard time getting the phone to last you a whole day. This is where the two additional cores come in. The contextual computing core and natural language processing cores are extremely frugal when it comes to battery consumption and are the only ones in operation when your phone is sitting comfortable in your pocket or desk (and not being used). The Natural Language Processing core handles all the voice-based commands exclusively. All we know about the contextual computing core at the moment is that it will allow users to start the camera without having to unlock the phone, using just gestures.
So, is it Eight Cores or Six Cores?
Technically, the MCS comprises of eight physical cores, but the two new ones from Motorola are more like companion cores. Nvidia innovated on this concept in their Tegra 3 processors, which were quad-core on paper, but had one phantom/companion core that the device switched to when not in use in order to conserve battery. Motorola has taken this concept and really expanded on it, utilizing the powerful Snapdragon S4 Pro SoC and infusing it with two additional companion cores to offload processing and better data handling. So at the end of the day, you can say the processor on the new Motorola phones is a Snapdragon S4 Pro (MSM8960).
So, What's the Big Deal?
The exciting part here happens to be the fact that a company actually spent time developing their somewhat custom SoC to deliver an overall good experience to the users of their phones. Being able to make calls, send texts, look for directions, find their misplaced phone, play music, without actually unlocking the phone simply by means of using voice commands is a really cool and interesting feature to have (think Google Glass anyone?), but Motorola wanted to make sure that an added feature was not going to tax your battery life.
The same thing goes for other gesture-based features. Without the two companion cores, chances are that the battery life on the new Moto phones would have been far less than what is being rated at now. An SoC design like this going mainstream could significantly help balance out battery drain that happens due to the extraneous features manufacturers keep bundling into their phones.
Images Courtesy: The Verge