Around the same time last year, Qualcomm made its entry into the PC-space with Snapdragon 835-powered Windows 10 thin-and-lights and convertibles. Then at Computex, the company followed it up with the Snapdragon 850 which had slightly faster performance. Yet, both the chips were essentially made for smartphones first and as such, couldn't compete with Intel-powered PCs all that much. What it did offer was all-round connectivity with an integrated LTE modem and around a day's worth of battery life. At the 3rd Annual Snapdragon Tech Summit in Hawaii, Qualcomm unveiled the Snapdragon 8CX. It will power the next wave of 'always-connected' PCs and Qualcomm claimed a big boost in performance that, according to the company, is comparable to that of Intel's chips. While it's too early to put out a verdict, we did get a chance to use a Snapdragon 8CX powered device for a few minutes, and by the looks of it, a lot has improved while somethings just never change.
The device that we used was a Qualcomm reference design. It was nothing close to a final product and is actually a reference for OEMs to base their designs on. As Qualcomm claimed on stage, the Snapdragon 8CX-powered laptop would be light to carry around and have a thin form factor with a fanless interior. The reference device was fitted with an average full HD display, with a camera bump on the front. It could be turned into a touchscreen tablet by rotating the hinge all the way. On the inside, the reference design laptop was running on the Snapdragon 8CX and system information revealed it was running at 2.75GHz while the installed RAM was 8GB. The laptop was running on Windows 10 Pro and had the unreleased, optimised version of Firefox that Qualcomm announced would be made available for the always-connected PCs.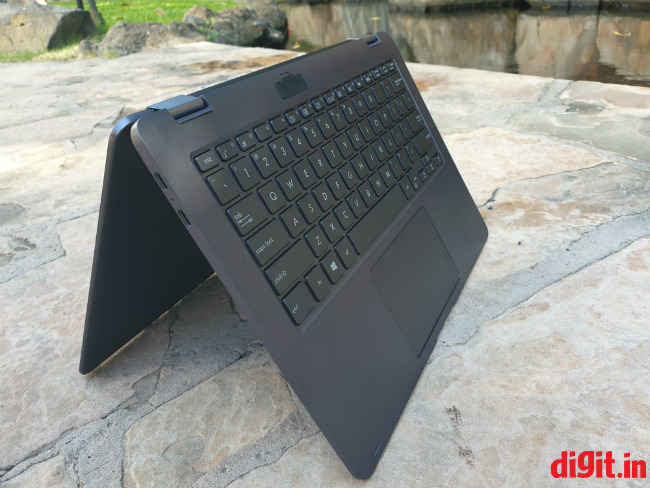 Thin, light and convertible
None of the features might necessarily be available in the final products that are expected to hit the market in the second half of 2019, probably at IFA conference in Berlin around September. Qualcomm Senior Vice President Sanjay Mehta even said the PCs will be made available for emerging markets including India, as Qualcomm sees the ongoing 4G revolution in the country as the perfect opportunity.
Using the laptop for a few minutes, it was clear that this was no slouch. The Snapdragon 835-powered PCs that we got our hands on, for a few minutes last year felt quite underwhelming as they were powered by what were essentially mobile chipsets fitted in a PC form factor. This time around though, the 7nm process node allowed Qualcomm to fit in more transistors to crank up the performance. While we don't know on what metric it was measured in, but the Snapdragon 8CX is apparently two times more powerful than a Intel U series chip, while drawing 7W power. It seems the chip is an enhanced version of its mobile counterpart. There are four Kryo 485 performance cores and four efficiency cores. The former is based on Cortex-A76 cores while the latter is designed around the Cortex-A55 cores. Alongside that, the GPU was given a major boost and we think it was responsible for most of the heavy lifting like running Photoshop or streaming 4K videos. The Adreno 680 GPU is the most powerful graphics unit Qualcomm has made. It promises a staggering 60 percent bump in efficiency and two times faster rendering as compared to the GPU in the Snapdragon 850. The GPU can even output to two 4K HDR monitors at the same time. There's also the same Hexagon DSP and the Spectra ISP that's there on the Snapdragon 855, and according to PJ Jacobowitz, Senior Marketing Manager at Qualcomm, it will be used to enable Windows Hello, and make Amazon Alexa and Cortana work better. The ISP also supports the presence of dual cameras on the laptop, and it would be interesting to see whether laptops now embrace the depth-sensing tech for maybe portrait video calling?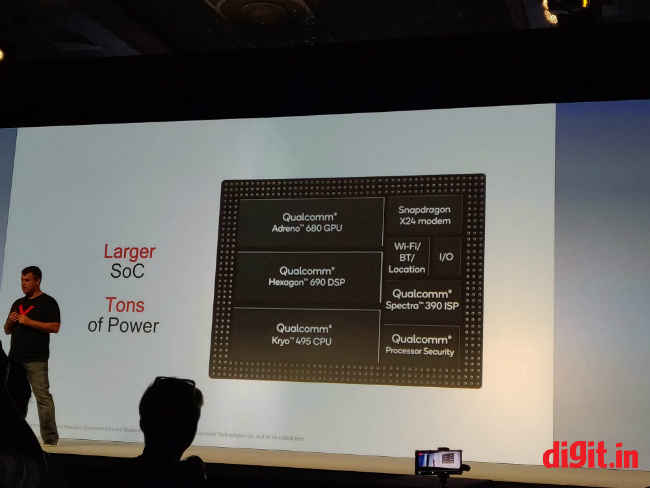 The key specs
The kind people over at the demo zone first gave me a hands on demonstrating a scenario where you are sitting in a cafe trying to get some work done. The laptop was tethered to a 4K HDR monitor and there seemed to no visible lag in reproducing the display and the colours looked quite nice. On the laptop, a Qualcomm representative had the day's presentation opened in Microsoft Powerpoint alongside multiple tabs open on the Firefox browser optimised for the PC. It was a nightly build that's now available on Firefox's Github and can be compiled independently. Furthermore, an emulated version of Adobe Lightroom and Photoshop was minimised, and the Qualcomm rep was quickly able to switch from the presentation to Lightroom which had the photos from the presentation loaded. The switch was almost instant with no noticeable delay. The rep then applied a few filters and the PC responded smoothly enough. The rep then moved on to Photoshop where he applied a motion blur effect on a photo, and once again, there was the expected delay of a couple of seconds, but overall the execution was quite smooth, same as you would expect from a thin-and-light laptop.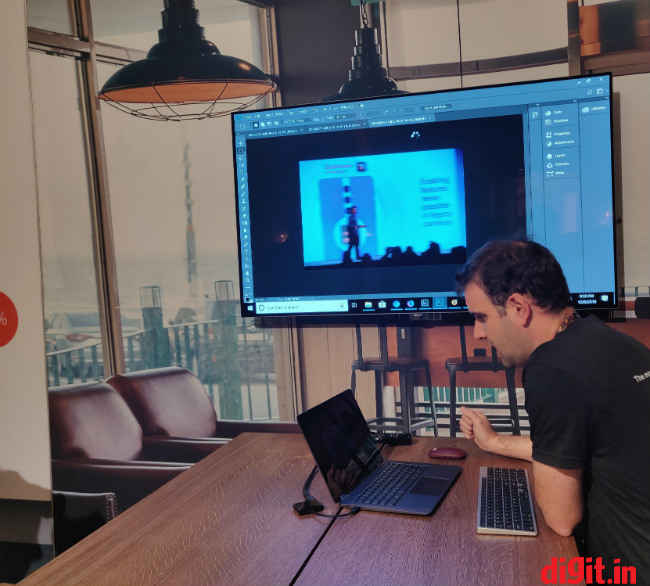 Emulated version of Adobe Photoshop running on Snapdragon 8CX
We weren't really satisfied, so we managed to spend a few minutes on the reference design laptop by ourselves, and tried stressing it out to see how much it can take. The results were surprising, to say the least. We launched Firefox and opened a few performance-intensive websites including Amazon.in, YouTube , our own Digit.in website, put on Basemark's browser-based benchmark test and even put a 4K video on stream from Vimeo. Suffice to say, such a workload would put even an Intel-powered thin-and-light under stress. The video stream was flawless but switching between tabs became a tad slower. Needless to say, the speed was right up there. The PC was running on a Verizon network and we got 60Mbps of download speed which in a market like India, is unheard of as far as cellular internet is concerned. Nevertheless, the websites were super quick to load and browsing within the websites was also quite smooth with no stutter whatsoever. However, after about 20 minutes into the test, the Basemark test managed to finished 8 out of 20 tests, with the 4K video streaming on, and guess what? It BSOD'd.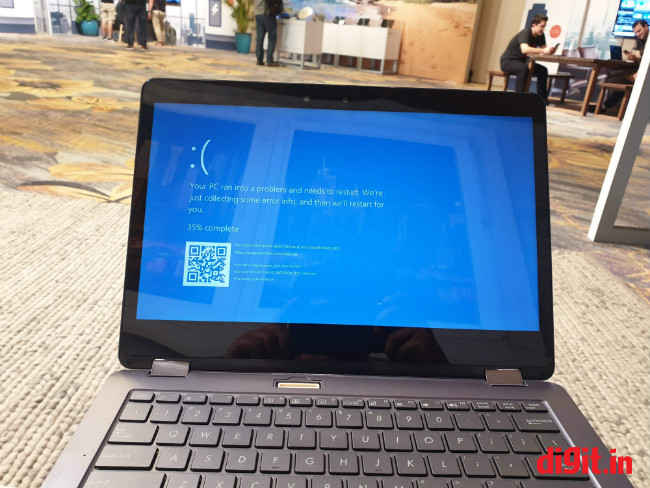 Oops. It was totally my fault
As much as we hate seeing the terrifying Blue Screen of Death, we weren't really surprised to see it happen considering the load on the CPU. The PC crashed before we could open the task manager to see how much resources were being used. The crash could also be for the lack of optimization since this was a reference unit and not a commercial version. Although, it does signify the limit to which you can stress the always-on, always-connected PC. Thing to note here is that after the crash, the PC did take quite some time to boot up. Qualcomm's promise of Instant On was actually marred by Windows 10's loading time which still takes a painfully long time to boot even on out and out gaming machines. Although, we did put the PC to sleep after that, and it came on almost instantly.
Speaking of the battery life, Qualcomm promised the same 24-hour battery life which is the same, but pleasantly high for a laptop. When we started using the laptop, the battery was at 99 percent, and around 15 minutes into the usage, it remained the same. If you ask us, that's the primary reason to get a Snapdragon 8CX-powered PC. The fact that it can nibble through almost everything you throw at it is an added bonus. Intel still seems to be better at multi-tasking though, but when it came to standalone tasks like running a powerful Adobe app, the Snapdragon 8CX seemed just as capable. We didn't have the time to try edit a video or even convert one, and video editing performance remains to be seen.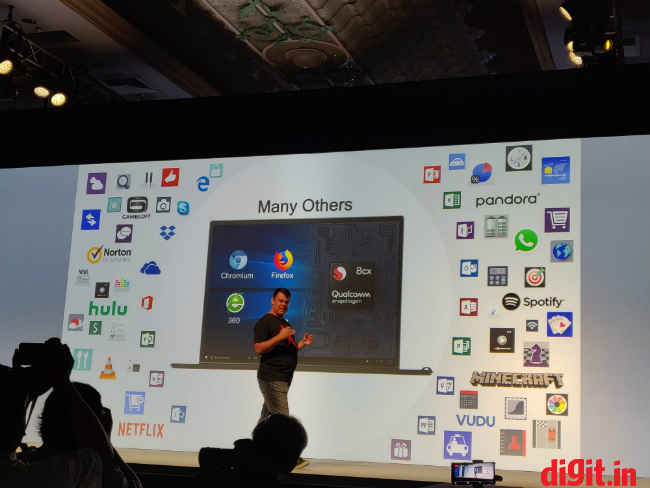 All the apps you can use on a Snapdragon 8CX-powered PC
Overall, despite a sad BSOD, we were left impressed by what the Snapdragon 8CX can do. It's clearly the most powerful Snapdragon chip out there with a massive gain in performance in the PC instruction set. It was still running on an X86-based emulator for software designed only for X86 chips. Qualcomm did show off a host of apps that will be supported natively on the platform. And with Adobe choosing to open up its suite to the ARM-based iPad Pro, a Windows version should be incoming any day now. There's also the Chromium-based Edge browser that should make things better if Microsoft's browser is what you prefer. Qualcomm also said the next-gen Always-connected PC will have Windows 10 Enterprise support along with an optimised security suite by Symantec. In all, the Snapdragon 8CX certainly seems promising, but we still have to run our full suite of performance-centric test to see whether it now makes sense to ditch an Intel-powered laptop for Qualcomm's dragon. Although, with Qualcomm now entering the PC space with full force, Intel and AMD should sit up and take note.