Samsung launched its most awaited S23 series of smartphones at the Galaxy Unpacked event. Samsung also unveiled its Galaxy Book3 laptop lineup. We are going to take a quick look at the Galaxy Book3 laptop series in this article, summing up some of our initial thoughts and impressions based on spending an hour with Samsung's Galaxy Book3 series.
Samsung gave us some time to play and tinker around with these laptops, where we found out that all four devices are powered by Intel's EVO-certified 13th gen processors. Each laptop offers a Dynamic AMOLED display with a decently good build quality. The Galaxy Book3 Series includes four laptops – the Galaxy Book3 Ultra, Galaxy Book3 Pro 360, Galaxy Book3 Pro, and Galaxy Book3 360.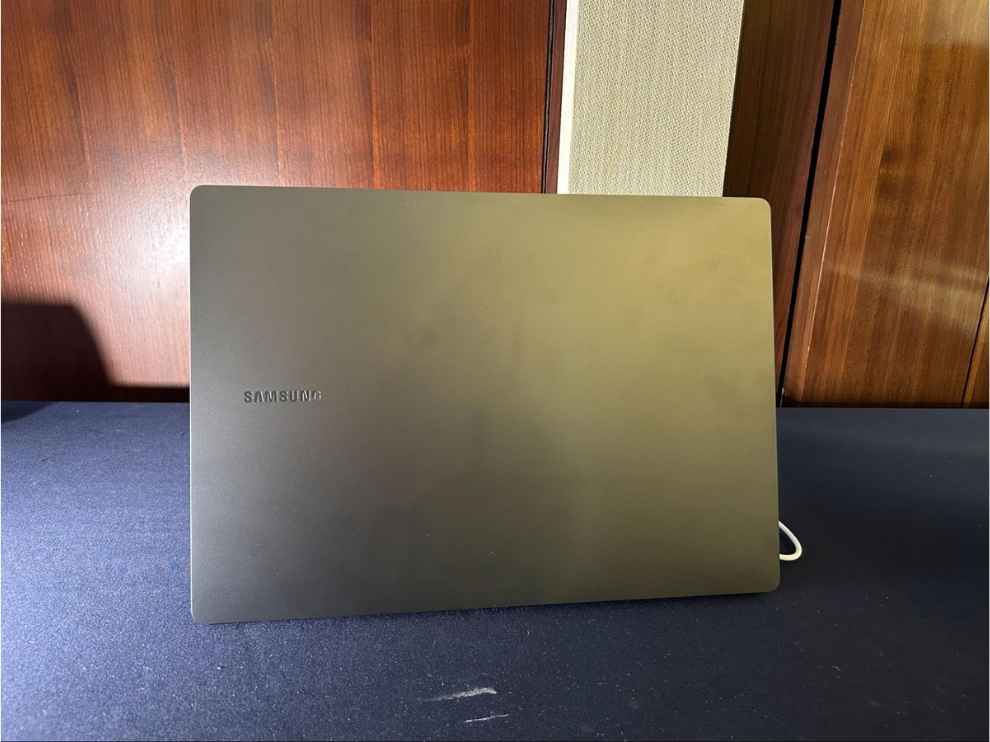 Samsung Galaxy Book3 Ultra specs and features
The flagship Galaxy Book3 Ultra sports up to an Intel Evo certified 13th gen core i9 processor with 45W of TDP (14 Cores & 20 Threads), upto 32Gigs of DDR5 RAM clocked at the high frequency of 6000MHz, The Galaxy Book3 Ultra also flexes with a discrete GPU as it offers upto an Nvidia GeForce RTX 4070. The display here is a 3K (2880*1800P) 16" Dynamic AMOLED panel clocked at 120Hz with an Adaptive Refresh rate. Overall on paper, the Galaxy Book3 Ultra looks like it stands out as a flagship device in every aspect.
Other additional features of the Book3 Ultra include a 100W adaptor, 76Wh battery, a fingerprint scanner, a Dynamic AMOLED display, and two Thunderbolt 4.0 ports.
The laptop weighs in at 1.79 Kg which is impressive considering it packs a 4070 GPU as well. As a matter of fact, this laptop will indeed be the lightest laptop with an RTX 4070. Apart from the fact that it has a 60W TGP. In my time spent with the laptop, the Galaxy Book3 Ultra felt premium to use, the big 16" AMOLED screen looked rather stunning and vibrant. The trackpad was huge in size, and since it has a powerful dedicated GPU, the Book3 Ultra could be called a Gaming laptop disguised as a slim, everyday device.
Samsung Galaxy Book 3 Pro 360 specs and features
Next in line is the touch-enabled Galaxy Book3 Pro 360. Just like the Galaxy Book3 Ultra, the Galaxy Book3 Pro 360 is also offered in a single 16" screen size. The screen is similar to the Ultra but is also touch-enabled and uses a Dynamic AMOLED panel. Samsung claims to offer 120% of DCI-P3 colour gamut coverage, and a peak brightness level of 400 nits. In my initial impressions, the laptop's display was very premium to look at. To the naked eye, this 2-in-1 360° laptop looks very vivid and it does offer great viewing angles at a 3K resolution of 2880x1800p. As mentioned, it's a 360° laptop so it can easily be used as a tablet as well.
Specifications-wise, this Galaxy Book3 Pro 360 offers up to a 13th Gen Core i7 processor, Intel Iris Xe graphics, and, a 65W type C charger. There's also an S-pen pre-bundled with this Galaxy Book3 Pro 360, so you can be more creative and doodle your ideas on the fly. We didn't get too much time to try out drawing apps and such but for what we tried at the demo, the S-Pen showed next to no latency and even without the S-Pen the touch screen felt very spot-on to use. Part of the reason why it felt smooth to use this touch display could really be the fast refresh rate of 120Hz and you can be sure that we'll put it to the test when we get our hands on it.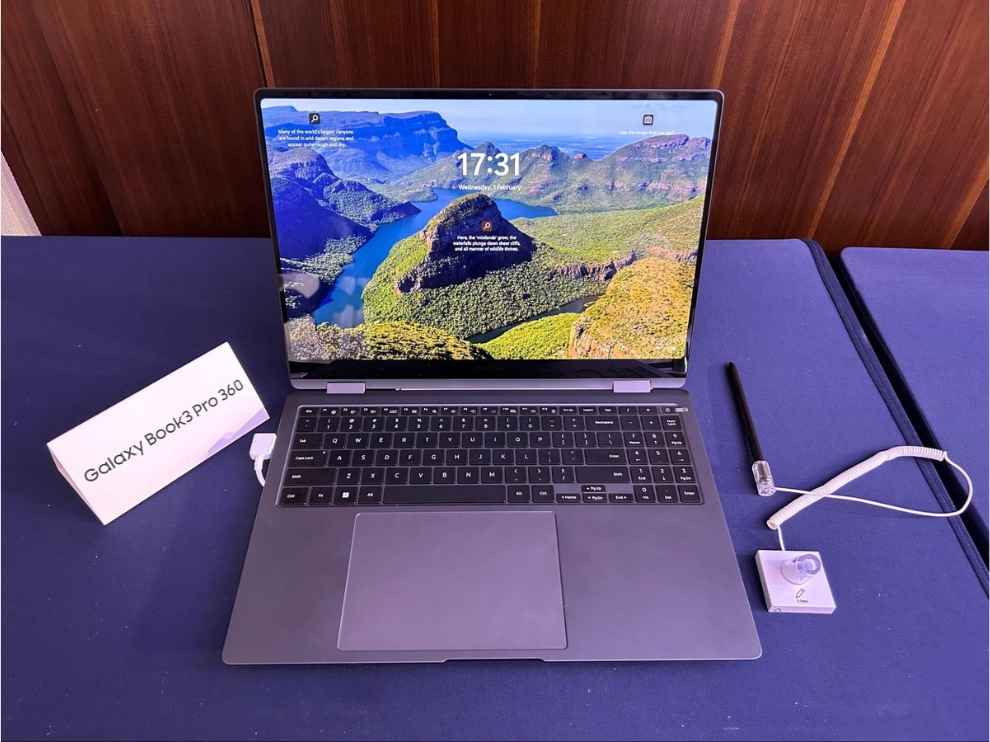 Samsung Galaxy Book3 Pro specs and features
The third laptop in this Galaxy Book3 Series is the Galaxy Book3 Pro. It is offered in two screen sizes. There's one with a 14" display, and the latter is offered in a 16" screen size.
The specs are similar but are more in line with a daily use-case scenario as it offers 13th gen i5 and i7 processors, a Dynamic AMOLED display, the latest connectivity options like Wi-fi 6E, Intel Iris Xe graphics, availability of Thunderbolt 4.0, and a 65W Type-C charger. The Galaxy Book3 Pro variants felt like they could be ideal for practical-daily use and still remain easy to carry around. The smaller 14-inch screen and the weight of a mere 1.17 kg could make the 14" Book3 Pro a strong contender in a category of small and powerful devices. This is also the case with the 16" variant. It too felt rather light, weighing in at 1.56kg but in comparison to the 14" Galaxy Book3 Pro, this 16" Book3 Pro is much fuller as it offers a bigger screen which can be great for occasional media creation and serious media consumption. But we'll soon put our review glasses on and will give you a detailed opinion on these devices.
Samsung Galaxy Book3 360 specs and features:
Lastly, there's the Samsung Galaxy Book3 360. The Galaxy Book3 360 is the most affordable laptop and comes in two screen sizes. Firstly, there's one with a 13" screen, and specs in here include a 13th gen intel 'U' (ultra-low power) processor with 15W of TDP, 16Gigs of RAM, and yes a 360° hinge so it can be used as a hybrid device as well. This one is the smallest device in the entire Galaxy Book3 series of laptops. It felt light in hand and Samsung still managed a sturdy build quality. We'll soon be testing the devices in every aspect, but in the bigger picture, this small device felt easy to handle and easy to carry around. This could be the one device for people who want a bigger tablet in a form factor of a smaller laptop. Additionally, the decision made by Samsung to provide the S-pen pre-bundled in the box could be a game changer for them.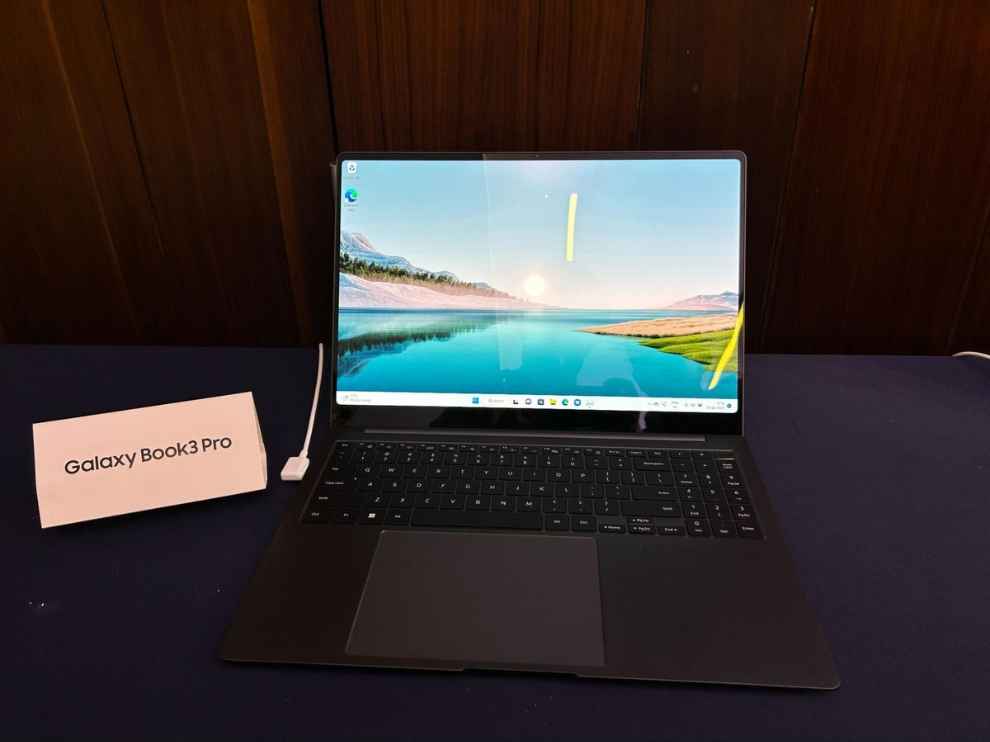 The next Galaxy Book3 360 happens to have a slightly bigger 15" screen size a more powerful 13th gen 'P' (28W) processor, 16GB of RAM, and up to a terabyte of storage with a touch screen AMOLED 3K display and an S-pen pre-bundled with the laptop. As mentioned earlier the pre-bundled S-pen could make this laptop into one ideal machine for creators who need a high refresh rate touchscreen display. Also since it offers a 'P' series Intel Core processor, the machine could have more raw horsepower to drive your applications with ease. When in hand this also felt like a media consumption device with a decently fast and vivid screen and a good set of quad speaker setup.
The prices of the Galaxy Book3 series are given below: