360 degree photo-spheres, videos, live streams have entered mainstream populace with fervent vigour. The year 2016 has seen some of the biggest tech giants of the Silicon Valley take the plunge towards democratising VR with not only VR HMDs (Head Mounted Displays) but also the technology to produce VR content and drive higher adoption of VR. MSI has been doing its part in bearing the flag of the VR revolution by putting years of experience with hardware specialization towards building a portfolio of devices for everyone.
Whether you're interested in developing engaging VR content and video games or if you just wish to kick back after a tiresome day and frag some critters in the latest FPS with a VR bag pack from the comfort of your living room. Powered by the latest and the greatest hardware, MSI has the Vortex Desktop for enthusiasts, the VROne Back Pack for anyone wanting a rich VR experience, the MSI GT83 series of laptops for those who wish to game on the go and the MSI Workstation for the professionals to create content.
Gaming and VR in INDIA
Many industry experts and analysts declared 2016 as the year of the VR. However, they were speaking about first world countries and not India in particular. We might take a little extra time to catch up, but when we do, we set new benchmarks. India has been one of the leaders when it comes to producing content. Quite a lot of mainstream games have Indian studios to thank for the visual assets utilised in them. In the year 2015, the animation industry in the country generated revenues in excess of 51.1 billion rupees with a growth of 13.8 per cent according to a FICCI-KPMG report. Those numbers have only risen through 2016 and 2017 is expected to be even better.
While industries have till now been primarily focused towards generating assets, a lot has changed in 2016. More companies have sprung up in the development hubs of the country who are concentrating on building game titles completely in house. And to help these companies, gaming and animation schools have risen to the occasion to produce talent.
So you have a budding industry, you have the talent, all that remains is for them to have access to the right hardware. This is where MSI comes into the picture. Not only has MSI diversified its product portfolio across multiple form factors but they've now started selling Workstations in India as well. Let's take a look at some of the best things MSI has on offer in India.
MSI GT 83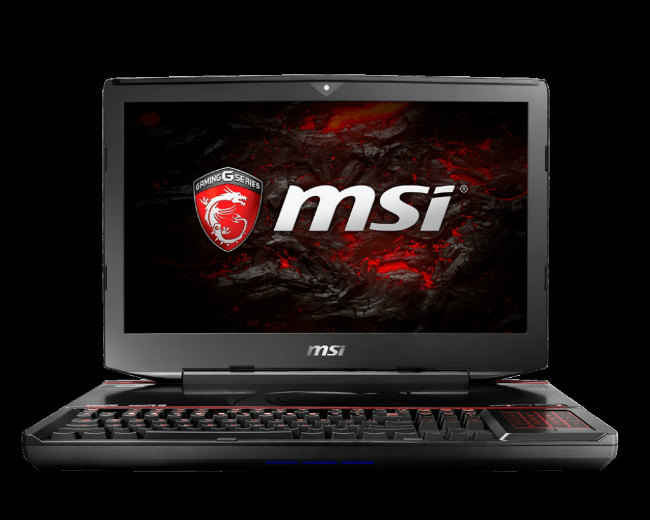 MSI has different series to meet the needs of different users – GT, GS, GE, GP and GL. Designed to meet the needs of the most hardcare gamers, the MSI GT series offer the absolute best from MSI's stables. Powered by Intel's KabyLake Core i7 7820HK processor and NVIDIA's Pascal graphics cards, the GT83VR 7RE TITAN SLI is the top unit available for sale in India at the moment. The GT83VR 7RE TITAN SLI sports two GTX 1070 8 GB MXM cards in SLI. And those are just the most sought after parameters but gamers want more, and more is what MSI aims to deliver if you take a look at the other features that these units have.
Let's start with the display panel which is 1080p IPS panel with a kick-ass refresh rate and a response time of 5ms. If you haven't tried out gaming on a high refresh rate panel then you don't know what you're missing out as gameplay becomes a lot more smoother on such a display when compared to normal displays which is most common refresh rate at the moment. Moreover, with a 94% NTSC colour gamut you get to see colours as they were originally meant to be. Say goodbye to washed out, bland colours when you experience this little beauty.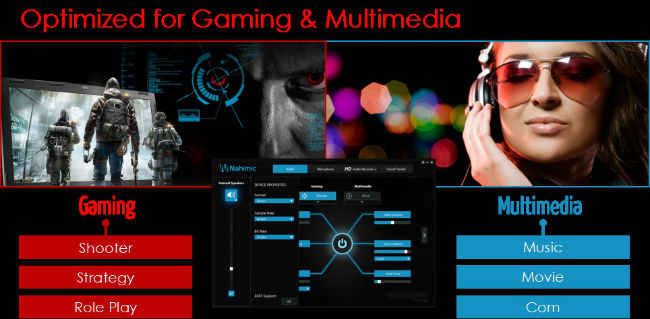 The visuals are an important aspect but the audio can make or break the experience. So the GT83 series packs in ESS Sabre HiFi audio codec supplemented with the Nahimic 2 software enhancement. The ESS Sabre HiFi audio solution comprises of a Hi-Fi audio DAC (Digital-to-Analog Convertor), high quality Op-Amps, Nichicon gold capacitors and an effective shield to block out EM interference. Nahimic's software adds an extra layer of features with multimedia audio profiles and even a separate set of gaming profiles. So if you prefer to know where your enemies are coming from in an FPS game like CS:GO then you can set the FPS profile in Nahimic for a more accurate audio signature.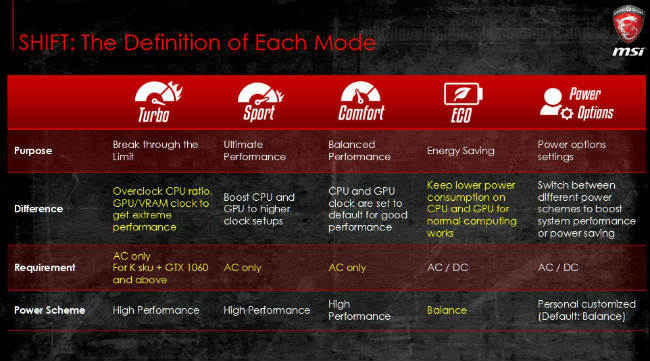 In addition, MSI also has the Dragon Center which acts as the central destination for all of the features mentioned above. So aside from providing key parameters like CPU & GPU frequency, temperatures, fan speeds, etc., the Dragon Center also has a simple toggle to allow the laptop to detect a VR HMD like Oculus or HTC Vive should you plug it in. Also, it have an elaborate set of profiles for your laptop depending on the kind of usage scenario. MSI calls it SHIFT Modes. Now the GT Series comes with 5 modes while other series might not feature as many. So if you need more power from your system you can either SHIFT to Turbo mode where your CPU and GPU are overclocked, or perhaps Sport mode which gives you a considerable albeit lower boost than Turbo, or you can SHIFT to ECO and get more battery life. And if none of these suit you, you can make your own profile.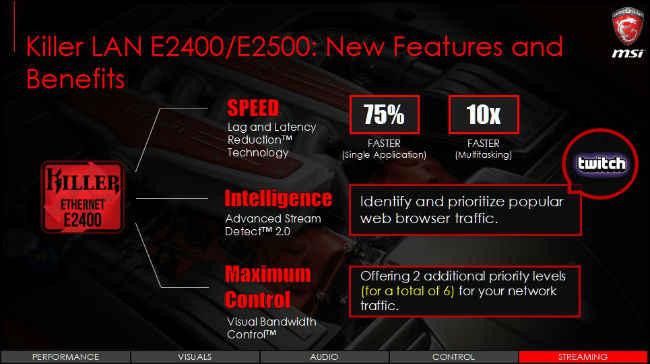 And that's not all. The MSI GT83 series make use of Killer LAN which comes with the well-known Doubleshot Pro software and Killer Shield to ensure up to 50% increased network stability. And if you were plagued by high ping issues then the WTFast private game network should help reduce those troubles by routing your game traffic through their efficient network.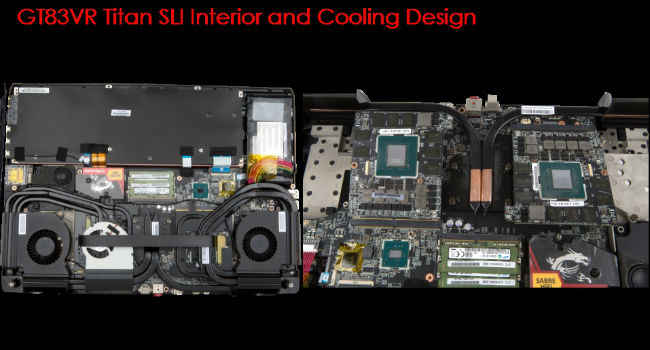 If piling on so many features into a single machine makes you wonder if it can handle it, then worry not. MSI has you covered with an equally well built chassis. You don't need to get a separate keyboard because the GT83 games with a Steelseries designed layout with Cherry MX keys. And to cool down the powerful hardware, the TITAN Cooling system has 15 thermal pipes to direct heat away from the core components. And the newer design of the whirlwind cooling fans ensures cool thermals during your most intense gaming sessions.
Specifications
Processor - 7th Gen. Intel Core i7 Processors, Graphics - Nvidia GTX 1070 SLI(7RE), Display - 18.4" FHD (1920 x 1080) Wide-View, Memory - 4x DDR4 slots(2133 MHz), Max 64GB, Storage - 2x M.2 PCIe/SATA combo SSD + 1x M.2 SATA SSD, 1x 2.5" HDD; 1x Optical Drive, Webcam - 30fps FHD, I/O - 5x USB 3.0, 1x Thunderbolt 3 (Type-C),1x SD (XC/HC) Card Reader, 1x HDMI (v1.4), 1x mini DisplayPort (v1.2), 1x Mic In, 1x HiFi Headphone Out, 1x SPDIF Out,1x Line In, 1x Line Out, Internet - Killer DoubleShot with Killer Shield, Bluetooth v4.1, Sound - 4x 3W speakers +1x 3 W woofer/ Nahimic 2, Battery - 8-Cell Li-Ion (75WHr), Power - 2x 230W adapter(7RE), Dimension - 458 x 339 x 42.3~69mm, around 5.5 kg.
Price range : Rs. 3,49,990
MSI VROne Backpack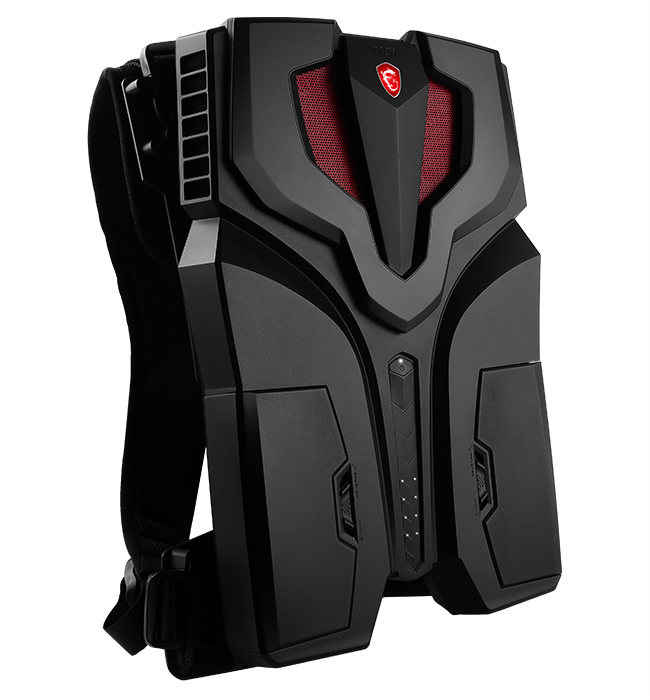 When VR HMD units first came out, they needed powerful desktop machines plugged into AC power outlets to run the content. Needless to say, portability was out of the question but with NVIDIA's Pascal graphics solutions, not only has desktop grade graphics arrived in a smaller size and power efficient package but it sparked an entire new product category. VR Backpacks have become essential for anyone buying an Oculus Rift or HTC Vive if they wish to experience VR like it should be. The MSI VROne Backpack is thin, light and powerful, thus, checking all the boxes when it comes to fulfilling a VR enthusiast's wet dream.
Powered by Intel's Core i7 Kabylake processor and NVIDIA's GTX 1060, the MSI VROne Backpack is compatible with both the popular VR HMDs – Oculus Rift and HTC Vive. The VROne Backpack comes with two hot-swappable batteries which give the unit over 1.5 hours of VR gaming. And if you are hot-swapping you can run the unit off of one battery while charging the other and then swapping. Thus, you could game forever! All of this has been packed into one compact form factor which weighs just 3.6 kg. And if you don't want to play VR games, you could always use it as a normal desktop.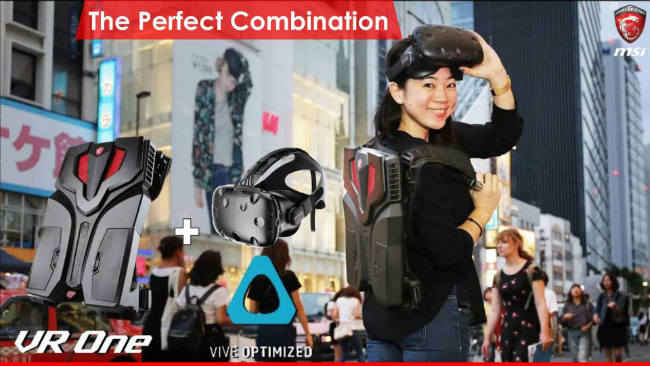 And the usage scenarios for the MSI VROne Backpack aren't just limited to gaming and casual use. If you are into the housing business then the VROne can be used to help your customers experience homes virtually. Or perhaps, you can take out your new car for a spin and experience the interiors before you make up your mind about purchasing it. You could even do online shopping or visit a museum virtually, the applications are endless.
Specifications
Operating System - Windows 10 Home/Pro, CPU - Intel Core i7-7820HK with OC capability, Graphics - NVIDIA GTX 1060 - 6GB GDDR5, Memory - 2x 8 GB DDR4, Storage - Up to 1TB NVMe PCI-E Gen3 x4 SSD, Network - 802.11ac 2x2, Bluetooth - 4.1, Power - 8-Cell Li-Ion battery, 1.5 hours+ continuous VR, hot swap, Direct DC12V output to HTC VIVE, Ports - 4x full-size USB 3.0, 1x HDMI , 1x miniDisplayPort, 1x Type C TBT3, HeadphOne-out/mic-in, HTC VIVE power jack, Dimension - 409x292x54mm, 3.6kg, without battery 2.4kg.
Price range : Rs. 1,79,990
MSI WT72 / WS60 / WS72 Workstations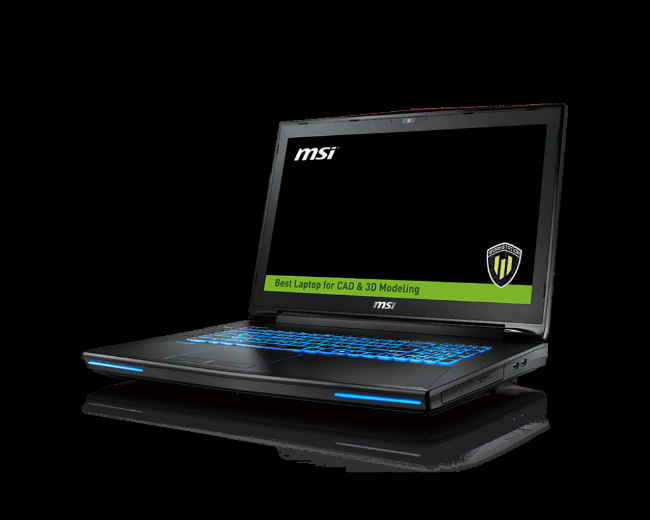 And when you VR taking off, you need to ensure plenty of content for people to enjoy. That's where Workstations come into the picture. Like the gaming laptops, MSI has multiple series for the Workstations as well. The current lineup is spread across three series – WT72, WS72 and WS60. The key differentiating factor here are the two most important hardware components, the CPU and the graphics card. And since we are looking at Workstations, the CPU could be either the Intel Core i -series consumer SKUs or enterprise grade Xeons. You have the choice to pick an MSI Workstation featuring an NVIDIA Quadro M600M or go all the way up to the Quadro M5500 8 GB graphics card with an Intel Xeon E3-1505M.
With enterprise technology, reliability is tantamount. Not just hardware reliability but software as well. So all of MSI's Workstations apply for certification from software OEMs like AutoCAD, Solidworks, Creo, Adobe, Autodesk, Maya, Siemens NX, etc. This certification ensures that software of the above mentioned companies will work flawlessly with those Workstations.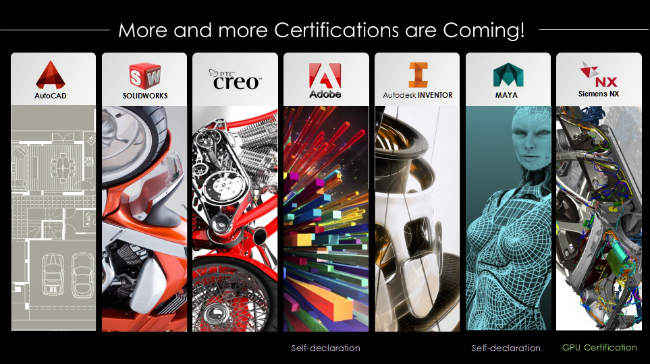 And even enterprise grade hardware heats up, so MSI's cooling technology rears its head once again as the WT72 comes with Cooler Boost 3. Cooler Boost 3 has separate cooling fans for the CPU and the GPU, and there are a total of five heat pipes to draw the heat away from the components. Should the need for a little extra cooling arise, just press the Fan Boost button and the fans will ramp up to maximum RPM to provide maximum cooling.
Building 3D models and working on them real time consumes a lot of RAM and requires really fast storage so that all your files are loaded onto the RAM quickly. This is where MSI's SuperRAID4 feature comes into the picture. You can plug two NVMe PCIe SSDs in RAID 0 using SuperRAID4 to get read speeds of over 3300 MB/s. And you also have a USB Type C port that supports 40 Gbps transfer speed, charge your mobile phone or any device for that matter. Because when you have 3 Amperes of current flowing through, you can charge phones and power-hungry tablets alike.
Aside from these features, the MSI Workstations also feature Nahimic, DYNAUDIO speakers, TrueColor Technology among others. We've written about most of these already. Let's take a look at the specifications of the WT72 6QN which is the current flagship Workstation.
Specifications
Operating System - Windows 10 Pro, Display - 17.3" FHD (1920 x 1080) IPS or 17.3" 4K / UHD (3840x2160) IPS, Processor - Intel® 6th Generation Core™ i7 Processor or Intel® Xeon®E3-1505M v5 Processor, Memory - DDR4-2133MHz Max 64GB, Graphics - NVIDIA® Quadro® M5500 Graphics Card / GDDR5 8GB, Storage - MSI Exclusive SuperRAID 4 - 1TB 2.5" HDD 7200 RPM + up to Super Raid 4 (2*M.2 NVMe PCI-e Gen3 x4 SSD in Raid 0 option or 2* M.2 SATA SSD in Raid 0), USB 3.1 and 3.0 port, Thunderbolt™ 3, USB 3.1 Type-C interface, 4K output, 3A output charging (Optional), Card Reader, Sound by Dynaudio system, Video Output - Mini DisplayPort x 1, HDMI x 1, USB Type-C(support DisplayPort x1), Gigabit Ethernet LAN (10/100/1000 Mbps), Wireless LAN - Intel Wireless 802.11 a/c, Bluetooth - v4.1, FHD webcam with Array MIC, Battery - 9-Cell, Power Adapter - 230W, Dimension - 428 x 294 x 40~48mm, Weight (KG) - 3.78Kg (incl. Battery).
MSI Vortex G65VR Gaming Desktop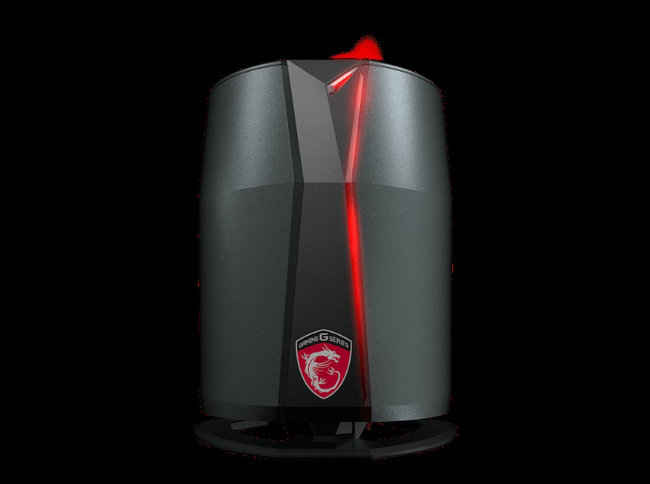 Just like the laptops, even the desktops have gotten a lot more powerful thanks to improving CPUs and GPUs from the top manufacturers in the industry. This has enabled hardware manufacturers to shrink form factors to the extent that something as small as the MSI Vortex can pack quite the power. The flagship G65VR 7RF boasts of an Intel Core i7 7700K along with a GTX 1080 8 GB MXM graphics card. And wait for it, a whopping 64 GB of RAM clocked at 2400 MHz.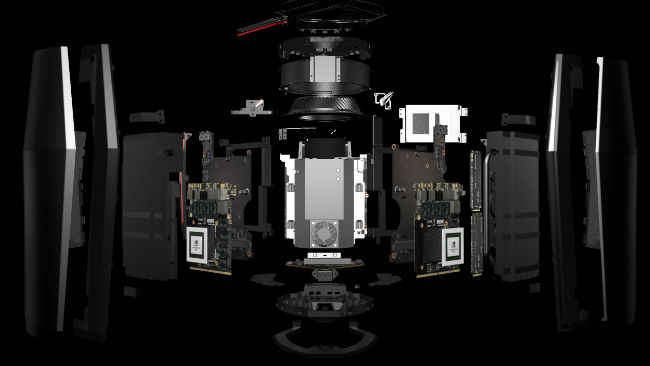 The MSI Vortex stands apart from the competition due to its unique build which reduces the number of moving parts within the chassis. The entire system is designed to ensure smooth airflow and just the one fan is more than sufficient to cool the entire system.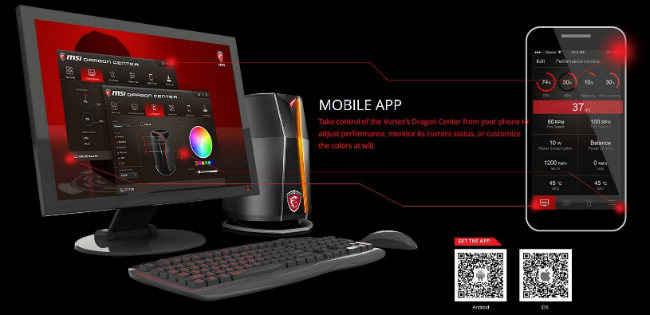 We've covered all of the remaining features of the MSI Vortex other than the Dragon Centre App which is exclusive to the Vortex. Like the PC version of the Dragon Centre, the mobile app allows users to adjust performance, monitor parameters and customise the RGB LEDs to their liking.
And did we mention VR? The Vortex has Thunderbolt 3 and DisplayPorts on the back which support VR HMDs. And the latest Pascal powered lineup is more than ready to handle the top VR games of 2016.
Specifications
OS - Windows 10, CPU - Intel® Core™ i7-7700K, Chipset - Intel® Z170, GPU - NVIDIA GeForce®GTX 1080 8GB GDDR5X, Audio - Nahimic Sound, Memory - DDR IV 8GB*2, Storage Capacity - 256GB NVMe SSD +1TB (SATA) 7200rpm, HDD Interface - Exclusive Super RAID 4 (Dual NVMe M.2 SSDs by PCIe Gen3 X4 in RAID 0) (optional), LAN - Dual Killer Gaming Network E2400, WLAN - Killer N1535 Combo (2*2 ac), Bluetooth - 4.1, 2x Type-C (USB3.1 Gen2 / DP / Thunderbolt™3), 4x Type-A USB3.0, 2x RJ45, 2x (4K @ 60Hz) HDMI, 2x Mini-DisplayPort, Battery Pack - 450W Build-in, Dimension - 202.5 mm x 191.7 mm x 278.0 mm, Card Reader, Weight - 4 kg.
Price range : Rs. 2,64,990
[Sponsored Post]