It's undoubtedly been a busy year for Microsoft in India. With the late February launch of the Surface Pro, it decided to bring its entire Surface line-up to the country. Sticking to that plan, it has just launched the Surface Go, which—in the words you want to hear—is the cheapest Surface device sold yet. It's available in two variants and both come with a 7th-gen Intel Pentium Gold 4415Y CPU. The base variant gets 4GB of RAM and 64GB of storage on an eMMC chip for Rs 37,999. The top-end variant gets 8GB of RAM and 128GB of storage on a PCIe-based solid-state drive for Rs 49,999.
Body Design: As pro as the Pro
Both variants of the Surface Go run Windows 10 in S mode by default, which means you're limited to apps installed through the Microsoft Store (for security reasons primarily). However, I was informed at the product presentation that the user can make a one-time switch out of S mode. During the hands-on session I got a chance to play with the Surface Go. As soon as I approached one, I felt it looked exactly like the Surface Pro but stubbier and smaller, which is what Microsoft was going for. It felt extremely light in the hands when I lifted it and even more so when I tore the keyboard off its bottom edge. The device alone weighs only 520g, which is half of what most Ultrabooks out there weigh. The optional keyboard adds about 200g.
The magnesium surface of the well... Surface, felt smooth and grippy and the soft velvety back of the optional Type Cover keyboard even more so. On the top side I noticed a power button and a volume rocker. Around the sides I found a single USB Type-C port and a 3.5mm audio jack. There was, of course, that signature magnetic power port as well.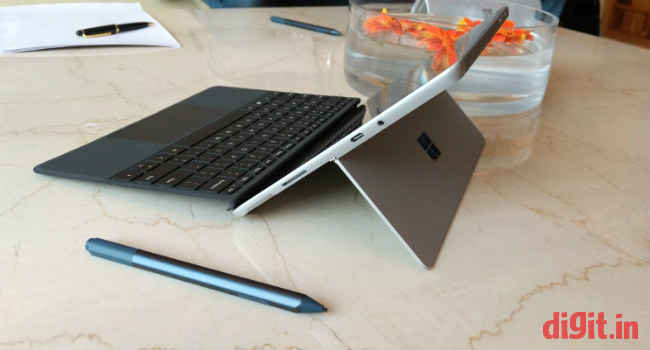 User Experience: Insufficient for a proper laptop
As I played with the Surface Go I noticed that the device's keyboard, touchpad, and display were too small for me to use conveniently. I made errors while typing frequently because the keys were placed too closely to one another. What's more, I felt I had little space to scribble on the device's 10-inch PixelSense display. Plucked away from the dangling keyboard and stylus, the Surface Go felt good in the hands as a tablet. There was sufficient bezel around the display. So holding it like an iPad to take photos was an easy affair.
I can't say I was impressed with the demo device's performance because the Surface Go stammered every few seconds when I tried to enter some text in Microsoft Word. Things did not improve even after clearing out apps in Task Manager and performing a reboot. Other Office 365 apps like PowerPoint opened in under five seconds and a full warm boot did not take more than 40 seconds, which is not bad at all. Still, only a full review will tell us what performance is like on the Surface Go. For the moment, I'm just going to point at the line in the Surface Go's spec sheet that says 'Intel Pentium', then to its price tag, and give you a suggestive wink.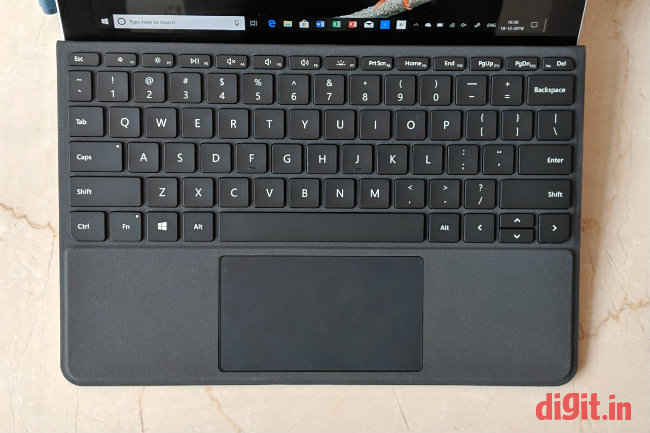 First Impressions: Windows tablet experience is still work in progress
At the product presentation, the Microsoft representative stressed on the fact that the Surface Go was designed for use with the Surface Pen stylus as much as it was with the touchpad and keyboard. Suffice it to say that by the end of the presentation that it was clear Microsoft definitely wanted a piece of the market pie that the Apple iPad line-up is gobbling up quietly all by itself. Here's my problem with that aim: Microsoft isn't doing enough.
If it really wanted its customers to start scribbling on a fresh OneNote page right after purchase, Microsoft would've offered its Surface Pen stylus along with the petite ten-inch device without charging an extra Rs 9,500. I say this because, as a full-fledged laptop, the tiny Surface Go seems insufficient, and as a creator's portable tablet, incomplete. Nonetheless, a comprehensive review will tell us if the Microsoft Surface Go is really worth the half a lakh it demands.