Samsung recently introduced its latest and greatest laptops yet - the Galaxy Book3 series! The Galaxy Book3 series includes four different models that promise exceptional performance and connectivity. These are Galaxy Book3 Ultra, Book3 Pro 360, Book3 Pro, and Book3 360, each of which offers a unique experience to cater to diverse user needs.
In India, the Galaxy Book3 series starts from ₹8916/month on EMI options (T&Cs apply) for the Galaxy Book3 360 (13.3"/i5/512GB) model that will be available in the first half of March 2023. These are highly portable and meticulously designed laptops that focus on nuances that matter in order to elevate the user experience. But with so many appealing options, how do you pick the perfect one for your needs?
What makes Galaxy Book3 series laptops special?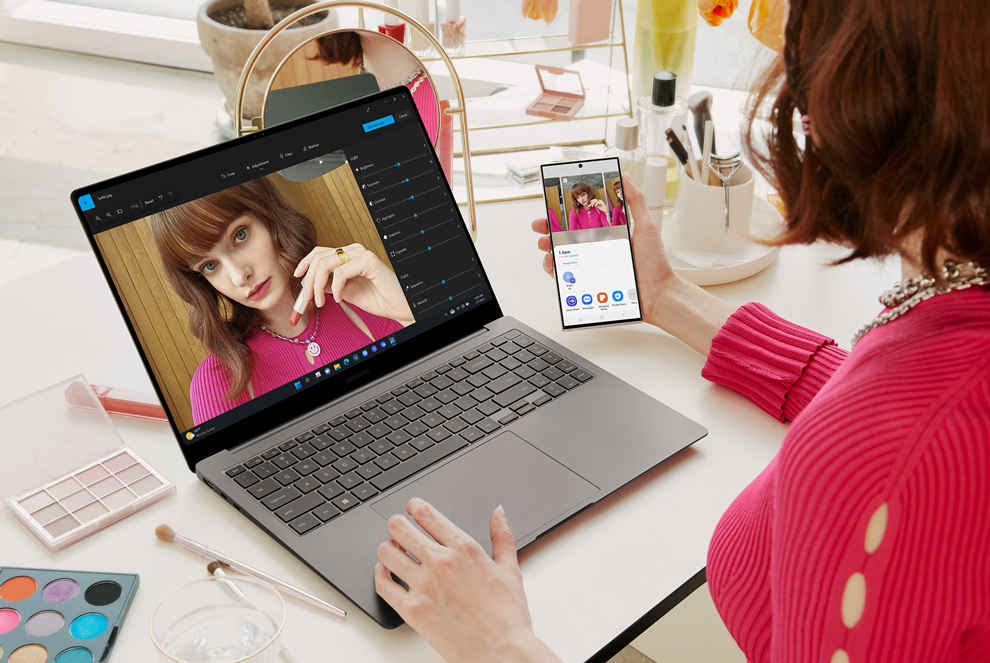 Galaxy Book3 series laptops bring some serious firepower to the table! They're among the first 13th Gen Intel Evo-certified laptops in India, which means they pack a punch and won't stutter when going gets tough. The processors inside are super-powerful and super-efficient, plus they're matched with lightning-fast memory (up to 32GB LPDDR5) and up to 1TB of speedy PCIe SSD storage.
Samsung further adds some amazing Dynamic AMOLED displays that are crisp, vibrant, and have refresh rates of up to 120Hz!
Plus, you get to avail an invaluable multi-device experience. These laptops work seamlessly with the ecosystem of Samsung devices even across platforms! You can quickly jump between devices without hampering workflow, share files across your gadgets in a snap, and even control other Galaxy devices with your laptop's keyboard!
Moreover, these laptops integrate fast charging support, Wi-Fi 6E connectivity, impactful audio, studio-quality dual microphones, and several useful collaboration tools that will help you look and sound your best in virtual meetings.
With all the awesomeness up for grabs, we know it can be tough to choose which one to go with. But don't worry - we'll break it down and make it easier for you to decide!
Galaxy Book3 Ultra - Unleash incredible power!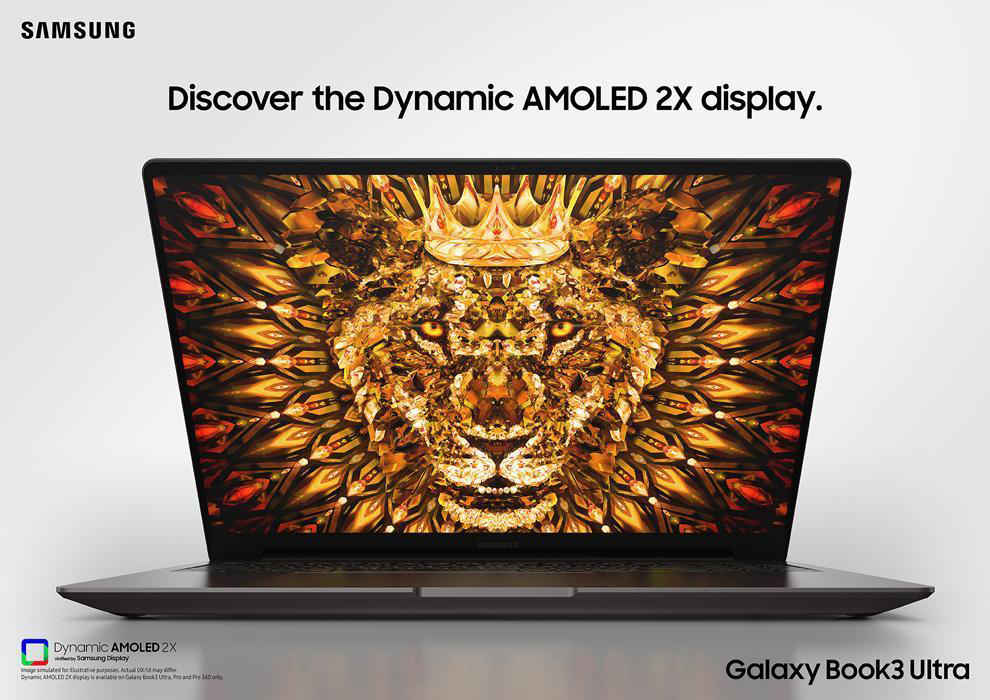 Samsung Galaxy Book3 Ultra is the ultimate workhorse that will lend creators all the power they need without binding them to a desk. This top variant employs an ultra-fast 13th Gen Intel Core i9 – Evo Certified - 45W H-series processor along with discrete NVIDIA GeForce RTX 4070 graphics. Moreover, these are paired with 32GB of LPDDR5 RAM and 1TB of SSD storage! What this means is that you will be zipping through all the demanding apps and tasks like a pro!
The 16-inch Dynamic AMOLED 2X display has razor-sharp 3K (2880x1800) resolution with a 120Hz refresh rate that makes every motion and animation fast and fluid. Further catering to creators, the display supports 120 per cent DCI-P3 colour volume.
The laptop comes in a sleek Graphite finish and is surprisingly lightweight at just under 1.8 Kgs, which is seriously impressive considering all the powerful hardware it's packing. The Galaxy Book3 Ultra has a 39% larger trackpad than its predecessor, making it super easy to work with. And with a fabulous assortment of ports including HDMI, USB-A, microSD slot, and even two Thunderbolt 4, you can set up a workstation anywhere you go.
Galaxy Book3 Ultra promises to be the ultimate machine for creators who need power and flexibility to be their best. So go ahead and let your imagination run wild – the Galaxy Book3 Ultra will keep up with you every step of the way!
Galaxy Book3 Pro 360 - Ultimate flexibility
The Galaxy Book3 Pro 360 merges PC and tablet experiences together into a single hybrid device, giving you the best of both worlds. It even comes with a handy S Pen that you can use to jot down ideas, create some amazing art or even edit photos and videos with incredible precision.
Thanks to capable 13th Gen P-series Intel Core i7 and Core i5 processors paired with 16GB LPDDR5 RAM, the Galaxy Book3 Pro 360 is a high-performance computing machine. Plus, you can choose between 512GB and 1TB of fast PCIe SSD storage depending on your needs.
The 16-inch Dynamic AMOLED 2X display with 3K resolution and 120Hz refresh rate is a feast for the eyes, especially for creators who need a clear and fluid display. And when you need to unwind, just flip the screen for an immersive home theatre experience powered by the AKG quad-speaker system.
Of course, the Galaxy Book3 Pro 360 is extremely portable measuring just 12.8 mm in thickness and tipping the scale at mere 1.66 Kgs. It is equipped with a large touchpad, 65W fast charging support, and a number of useful connectivity options including HDMI, USB-A, microSD slot and two Thunderbolt 4 ports.
The Galaxy Book3 Pro 360 is the perfect companion for anyone looking for a versatile 2-in-1 device that offers a seamless blend of portability, power, and entertainment - making it a great fit for a wide range of users.
Galaxy Book3 Pro - Maximise productivity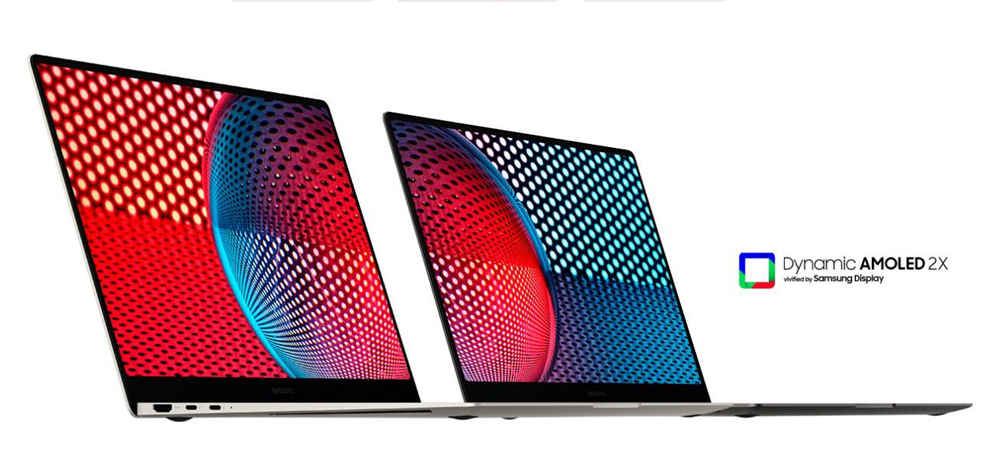 Galaxy Book3 Pro is a powerful, thin and light laptop that should be perfect for professionals who are often on the move. It comes in two display options - 14-inch and 16-inch - each with a vivid Dynamic AMOLED 2X Display with sharp 3K (2880x1800) resolution and 120% DCI-P3 colour volume. The display entails amazing clarity and will let you work for hours without experiencing eye fatigue. Also, the 120Hz refresh rate will enhance your experience in tasks that require a lot of scrolling, such as web browsing, reading documents, and editing code.
It's super light and remarkably portable, yet doesn't compromise on power and connectivity options. The Galaxy Book3 Pro is powered by 13th Gen P-series Intel Core i7 and Core i5 processors paired with 16GB LPDDR5 RAM and up to 1TB of fast PCIe SSD storage. This dependable performance hardware will ensure that you can confidently attend to important work matters anywhere, anytime.
The laptop supports 65W fast charging via its compact adapter that you can easily carry with you and use to charge all other Galaxy devices including Galaxy phones, buds and tablets. Plus, with smart features like enhanced AI Noise Cancelling, Auto Framing, and background effects, combined with the wide-angle camera and studio-quality mics, you'll always look and sound professional on every video call.
So, whether you're at the office, on the road, or working from home, the Galaxy Book3 Pro has got your back!
Galaxy Book3 360 - Elevate work and play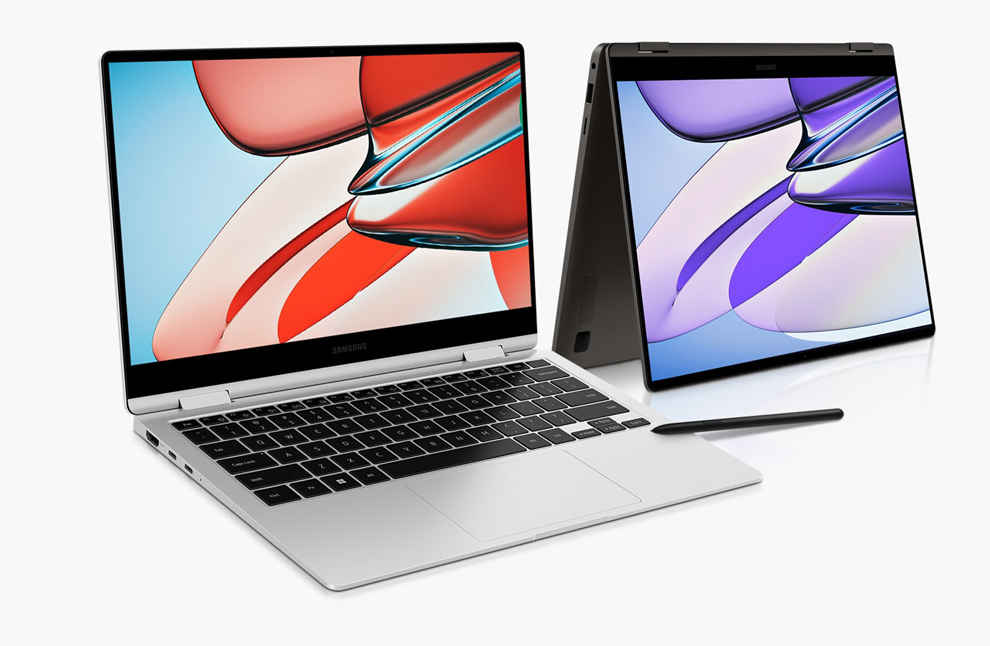 The Galaxy Book3 360 is a versatile 2-in-1 laptop that caters to both casual and professional users alike. It comes with an S Pen in the box that can be incredibly useful for sketching out ideas, taking notes, signing documents, or even editing photos and videos with precision.
Under the hood, the Intel 13th Gen P-series and U-series Core i7 and Core i5 Processors with 16GB LPDDR4x RAM and up to 1TB of PCIe SSD storage, provide all the processing power you need to multitask and tackle heavy workloads with ease.
Users get to choose between two display sizes - 13.3-inch and 15.6-inch. These are vivid Full HD Super AMOLED displays that offer high contrast and 120% DCI-P3. Dual-speaker audio complements the visuals with depth and clarity, thus powering an immersive multimedia experience.
The laptop promises a long-lasting battery along with the convenience of fast charging and a compact charging adapter. All popular connectivity options that you'd need including HDMI, USB-A, microSD slot and even a Thunderbolt 4 port are included!
All said and done, the Galaxy Book3 360 will serve as a dependable ally for your work and entertainment needs.
Four powerful laptops for every need
The Samsung Galaxy Book3 series once again sets the bar quite high. The Galaxy Book3 Ultra stands out as the leader of the pack, delivering top-of-the-line performance for creators. Meanwhile, the versatile Galaxy Book3 Pro 360 features a 2-in-1 convertible form factor and comes bundled with an S Pen, making it an ideal choice for those seeking flexibility in their device. The Galaxy Book3 Pro offers maximum power in a slim and lightweight design, making it perfect for professionals on the go. Lastly, the Galaxy Book3 360 is a highly portable 2-in-1 option that caters to the needs of both casual and professional users.
You can buy the Galaxy Book3 Ultra for ₹281,990 in India. The Galaxy Book3 Pro 360 and Galaxy Book3 Pro start at ₹ 155,990 and ₹ 131,990, respectively for the 13th Gen Intel Core i5 variant with 512GB SSD storage. The Galaxy Book3 360 will be available for a starting price of ₹ 114990 for the 15.6-inch display variant with a 13th Gen Intel Core i5 processor.
You can get up to ₹ 8000 bank cashback on Galaxy Book3 Pro 360, Galaxy Book3 Pro, and Galaxy Book3 Pro and ₹ 10000 bank cashback on Galaxy Book3 Ultra. Additionally, you can avail of up to 12 months no cost EMI from Samsung.com on all models.
[Brand Story]