Not just a buying guide on laptops and tablets, this article's going to outline scenarios that you might encounter in school and suggest the best device for use in that situation. And in doing so, we'll try to arrive at a device recommendation that makes sense to splurge some of that hard-earned student loan money on.
Best for in-classroom use = Tablet
A couple of years ago, we would've strongly urged you to buy a laptop in this case, but now due to advancements in tablet features and the availability of a wide range of keyboard accessories, you are better off with taking a tablet inside the classroom for note-taking. Here's why:
There's one distinct advantage that a tablet enjoys inside the classroom over the trusty old laptop of old. A tablet comes with a rear camera, while a laptop doesn't, and this makes a huge difference. When you're sitting up there in the very first row of your class, close to the blackboard, if you're fed up of quick notetaking, you can swiftly just launch the tablet's camera app, hold it up and take a photograph of the chalkboard, preserving a visual memory of whatever impromptu scribblings your teaching faculty has made (which may not make into the class notes he or she hands out later). You can't do that with a laptop, there's no chance.
With peripheral manufacturers upping their game in terms of highly customised offerings for Android or iOS tablets, finding a keyboard that just simply works with your tablet is now extremely easy. Whether it's an iPad or Android tablet, you can find slim keyboards for either of them with OS-specific key layout – for example, instead of a typical Control, Alt and Shift keys found on a QWERTY keyboard for PC use, Android-ready keyboards meant to be used with tablets have Back, Home, Multitasking, etc, keys to make you feel at home while working in the OS. Bottomline, typing on a customised physical keyboard paired with a tablet is almost the same as typing on a laptop.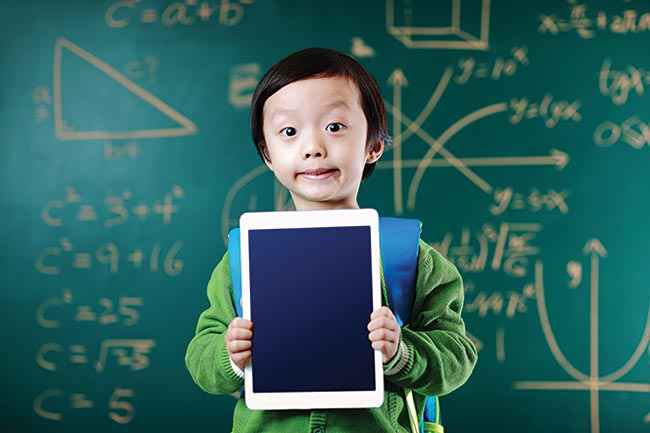 No, tablets aren't dead... not yet
Best for uncompromised use = Laptop
Sure, the tablet beats the laptop when it comes to using it inside a classroom environment, but there's no denying the fact that as an uncompromised performance machine the laptop beats the tablet every day of the week.
For high-performance tasks such as HD video editing, graphics editing with print quality artwork, 3D models rendering and good old PC gaming, you have to have a laptop to work with at school, as a tablet just won't be able to cut it. Yes, a tablet will (in most usage scenarios) have better battery life in comparison to a Windows laptop (MacBooks are a different ball game altogether), but being stuck with a mobile computing device which simply lasts longer with zero productivity isn't a lot of fun, is it?
However, if you play your cards right and buy a laptop with the latest generation of Intel chips, especially the ones which have a "U" in their model number, which are sub 2-GHz in clock frequency, chances are you will get a Windows laptop that gives you between 6 to 8 hours of battery life, which is definitely comparable to a tablet's battery performance.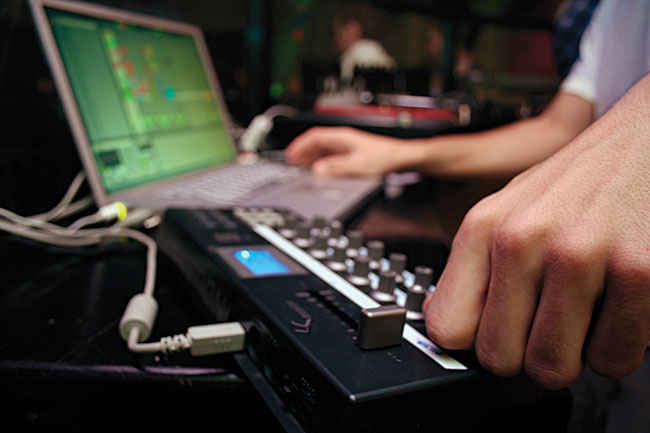 Laptops for anything that has professional Tools Involved... always
Another area where the laptop doesn't feel as compromising as a tablet is when it comes to its connectivity features. Because a conventional laptop has a great amount of physical connectivity ports – like a USB port, HDMI or DisplayPort, universal dock, etc. – life is a lot easier when it comes to attaching additional gadgets to your laptop than a tablet. For example, if you need to connect an external hard drive to your laptop, all you have to do is just plug it in. You'd be hard-pressed to do this as easily and effortlessly on a USB-less tablet.
Most ultraportable = Tablet
Come on, you know who wins this category unanimously. Although they've shrunk in size over the years, laptops are still thicker and heavier in comparison to the sleek and slim tablets. Granted some 10-inch laptops (technically, netbooks?) can tip the scales at the same point as some of the thicker 12 or 13-inch slates or tablets out there, but in the more popular 7-inch and 10-inch form factors, tablets rule supreme in terms of offering unprecedented ultra portability in comparison to a laptop.
Just look at a tablet – you can hold most of them in one hand and read books or watch videos on them. Laptops need a place to put them. You can just pop a tablet into a backpack, and it even fits into large purses or handbags. Most decently powerful laptops need a bag of their own to carry them. Lastly, when there's a choice between carrying a laptop or tablet on your daily commute to school, usability and performance aside, just by sheer weight alone, most of you would prefer carrying the slimmer and lighter tablet. Bottomline? Almost all tablets weigh under 1 kg easily, whereas finding a laptop under that weight limit is a rarity, and when you do find a laptop that's comparable in weight, you find out they cost as much as two or three tablets!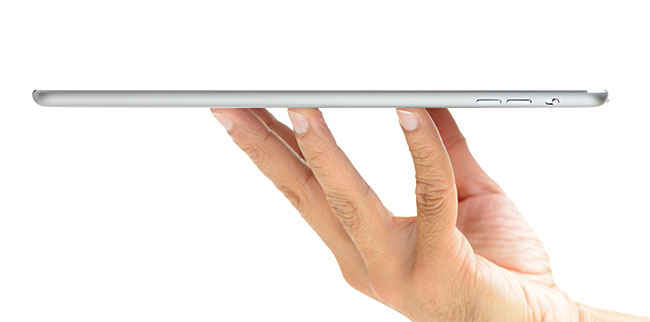 You can't beat the portability of a tablet
Touchscreen versus widescreen = Hmmm
This one's slightly tough to call as both tablets and laptops can possess both features. By default, though, all tablets support multi-touch input, whereas not all laptop screens are touchscreen enabled. What's more, laptops with touch screen support are much costlier than the non-touchscreen variants, obviously. If you need the convenience of a touchscreen without breaking the bank, then a tablet is the right option for you. However, a word of caution when it comes to touch screens – they're great for consuming media and information, but for typing or frequent inputs an on screen keyboard can be a pain in the proverbial derriere. You can always opt for a keyboard accessory, of course, but if you really do a lot of typing (like we do), you're not going to enjoy those keyboards too much, and you certainly can't dream of making do with the touchscreen!
When it comes to widescreens, we aren't just talking about resolution but actual physical width of your device's screen. Where most tablets come with 1200 x 600 screen pixel resolution and most laptops default at 1366 x 768 pixels, laptop screens are almost always larger in size in comparison to tablet displays. If you spend more, it's possible to get Full HD screens on laptops and tablets both, and chances are that between those two tablets are almost always available for cheaper (because they're smaller in size physically). We don't know about you, but when it comes to staring at your screen for long durations to read something, a tablet seems to be the best choice. However, you can't beat that larger real estate found on a laptop form factor. If you need to collaborate and sit with others looking at screens, a laptop might be the better option as they have physically larger screens. It's a toss-up though, and you're going to have to make up your own mind here based on your unique requirements.
Best resale value = Laptop
Discounting iPads, most Android tablets don't have very good resale value – apart from Nexus tablets. Even flagship tablets launched by very reputable brands feel slower and sluggish after a year of usage, amounting to less than premium returns on websites such as eBay, OLX and Quikr, for example. Why do Nexus tablets do slightly better in the resale market than the average tablet? Simply because of their longevity in terms of operating system and support for latest Android updates. But overall, as a product category, tablets is one of fast diminishing returns.
Laptops don't suffer as badly from that problem. If, for whatever reason, you plan to sell a laptop after just a year of using it, in terms of percentage value, it will offer better returns than a tablet – if both of them suffer from the same amount of wear and tear, presumably. Why this dichotomy? The incremental updates witnessed in hardware platform on the laptop side differs less and less every year and the line representing OS-level changes is largely flat as well. Also, you can run Windows 10 on a five year old laptop – without voiding warranty or jumping through hoops or worrying about "bricking" your machine. You don't have any of these luxuries on a tablet which is one year old, which you're about to list on eBay, thus impacting its resale value far more negatively. Also the price points that tablets sell at are so much more affordable than a laptop's, people don't think about just flat out buying newer devices without a second thought – which is not the case with a laptop.

You can sell a laptop for a decent price, but not a tablet
Which one?
Both laptops and tablets have their strengths and weaknesses. The thing about tablets is that they're extremely convenient and easy to use. If you're going to be working on your web browser, Google docs, listening to YouTube videos and streaming movies and music off the web – without having to take a lot of printouts from your printer and other stuff for your project, etc. – you're better off buying a tablet. There's no denying its highly ultraportable form factor and it's great for one-handed use (compared to a laptop) any given day. It can also double up as an ebook reader, and is undoubtedly the more multifaceted device when you stack it against a traditional laptop.
However, we can't deny that a laptop is definitely the closest to a PC in this comparison, and therefore is the most versatile. When you need to run certain software, or need a larger HDD to store stuff on, or need to fire up something to quickly get work done, a laptop will always beat a tablet. When it comes to college projects and doing research with 50 browsers tabs open, you're going to be yearning for a laptop if all you have is a tablet. Android or iOS just cannot compete with full-blown Windows when it comes to productivity. You're going to also have to consider your specific requirements. If your college has physical LAN and no Wi-Fi, you have to choose a laptop. If you need to print a lot of stuff and format documents, again, a laptop. If you need to do video editing, image editing, and yes, gaming, you need a laptop.
However, if you're in a more creative field, need to draw, don't play serious games, and yes, we'll say it, want to show off just a little, an iPad Pro just looks way cooler than a boring laptop... We never said the choice would be easy, we just said we'd have you thinking about stuff logically... What's it going to be? Write in and let us know.
This article was first published in July 2016 issue of Digit magazine. To read Digit's articles first, subscribe here or download the Digit e-magazine app for Android and iOS. You could also buy Digit's previous issues here.