HP's Ketan Patel says gaming laptops and hardware have seen a tremendous rise in India recently. According to the numbers presented by HP, the Indian gaming industry is currently stands around Rs. 3000 crore. This is growing at a rapid pace of 14 percent CAGR (compound annual growth rate). So, to take advantage of this wave, HP is back with its Omen line of gaming devices. The new 2017 lineup in the HP Omen range includes laptops, pre-configured PCs, monitors and accessories.
Omen Laptops: Everyday PCs in a gaming avataar
This is not the first time HP has launched its Omen branded laptops in India, but this new lineup is quite different. Unlike last time, the Omen line of laptops do not have a loud and edgy design, but a more constrained profile. As far as design is concerned, the 2017 Omen lineup is a derivative of the current HP Pavilion lineup with better hardware. To make it look distinguishable, both the 15.6-inch and 17.3-inch laptop are given a black matte-ish paint job, with a weaved naked carbon fibre look. The HP logo on the top lid has been replaced by the Omen logo, which looks much cooler, although it isn't backlit, which I personally would have loved.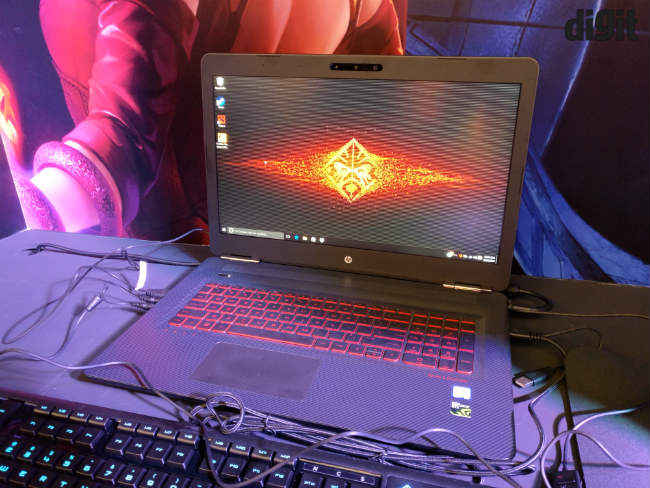 While the keyboard and touchpad seems standard for HP devices, the configuration SKUs make them an interesting choice casual gamers and enthusiasts alike. HP has ticked all the right checkboxes, with 7th gen Intel HQ processors, 8GB and 16GB RAM configurations, hybrid storage options and NVIDIA 10 series GPUs. Now, the choice of GPUs seems a little restrained since you can't get the GTX 1080 GPU on any of the variants. That said, with only a 1080p display to cater to, the NVIDIA GTX 1050TX, 1060TX, 1070TX should do the job just fine. With prices starting at Rs. 79,990, these laptops have a lot of competition from both MSI and Asus.
Omen Desktop: One config to suit all
While the laptops are the big news here, HP hasn't forgotten the PC category. The pre-configured Omen PC comes in a brushed metal attire with RGB accents. The front hides away a vertical DVD drive and all the front I/O ports are available on the top. HP is currently launching only one SKU, with the following specifications.
Processor: Intel i7-7700K
RAM: 16GB DDR4 (32GB upgradable)
GPU: NVIDIA GeForce GTX 1060 (3GB)
Storage: 128GB SSD + 2TB HDD
Weight: 10.52 Kg
Warranty: 3 years
At Rs. 1,39,990, this is not very affordable and you can build a similar configuration at much lower price tags. More importantly, the Omen PC will be going up against the Asus ROG G20CB, which is undoubtedly better equipped, looks good and yet similarly priced.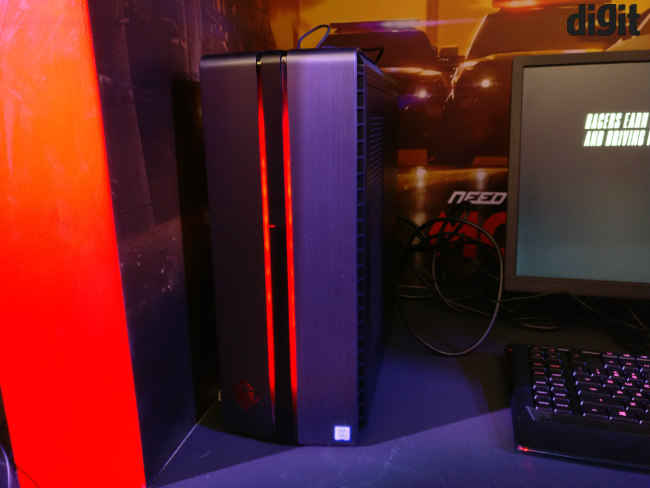 Omen Monitor: More to come
HP showcased one monitor at the event, which for some reason was not connected to any of the laptops or PCs, but seemed interesting. HP told us that there will be three Omen branded monitors coming out later in March. The 27-inch version at the event, had an all metallic paint job and a very stylish stand. There is no word on pricing as of now, but I don't expect these monitors to be cheap.
Omen accessories: Rebranded stuff
For accessories, HP has partnered with Steelseries and when I say partnered, I mean rebranded. So, there is a mouse, keyboard, headphone and a mouse pad under the Omen brand. This is certainly a meant to add value to the brand. Nevertheless, these are all high quality gaming accessories made by Steelseries, which is one of the best known brands in the gaming industry.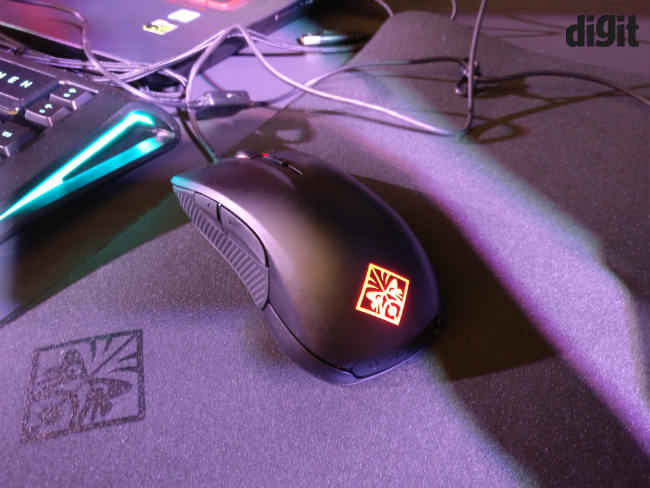 Overall, the new HP Omen series puts the company in a much better position to compete with the likes of Asus and MSI as far as gaming laptops are concerned. However, consumers may need more options to choose from. HP will also be adding more SKUs, plus the Omen X to the lineup later this year.
With AMD's Ryzen just on the verge of launch, HP also told us that it may consider partnering with the company as well. So, a refreshed lineup of the Omen is definitely worth looking out for.