The basic misconception around dishwashers in general is that cleaning performance is not at par with the wash by hand technique. Especially, for Indian cooking that usually involves oil, butter and spices. Other concern areas are high water usage, time consuming and improper drying.
The latest range of dishwashers like the Whirlpool PowerClean Pro range, challenges these misconceptions and aims to leave you with a changed mind-set about dishwashers.
These dishwashers feature technology developed in Europe and aim to be the answer to Indian household dishwashing. Let's delve into what it offers.
1) Cleaner dishes with little oil remnants - PowerClean Pro Technology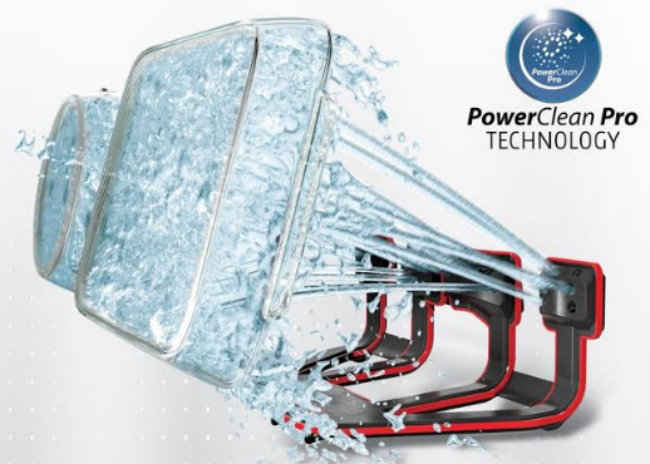 The scrubbing involved in cleaning your daily used cooker or wok (kadhai) gives you a subconscious satisfaction that it has been cleaned well with no residue left. The same is performed with high pressure spray jets in the Whirlpool PowerClean Pro range that mimics a vigorous scrub without damaging the utensils. The engineers at Whirlpool have specially designed these nozzles to ensure maximum coverage, which helps get rid of really tough oil stains and ensure that the dishes come out sparkling clean. On the sanitization front, the water temperature can go up to 65ºC, killing germs and bacteria on the dishes.
Watch a short 30 seconder on this technology - https://youtu.be/JKli4Kxfygw
2) Intelligent detection of dirt level with 6th Sense Technology
Most Whirlpool products feature the company's 6th sense technology and the PowerClean Pro dishwasher is no different. Whirlpool claims that this tech serves as a solution to the problem of water wastage. The dishwasher is able to identify the level of dirt and aligns the resources accordingly. So, less water is used and of course less time too. The machine claims to save up to 50%* time and water with this nifty bit of tech. along with using just 9.5 Lts2 of water for a cycle.
Watch a short 30 seconder on this technology - https://youtu.be/JKli4Kxfygw
2-Results shown are based on internal lab testing done on select models under standard conditions and may vary depending on testing conditions.
Certified as per REGULATIONS COMMISSION DELEGATED REGULATION (EU) No 1059/2010
* - Results based on test comparing performance of 1 hour program of the A+++ comparable models. Models in A++ or less may have different results
3) Clean a big lot in one go - 14 Place setting and up to 30% extra space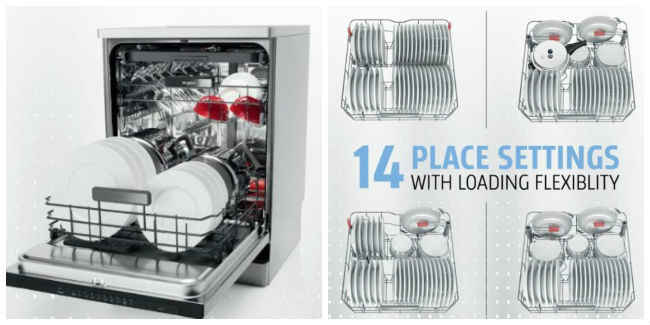 The loading solutions in the Whirlpool PowerClean Pro are very flexible. It has 12 foldable racks that allow multiple crockery settings, so that different sizes can be accommodated. This gives you almost 30%3 extra space and multiple loading options. There is a modular third basket too, which lets you place bigger utensils like a cooker, a jug or a wok which is primarily used in an Indian household. A separate cutlery rack is also in place for space distribution.
Speaking of place settings: It has 14 place settings which Whirlpool believes is amongst the largest available in the market.
Add extra crockery during the cycle: Another handy functionality is that you can add extra crockery while the cycle is underway, without switching off the machine. Just open it carefully, minding the steam, add the crockery and the cycle begins from where it was interrupted.
3- Percentage calculated vs. the loading space on models of the same Whirlpool range without power clean solution.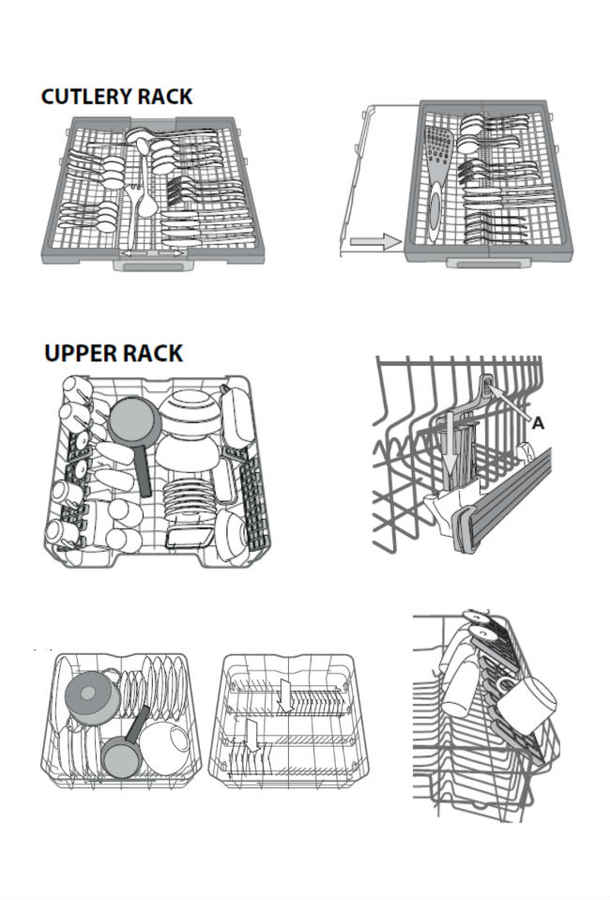 4) 1 Hour Clean+Dry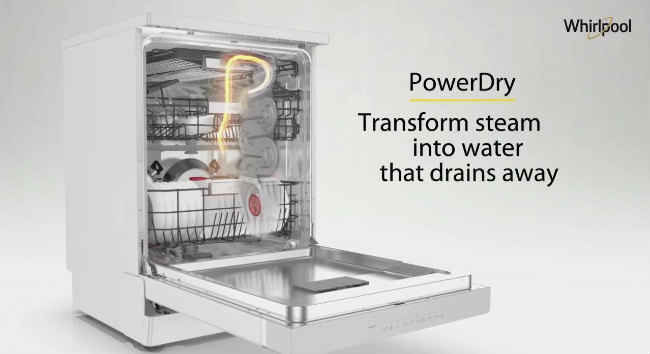 As mentioned before, improper drying is another area of concern with dishwashers. After a traditional hand wash, utensils are usually drained, wiped and then put back into storage. The PowerClean Pro dishwashers, automate the drying process as well, letting you stack up your utensils as soon as the cycle is over. In fact, Whirlpool claims that the cleaning and drying process is just a 1 hour4 process for a fully-loaded machine. The drying system is a unique closed loop one. This system facilitates steam absorption in the cavity, which is then drained out. So, no humidity in the kitchen when you open the dishwasher after the cycle.
Watch a short 45 second video on this technology https://youtu.be/gL8BL9twuDA
4-Result based on tests comparing the performance of the 1 hour program of the A+++ comparable models. Models in A++ or less may have different results.
5) Quick wash for less soiled crockery - Rapid 30 cycle
There are multiple program options available in the Whirlpool PowerClean Pro dishwashers. This includes 'Eco' for efficient usage of energy and water consumption, 'Cristal' for cleaning delicate items which are sensitive to high temperature and 'Daily' for normally soiled crockery. But the one, that stands out in terms of cycle time and energy usage is 'Rapid 30'. The program is aimed at the nuclear family, that uses an average of 3-4 dishes per meal. According to the company the cleaning happens in 30 minutes and uses 0.5 KW/Hour**.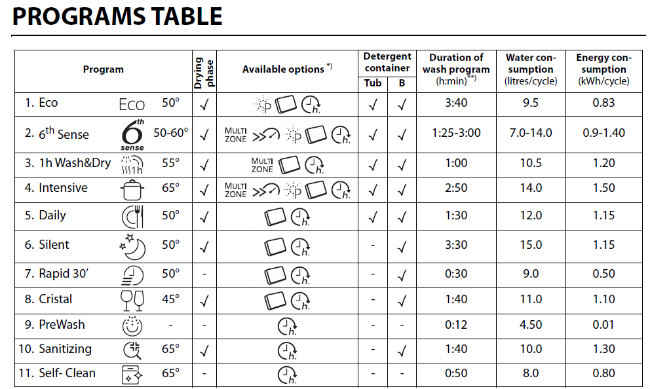 **- The duration of the program shown on the display is an estimate calculated on standard conditions. The actual time may vary depending on many factors such as temperature and pressure of the incoming water, room temperature, amount of detergent, quantity and type of load, load balancing, additional selected options and sensor calibration. The sensor calibration can increase program duration up to 20 min.
Standby consumption: Left-on mode consumption: 5 W - Off mode consumption: 0.5 W
6) Multizone
This smart function in the dishwasher allows you to choose the specific rack to clean. If you only have cutlery to clean, you can choose the cutlery rack options and the resources will only be used for cleaning that particular rack. This is quite handy, since the spray jets only utilize specific amount of water and energy to clean a particular rack against the usual scenario of cleaning in all racks.

7) Set-up operation basis water hardness in your area
A frequent problem with hard water wash is the formation of limescale - whether it's hand wash or a dishwasher wash. Whirlpool PowerClean Pro dishwasher gives you an option to set the machine operation to soft, medium or hard, based on the level of water hardness in your area. The company claims that this is a one of a kind feature and is very friendly for areas where the level of hardness in water is quite high. Based on the water hardness level set by you, the salt reservoir will use the softener accordingly so as to prevent lime scale and unnecessary abrasion.
8) Low Noise Operation
The Whirlpool PowerClean Pro dishwasher has a noise level which is as low as 43db5, hence it can be used even when there are people sleeping at home. This means that if you decide to help yourself to a late-night snack, you can wash the dish with a very little chance of disturbing anyone else in the house.
5 - Results shown are based on internal lab testing done on select models under standard conditions and may vary depending on testing conditions.
As one can see, the Whirlpool PowerClean Pro is designed by the company to offer excellent performance, while offering the flexibility and customizability according to an Indian household. On top of this, it offers efficient use of water and energy, which is always a good thing. Thanks to all these features, the Whirlpool PowerClean Pro range of dishwashers makes for an interesting choice for the Indian household.
[Sponsored Post]